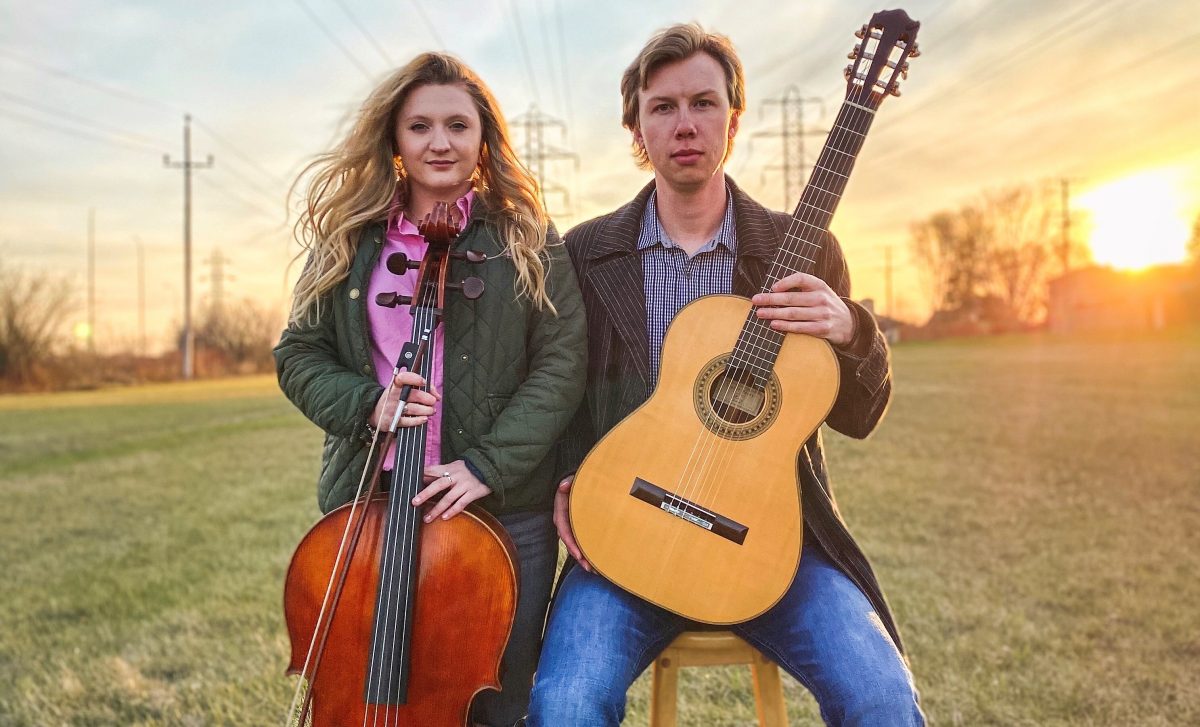 The Gigman Duo is bringing some much-needed holiday cheer!
DFOM graduates India George and Nolan Powell are spreading joy, not COVID.
December 4, 2020 —
The Gigman Duo Holiday Concert Series
All concerts take place at 1:00pm CST/7:00pm GMT
December 6, 2020: Holiday Hits
December 13, 2020: Christmas Classics
December 20, 2020: Candlelight Carols
To receive the Zoom link for the concert, please email the Gigman Duo at gigmanduo [at] gmail [dot] com.
There is no cost for the concerts. If attendees would like to make a contribution to the Gigman Duo, they can do so through the Gigman Duo's virtual tip jar! (British audiences can tip HERE and Canadian audiences can tip HERE)
Spreading cheer, not COVID-19
Music is often the earliest sign that the holiday season is among us. In shops, restaurants, concert halls, and street corners, the familiar refrains of beloved (and sometimes loathed) Christmas melodies remind us that we have a load of things to look forward to in December.
So in a year when shops are closed for browsing, concerts cancelled, and restaurants offering takeout, it's not much of a surprise that many of us haven't been touched with the spirit of the season.
India George and Nolan Powell, of the Gigman Duo aim to change that with a series of concerts this month!
Bringing the holiday spirit
George (cello) and Powell (guitar) both earned their masters' degrees from the Desautels Faculty of Music this past June, and have performed as the Gigman Duo since then.
The phenomenally talented duo bring both technical prowess and deep emotion to their playing, and it is always a delight to hear them perform. The unusual combination of cello and guitar is really something special to hear, a demonstration of which can be found in their performances of "Somewhere Over the Rainbow" and "Après un rêve."
The pandemic has, of course, seen many events and shows cancelled, and the Gigman Duo has missed performing for an audience.
"We realized that we have to come up with new ways of sharing music whilst usual gigs are not currently possible," says George.
"Also, many of the usual concerts that would be held during the festive season will be unable to happen, so we decided to take it online!" she says.
A transatlantic concert and new traditions
George, who hails from the United Kingdom, would usually be heading home for the holidays, but travel restrictions will keep her in Canada, this year.
"This will be my first Christmas away from my family and it's very difficult, but it makes me even more excited for the time I can travel home again, she says, looking forward to a post-pandemic world.
"It also makes me more grateful for my memories from my visit home last year, and that Nolan was able to share that with me!" she adds.
In deciding to host a series of holiday concerts, the Gigman Duo planned the concerts for a time convenient for both Winnipeg and UK audiences, who are six hours ahead of the prairie province.
To be able to include both countries in one concert is sure to make home feel a little closer for George!
While many things will be different this year, both George and Powell are looking forward to their 2020 holidays.
"I'm looking forward to having a white Christmas like we dream of back home [but rarely get], and I'm sure we will be getting creative with festive activities as the usual things won't be happening!" says George.
For his part, Powell has found that some of the impacts of COVID-19 aren't necessarily bad for the holiday season.
"The commercial aspects will be lessened, which is probably a good thing, because we can focus on what truly matters in our lives," he says.
For Powell, that means making a resolution to get outside more often.
"I never realized how refreshing and inspiring a simple walk could be. There's been a lot more time for walking these days. Maybe a December step goal is in order from this year on!" he says.
The concerts
Whether you're interested in modern Christmas hits, the well-loved standards, or traditional carols, the Gigman Duo's performances are sure to make you feel both nostalgic and impressed.
The concerts will be about 30 minutes in length, short enough to fit into anyone's hectic holiday season, and also long enough to give audiences a relaxing break from the stress around them.
"We've tried to include a variety of tunes so that hopefully everyone will hear some of their favourites!" says George.
"Holiday Hits [Sunday, December 6th] will focus on more recent popular tunes such as 'All I Want for Christmas Is You' and 'This Christmas,'" she says.
"The second [concert], Christmas Classics [Sunday, December 13th], will move toward more traditional songs made famous by the likes of Bing Crosby. We think 'White Christmas' and 'The Christmas Song' will be amongst the favourites for this concert," she says.
"Finally, we have Candlelight Carols [Sunday, December 20th], where we will include classic carols such as 'O Come All Ye Faithful' and 'Silent Night,'" she says.
In cultivating their set lists, George made sure to include a few of her favourites (Mariah Carey's 'All I Want for Christmas is You' and 'The Christmas Song').
"It was difficult to narrow the lists down but ultimately we made sure a few of our favourites were in there and by having the different themes, it made sure we have a wide variety and something for everyone!" George says.
They also decided to include some songs that they could do without, but that they felt audiences would want.
"Honestly, I can't say I'm a fan of 'Fairytale of New York,' [by the Pogues] but back home I know that it's a lot of people's favourite, so I felt like it should be included," says George of one song that she chose solely for the way it speaks to others.
"Hopefully I will like it a little bit more after we play it together!" she adds.
For his part, Powell was happy to let George take the lead with the song choices.
"While I wouldn't call myself a Christmas music super fan, I'd be lying if I said that certain holiday melodies don't get stuck in my head and won't leave," he says.
"I promise I'll use these concerts to finally decide on my favourite holiday tune!" he says.
Reserve your seat for the concert!
To attend the concert, simply email the Gigman Duo, or message them on Facebook or Instagram (@gigmanduo)!
"We hope people will come away from the concerts feeling a little more festive," says George of the Gigman Duo's holiday cheer-bringing concerts.
We encourage people to get cozy with a mulled wine, and singing along is encouraged – no one can hear you!" George says.