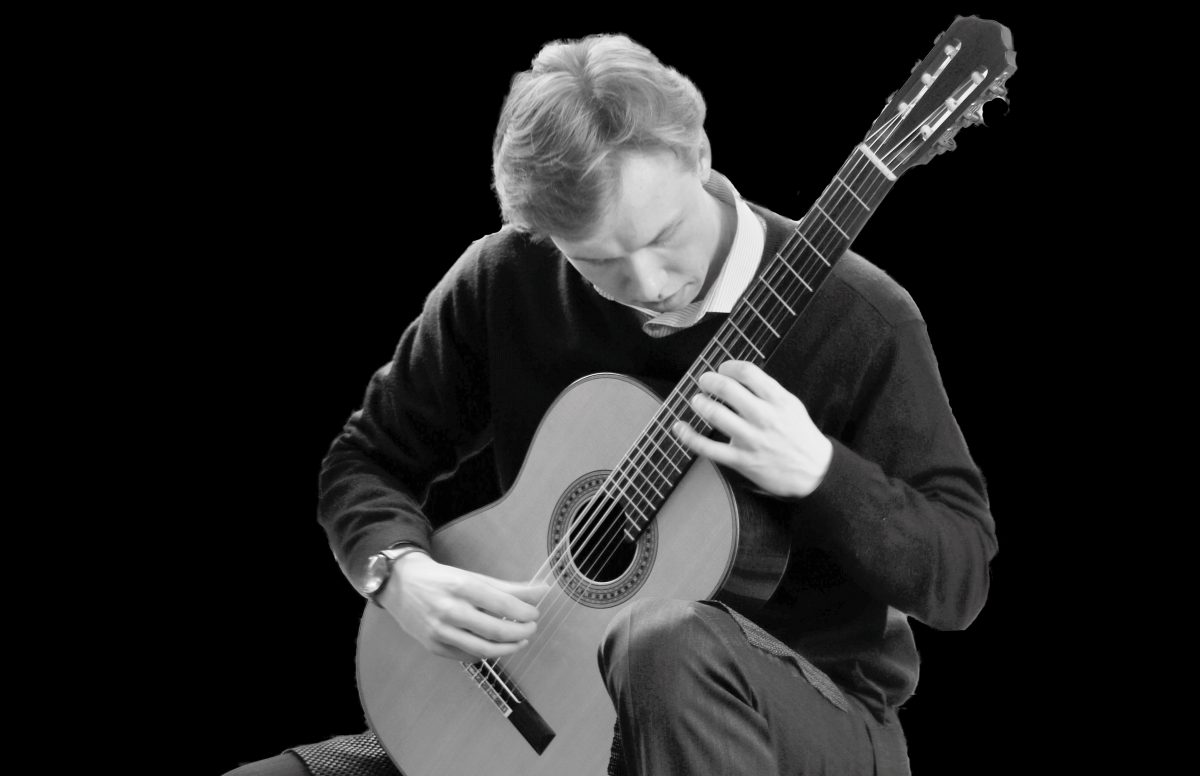 To hear Nolan Powell play is to believe in perfection
2020 DFOM graduate Nolan Powell is an amazing performer and amazing person
June 30, 2020 —
NOTE: We in the Desautels Faculty of Music are incredibly proud of our students. While COVID-19 is sidelining in-person commencement ceremonies around the globe, we want to find alternate ways to celebrate our graduates and give them the recognition due to them. Until we can gather together to properly applaud the years of study and practice that have led to this milestone, please join us in congratulating our 2020 Desautels Faculty of Music graduates.
Today we celebrate Nolan Powell!
With his impeccable manners, sharp mind, quiet wit, musical and athletic talent, and his experience breaking up fights – he's an in-demand hockey referee – Nolan Powell is every parent's dream. He's the kind of person they pray their child will befriend at school in order to keep their kid out of trouble and in good company.
"One of the sweetest humans you'll ever meet, Nolan is going to enrich many people's lives with his music and friendship," says Mel Braun, area head for the DFOM voice department.
Braun is (unofficially) a contender for the world title of Kindest Person Alive, so his opinion of Powell has serious merit.
However, any parent hoping to see their offspring form a friendship with Powell should know this: he might coerce their kid into going to a tattoo parlour.
"Trio Déz was formed in 2015 during my undergrad almost by accident with guitarists and now best friends Scott Butler and Liam Stubson," says Powell of the ensemble that arose out of his studies.
"To make a long story short, I now have a logo for the ensemble tattooed on my leg. Scott has the exact same one on his forearm, but we still haven't been able to get Liam into a shop for his. Maybe someday soon…" he says.
Watch out, Liam!
Sneak attack
Classical guitar is an under-appreciated musical medium. At most house parties, the best one can expect out of a guitar player is a half-hearted, clunky rendition of "Wonderwall." Based on this unfortunate characterization of guitarists, when Powell quietly sat down at a party and house concert last year to perform, the non-musicians in the audience must have thought that they would have to prepare a tight-lipped smile, suppress an eye roll, and provide some polite applause afterwards.
"A guitar is a tough sell sometimes, especially when we're trying to battle pianos or any kind of string instrument, cellos and violins…they're the juggernauts," admitted Powell in an interview with the Thompson Herald in Thompson, Manitoba last year, where he and Butler performed as part of the "Living Room Live" series.
The poised and unassuming Powell then launched into the Saudade no. 3, by Roland Dyens, an incredibly intricate, gorgeous piece that Powell played with both perfection and unbelievable emotion, transfixing the audience. When he finished, there was silence for a moment, as if the audience was coming out of a trance. Then, someone finally spoke.
"Wow," they said simply, in total disbelief.
After another few quiet moments, everyone burst into amazed applause.
Powell is sneaky like that.
"I just want to keep guitar alive and give it a good name in Manitoba while I have the chance," he says of his inspiration for playing.
"There have been a lot of amazing players before me and I want to pick up on their efforts. If I can inspire another guitarist to follow the same path then I'll feel like I've done something worth doing," he says.
The 2020 Master of Music graduate, who also holds a B.Mus and B.Ed from the University of Manitoba, has a long history of impressing people, and received the Dr. Bonnie Buhler Graduate Scholarship in Music for his master's degree.
"Apparently we made some history in Edmonton in 2016 when we took second prize in the ensemble division at the FCMF [Federation of Canadian Music Festivals] National Festival and were the first guitar ensemble to ever find a podium spot," Powell says.
The following year, in the solo guitar category, Powell took home first prize, having previously won second prize in the same category in 2014.
"Being able come to come back from Edmonton with my best friends in Duo Déz in 2016 with a 2nd place finish at the National Music Festival, and then following up the next year with the 1st prize in the solo category were really proud moments for me," he says of the experience.
Also in 2017, he won a Women's Musical Club of Winnipeg [WMC] Scholarship, and was featured in their prizewinners' concert. At the Winnipeg Music Festival (WMF) that same year, he won the Len Hew Trophy for the most outstanding senior classical guitar performance.
He was also a finalist for the UM Genser Competition and the UM Concerto Competition as a DFOM undergraduate in 2015, and then again as a master's student in 2018 and 2019.
Faculty mentors
"As a student you still have to treat yourself as a professional and like you're going to in to your job every time you step in the building," says Powell of his time in the DFOM.
"Even studying as a solo performer, you're only as good as your support staff. For me that staff included many people, but most notably Catherine Robbins, Mel Braun, Katherine Twaddle, Jody Stark, and of course my teacher Richard Tyborowski," he says of the people who have supported him along the way.
"Nolan Powell is many things – a crackerjack Classical guitarist, an in-demand hockey referee, and above all, a gifted collaborator," says Mel Braun.
"He enjoys nothing more than throwing himself into new creative situations, whether a Baroque Opera or a cello/guitar duo, finding innovative ways of adding his unique musical voice to the ensemble," Braun adds.
Katherine Twaddle, Opera Studies coordinator and Opera Theatre ensembles lead, also notes Powell's willingness to try new things.
"I first worked with Nolan during his undergrad as part of a guitar masterclass I was invited to lead," she says.
"How many guitar players would be open to an opera director working with them on stage presence and communication? Nolan Powell certainly was! And he continues to be open to exploring and experimenting with new tools and ideas in order to expand his vision and skills as a performer. It's fantastic to see him get that glint in his eyes as he makes a small mental shift that expands his performing and creative musicianship," Twaddle says.
"Nolan is an outstanding musician and a really fine teacher," says Stark, an associate professor of Music in the DFOM who oversees music education.
"He has much to contribute as a musician, music educator, and in his non-musical pursuits – like reffing. He has many passions, and he puts his heart into all of them," she says.
"Multi-talented and extremely bright, Nolan is also just a really great person. It's truly been an honour to cross paths with him," she adds.
You would be hard-pressed to find anyone in the faculty who doesn't agree.
A real team player
Though an impressive soloist, Powell is both a team player and leader by nature, perhaps due to his lifelong hockey playing and refereeing, where he has even served as the referee for the WHL Challenge Cup.
Trio Déz is now Duo Déz, and shows no sign of slowing down.
""Duo Déz was formed by necessity when Liam moved away to pursue other dreams and Scott and I felt inclined to keep the group alive through my master's degree," Powell says.
"The duo took off on a Manitoba and Saskatchewan tour in the summer of 2019 and we told stories of the trio and of Dr. Desautels – the inspiration for our ensemble name," he says of last summer's classical music road trip.
A few of their outstanding tour performances can be heard HERE and HERE.
In addition to this duo, in the past year, he also formed a different ensemble with fellow 2020 DFOM graduate India George. The pair perform as the Gigman Duo.
"The name blends her British nationality with my UK connection, which goes back to my Great Grandpa and the 'Gigman' farm he was born on in Wales," explains Powell.
"Things started with a gig playing background music at a convocation lunch at the U of M and we've been expanding our repertoire and getting hired from at events ranging from weddings to funerals. Any gig is a good gig. It's fun and something we both take a lot of pride in," he says of their musical pairing.
The current pandemic was unable to halt the Gigman Duo's performance schedule. They performed a tribute for the National Health Service carers of George's home country, and then did a remote concert for the "Frets Online" concert series from the Winnipeg Classical Guitar Society.
Keep an eye out for both duos when the world opens back up – and online! They will not fail to impress you.
Acknowledgements and next steps
"Thanks to Nat, Laura, Scott, Brian, India, Mike, Rayna, Mom & Dad, Grandma & Grandpa, Auntie Lori & Uncle Ken for being on my team," says Powell of those who have supported him throughout his academic journey.
When it comes to the future, we are positive that Nolan is just going to stay the course and keep impressing people.
"I'm scared that I'll take the path of other music grads and stop making breakthroughs as a player in order to find a stable job and pay the bills," he admits.
"The main plan is to battle that pressure as much as I can and not let any dreams die. Some of us have to 'make it' in the end, right?" he says.
As successful as he has been in so many areas of his life, incoming DFOM students would be wise to pay heed to Powell's advice for them.
"Make a lot of real friends – not just fakes ones that you say 'hello' to in the hall once a day and follow them on Instagram," he says.
"Take time to get to know people and show an interest in making a genuine connection, however small, and you will make it to where you want to go as a musician. I've heard from so many musicians that rule #1 is: 'be a good hang,'" he says.
Nolan Powell has been a great hang and an incredible student, and we're sad to see him leave our halls! We may have to renege, take back his degree, and make him repeat a year just to keep him with us a while longer. However, we'll settle for heading out to see the many performances he and his ensembles will undoubtedly perform! It's not often a consolation prize is so great!
Congratulations, Nolan!