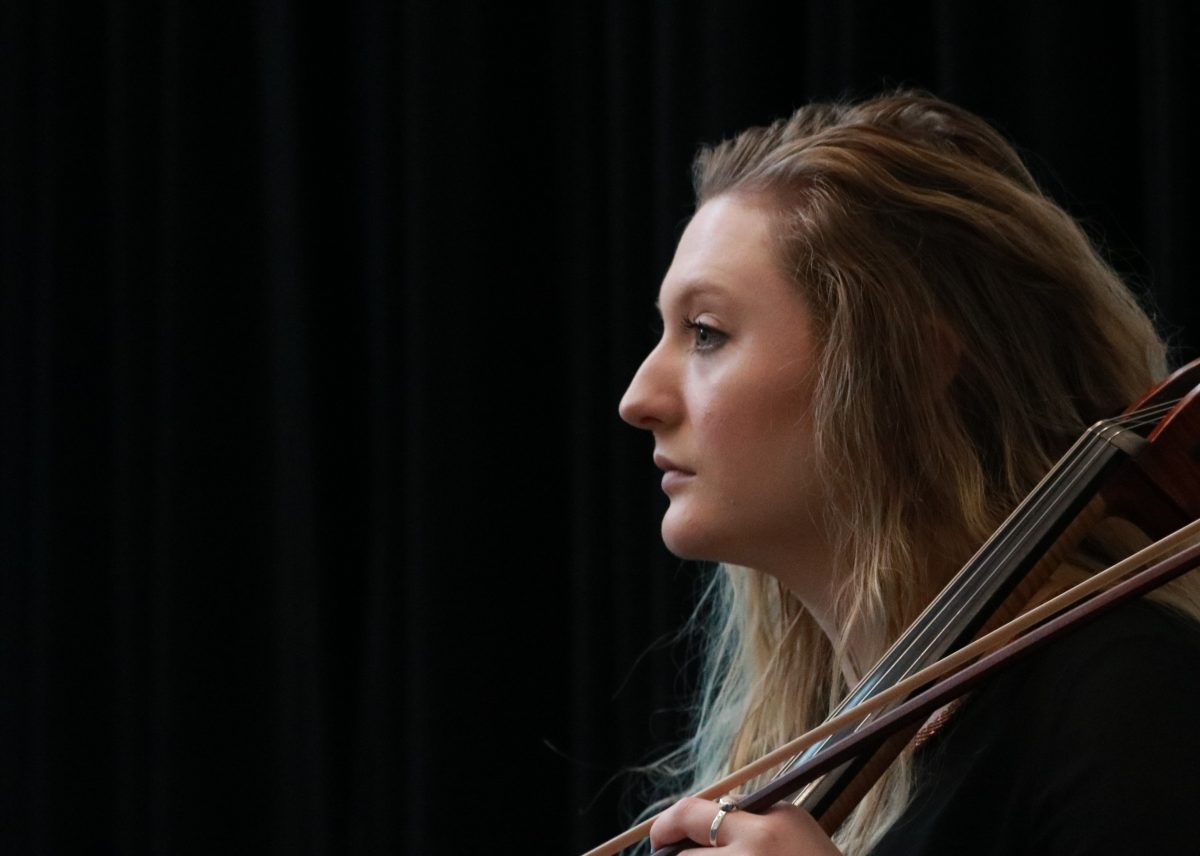 India George can move audiences from trans-Atlantic distances
2020 DFOM graduate India George has not let the pandemic keep her from transfixing audiences.
June 18, 2020 —
NOTE: We in the Desautels Faculty of Music are incredibly proud of our students. While COVID-19 is sidelining in-person commencement ceremonies around the globe, we want to find alternate ways to celebrate our graduates and give them the recognition due to them. Until we can gather together to properly applaud the years of study and practice that have led to this milestone, please join us in congratulating our 2020 Desautels Faculty of Music graduates.
Today we celebrate India George!
For some people in Canada, sheltering in place during the pandemic does not mean that they get to do so at home. For many international students, there will be no trips to their home countries this summer to recharge with family and friends.
2020 DFOM graduate India George, who has earned her Master of Music in cello performance, hails from the UK, which has been ruinously hit by the pandemic. To watch the damage from across the Atlantic must be incredibly difficult.
However, Britons, with their famously stiff upper lip and enduring motto of "Keep Calm and Carry On," have weathered the pandemic with their renowned, if muted, buoyancy. Nightly during their shutdown, UK citizens would step outside of their homes to "Clap for our Carers," in tribute of the tremendous work that the National Health Service was undertaking to save lives.
George is one half of "the Gigman Duo," in which she performs with fellow 2020 DFOM graduate Nolan Powell (Master of Music, guitar). She wanted to show her appreciation, but knew that a clap in Winnipeg would not be heard across the ocean.
Instead, she and Powell went to Birds Hill Park with instruments in hand to record a tribute to the NHS.
"'Somewhere Over the Rainbow' has become an anthem for the NHS and showing appreciation to carers during the Covid-19 pandemic," she says of the duo's song choice while introducing the video.
For George, however, the song has deeper meaning.
"This is dedicated to all national health workers during this time but especially to the nurses and doctors at the Meadow Ward dementia unit at the Princess of Wales Community Hospital in Bromsgrove," she says.
"They cared for my Grandma in her final months last year whilst she was battling Lewy Body Dementia. They went above and beyond to look after not only her, but my family and me during such a difficult time in our lives," she says.
"During her time in the unit, my Grandma was barely able to say a sentence, but one day she began to clearly sing 'Somewhere Over The Rainbow,' forever putting the song in my heart after such a special moment," says George.
The video is undeniably moving, and beautifully performed. Winnipeg's omnipresent wind makes a predictable appearance in the video, but adds to the performance, as if underscoring the storm that the pandemic has wrought, and carrying the melody to its intended destination. It can be seen on George's YouTube channel HERE.
In the faculty and beyond
During her time in the faculty, George, who was awarded the Marcel A. Desautels Graduate Scholarship, has performed extensively with the University of Manitoba Symphony Orchestra. She has also added her immense talents to the 2019 Desautels Opera Theatre ensemble, accompanying the group's production of "Surprise, Surprise," which featured opera songs that reveal unexpected twists.
She also played for high school students at the DFOM's Open House concert, where her gorgeous, emotion-fueled performance put the high school students in awe of her.
Among George's favourite pieces learned in the faculty was the Cello Concerto in E minor Op.85, by Sir Edward William Elgar, in no small part because of the connection to her home.
"This piece is particularly special to me as I'm from Elgar's hometown," she says.
She also performed with Minna Chung's "C-String Collective," a student-led strings ensemble "dedicated to premiering works by up-and-coming composers." This past year, the group performed with Grammy-winning cellist Nick Photinos, first for DFOM students during a midday performance, and then later that evening for Groundswell.
With Photinos, the group performed Canon Preludes, by Matt Frey, and Fratres, by Arvo Pärt. The C-String Collective members placed themselves around the concert space surrounding the audience, providing a beautiful and surprising surround-sound experience.
"Dr. Chung was my MPS teacher and really expected the best out of my playing," says George of her faculty mentor and C-String Collective director.
"From her, I learnt a lot about how to add more musicality into my playing," George adds.
"India George has been a model student in the Master's degree program," says Chung, an associate professor of Strings in the DFOM.
"Her weekly lessons led to insightful discoveries about her musical ideas and investigations upon her technique to either modify or improve her performance. We will miss her smiling personality and wish her all the best!" adds Chung.
George has also found a way to impress even Canadians who are not familiar with classical music, with some unique bragging rights.
"I played in the orchestra for Michael Buble's Love tour in Winnipeg last year and it was definitely my proudest moment during my time in Canada," she says.
Credit recital
Due to the disruption caused by COVID-19, the Desautels Faculty of Music had to cancel all of its remaining events for the 2019-2020 season. In addition to final ensemble performances, about 40 student credit recitals were cancelled, including those of graduating students, whose final credit recitals serve as a sort of capstone project showcasing what they have learned throughout their studies. Unfortunately, George's final master's recital was among the cancelled.
She had planned to perform Après un rêve, op. 7, No. 1 and Sicilienne, op. 78, by Gabriel Fauré; Sonata in g minor for Cello and Piano, op. 19, by Sergei Rachmaninoff; Siete canciones populares Españolas, by Manuel de Falla; and Halcyon, by Jocelyn Morlock.
The Rachmaninoff piece was another of her favourites.
"It is a piece I had always wanted to learn," she says of the piece.
However, George was not to be thwarted by the pandemic. She and Powell performed a socially-distanced concert for the Winnipeg Classical Guitar Society's "Frets Alive Series" on June 8, 2020, which featured some of the works they had planned for their recitals. You can find the promo for the concert on the Gigman Duo's YouTube channel HERE.
Advice for incoming students
For international students, uprooting themselves from the life they have known can make for a challenging transition in an entirely new culture and education system, but George has some advice for making the transition easier.
"It's important to try to explore the city as much as you can, as it was daunting to me that things within Winnipeg are not as accessible as I'm used to," she says.
"Once I started exploring the city it really helped me to enjoy my time here more and I am now even prepared to stay here post-graduation," she says of her shift in feelings about the city over the course of her degree.
She plans to stay in Winnipeg and continue to do gigs with the Gigman Duo after graduation.
Acknowledgements
"I would like to thank my teacher Minna Rose Chung," says George.
"I met her at home in 2013 through my first cello teacher and that's how this opportunity for me to do a master's degree all these years later came about," she says.
"Also, I'd like to thank my parents, family and friends – both in the UK and Canada – who have supported me throughout my time here," she says.
George's unique duo performances are a breath of fresh air, transfixing audiences and reminding us that even well-known pieces can sound entirely new when played with different instruments.
She is a talent to watch – and we are delighted that we will continue to hear her music in the city!
Congratulations, India!