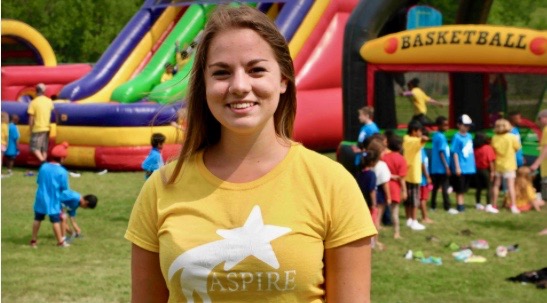 Teaching is what I want to pursue
Faculty of Education student Nicole Barry shares her summer experiences
September 4, 2018 —
Fall term is starting and students are back on campus. While it may be time for back to school, UM Today is reflecting on summer by sharing some of the exceptional things U of M students were up to over the break.
Entering her second year in the Faculty of Education after-degree program, Nicole Barry is pursuing her passion to become a teacher. She spent the summer coordinating various educational games, hands on learning experiences and field trips for a group of students in grades one through five in the Louis Riel School Division.
What were you up to this summer?
I worked for a program called ASPIRE (Academic Summer Program Including Recreation and Education), which is a summer school/camp program facilitated by the Louis Riel School Division (LRSD). The program has been very successful within the LRSD community, combating schoolchildren's learning loss over the two month summer vacation. The program allows students to learn through games and activities designed to build skills in math, reading, writing and problem solving without feeling like they are in a traditional classroom.
How did you discover this opportunity?
ASPIRE was recommended to me by co-workers, so I decided to apply. Luckily, I was hired for the position and have been a part of the program for the past three summers!
What did you like most about this experience?
This program is an amazing opportunity for anyone going into the teaching profession. You have your own classroom and group of students for the summer. Essentially, you receive a ton of hands-on teaching experience! I had the opportunity this summer to meet so many amazing students and make new friends.
This summer I was able to work on lesson planning, adapting those lessons, building relationships and really hone my skills as an educator, which is all part of being a teacher.
What impact did the experience have on you?
My first summer working for the program confirmed for me that teaching is what I want to pursue. I've been able to meet and be a part of the lives of so many wonderful students. Through this experience I have also learned a lot about myself as an educator.
With summer quickly coming to an end, what do you look forward to most going into the new school year this fall?
I am looking forward to seeing my classmates from school again and meeting my new students during practicum!
Visit our student accounts on Instagram and Facebook to share your summer stories. You can also join the 'Summer stories conversation' on social media by following #umsummer2018