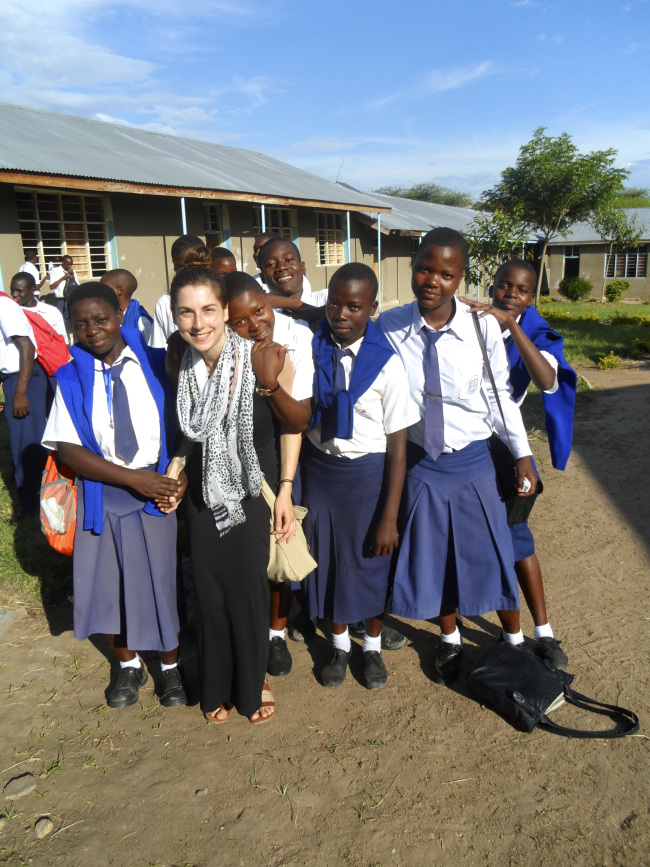 Tanzania, an unforgettable service learning trip
October 31, 2014 —
This May, four U of M students traveled to Tanzania for an unforgettable service learning trip. Delaney Page, College of Nursing, Virginia Robinson, Faculty of Education, Zachary Johnson, Faculty of Arts, and Nikki Hwrylyshen, Faculty of Human Ecology, worked with Badili Mtizamo – Gender Equality Now!, a jointly executed service learning program organized by Canadian Physicians for Aid and Relief (CPAR) and the International Centre for Students at the University of Manitoba.
CPAR and the University of Manitoba have been working together since 2007 when students began to join CPAR's study tours.
This year's Badili Mtizamo participants further developed and adapt the 'Gender Relations' program delivered last year and expanded it to two new secondary schools in Bunda District, Mara Region of northern Tanzania — Kuzungu Secondary School and Rubana Secondary School.Badili Mtizamo means 'change the way you see things' in Kiswahili. Service-learning is a recognized methodology that differs from typical "voluntourism" because of the emphasis it places on genuine reciprocity and a demand driven approach, the principle of guided and structured reflection, and the intensity of the pre-departure preparations. Each of the participants has been selected for their suitability and undertakes an on-line not for credit course called "Transformative Partnerships: An Introduction to Service Learning." To acknowledge their hard work and dedication, they will receive a notation on their Co-Curricular Record.
UM Today brings you selected entries by student Virginia Robinson from the ongoing blog maintained by the students through the course of their  journey. See our story on all of the students here.
On route
May 3, 2014
Virginia
It's hard to believe that it's already May – the time since I applied for this program last November has flown by. Thankfully, the journey to Tanzania has gone equally as fast. We just arrived at the KIA lodge outside Kilimanjaro airport after a very, very long day of travel. I think we are all excited to finally be setting off after months of planning and meetings in Winnipeg. It's started out well so far – all of the flights were on time, my bag was only slightly overweight, and all of our luggage made it here with us. After a positive, albeit somewhat teary-eyed goodbye to my dog and my family, I am very ready to see what Tanzania has in store for us.
When I think about my expectations for this program, I hesitate to set concrete goals. My past experience working overseas has taught me to expect the unexpected, and to lead with an open mind. So, rather than setting specific goals for this experience, I'd like to set a list of hopes.
First, I hope to create an open, inclusive and safe environment for the students to learn. I hope to give exciting, relevant and engaging lessons, and that we are able to inform and encourage students to make healthy, positive decisions. I hope to learn — about the culture and traditions of the village that I'm in, about the wants and needs of the students, and about my own strengths and weaknesses as a teacher. I plan to take all of these hopes and set out on this journey ready to give all that I have to give, and take away all that I can take.
Our First Day of School
Virginia
May 9, 2014
Wednesday was our first day at Kuzungu Secondary School. We had rather large classes for what we expected. We had over 90 students in total, so we split into two groups, each with 40-50 students. They were respectful and eager to learn, though their knowledge of the English language was limited, which opened our eyes to just how challenging this experience would be. We focused the first class on introductions of each other and the program. One of our first activities was to have the students create a title page for their notebooks, however the concept of a decorative title page did not seem to be emphasized in their school. They did seem, though, to enjoy sharing three things about themselves, which was the later half of this activity. During the remainder of this class we overviewed the Badili program and introduced the yearbook that we will be providing them with at the conclusion of our four weeks. We ended the day by initiating a "Gender Role" activity, which was completed in groups and which proved to be effected in increasing participation and helping those who struggled with English comprehension. Consistent with previous years, we also introduced the concept of a "Suggestion Box" where students can anonymously ask questions that they may not be comfortable asking in front of the class. We will be addressing these questions throughout the program. There was a high volume of questions from this school concerning HIV/AIDS, so we will devote more time to this topic over the next few weeks.
Yesterday was a trying day at Rubana Secondary School. Again, our numbers were far greater than expected, totaling over 125 students. As we did not expect such high numbers, we were substantially short on school supplies and found it challenging to teach such large classes. Although the English language comprehension was better at this school, classroom management was difficult due to the numbers and attitudes of these students, which were less focused than students at our other school. As a student in Education, this experience was particularly challenging for me. I have not experienced class sizes this large in Winnipeg, and have noticed that I will need to be more assertive than I typically have been in classrooms at home.
It is great to see such an overwhelmingly high interest in the Badili program. Our next topic, which we will begin at Kuzungu School today, is gender equality and human rights. We hope that we can make some progress with the language barrier.
Final Days
June 3, 2014
Ginny
The last few days of the program have flown by. It's hard to believe it's our last day in the schools today. Yesterday's final class at Kunzugu went very well. As their final project, the kids worked in small groups to develop presentations about one of the topics that we've covered over the past month. We started these last week, giving the groups time to make posters, come up with creative ways to teach the material, and practice their presentations. Yesterday they presented these in front of the 4 of us and another group of students from their school. They all did an amazing job, and we were so proud of them. Even the kids who had been more reserved and less talkative in class really knew their facts. They all seemed really excited to share what they'd learned with other students, which was so great for us to see. We left Kunzugu yesterday feeling like we'd really accomplished what the program set out to do, and that we had really made an impact with these students. We finished off the class yesterday by handing out yearbooks and certificates to all the kids, which they seemed very excited about. Today is our final day and Rubana, and we're hoping that the response is equally as positive.
Virginia Robinson, Faculty of Education
I am currently pursuing a Bachelor of Education with a focus on the middle years stream, and will be graduating in the spring of 2015. Prior to this, I completed a Bachelor of Arts in history, also from the University of Manitoba.  I have always been passionate about education, and have been involved in teaching, coaching and coordinating educational programs for children in Winnipeg for many years. I have travelled throughout Europe and to Thailand, volunteering in Western Thailand at a wildlife rehabilitation center and a community center for the children of Burmese refugees. This will be my first trip to Africa, and I cannot wait to discover life in Tanzania, to learn from the local community and to be a part of this amazing service-learning experience.
 See our story on all of the students here.