Trina McFadyen News Archive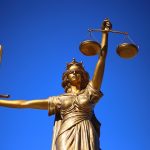 August 28, 2023 —
Obtaining clerkships after graduation has been rare for UM Law students recently, but the Federal Courts and Career Development staff at Robson Hall hope more Manitoba students will take note of the invaluable opportunity and apply.
+
July 14, 2023 —
Pro Bono Students Canada is a national pro bono organization with Chapters at 22 law schools across the country, including the University of Manitoba. The PBSC's mission is to provide free legal support to people and communities facing barriers to justice. Volunteers at the University of Manitoba chapter have gained valuable legal experience in clinical settings, on research projects, and as legal interns throughout the Academic Year. By exposing law students to the value of Pro Bono service, PBSC aims to encourage the next generation of lawyers to make pro bono service an everyday part of their practice.
+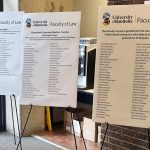 April 11, 2023 —
The Faculty of Law was honoured to recognize the hard work, diligence and achievements of its community members at an annual reception held Tuesday, April 4, 2023. Many distinguished members of Manitoba's legal community, including judges, law firm partners, practicing professional instructors, professors and staff of the province's keystone legal organizations were in attendance, many of whom are also alumni.
+