ice intrepid News Archive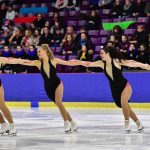 April 1, 2019 —
If longevity is a measure of success, then count the Ice Intrepid Synchronized Skating Team as one solid crew. The University of Manitoba Rec Club celebrates its 20th anniversary this month, accumulating with a performance reuniting two decades worth of alumni on April 6 at U of M's Wayne Fleming Arena.
1
February 25, 2019 —
The synchronized skate club is just one of many rec club options offered by Recreation Services. Learn more!
+