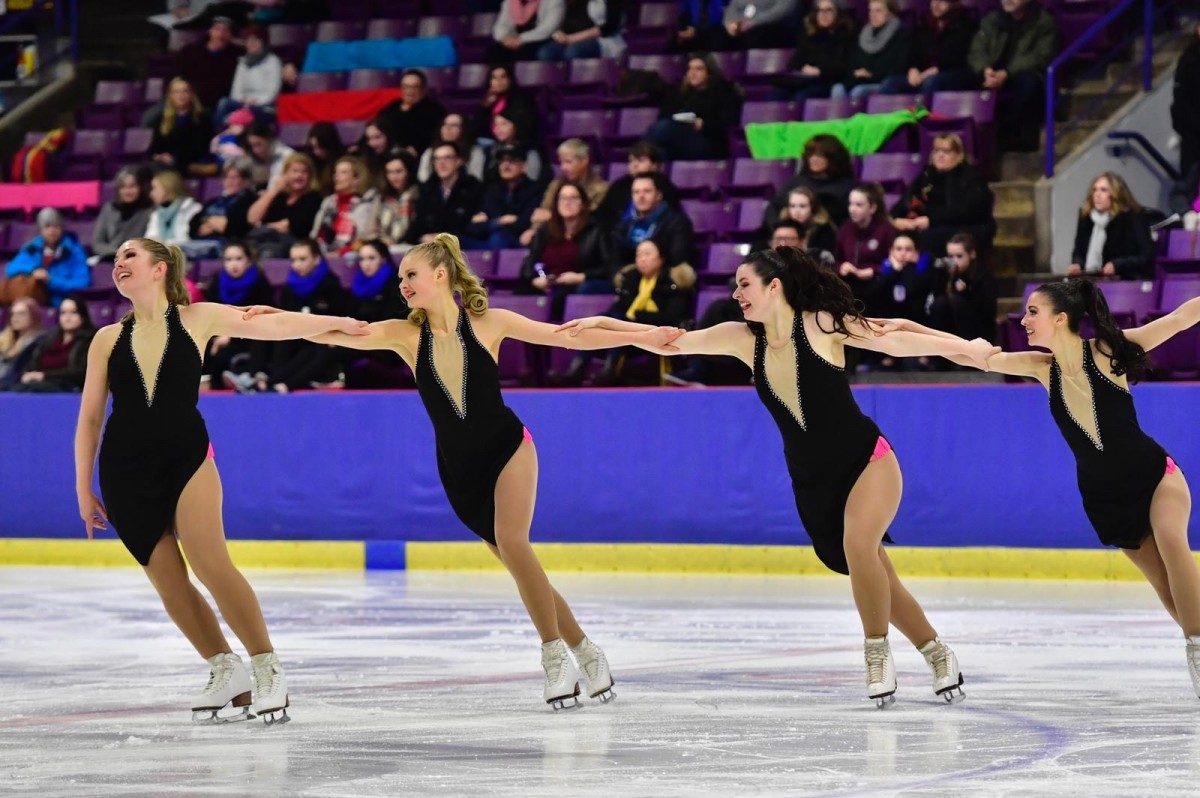 Rec Club spotlight: Ice Intrepid
February 25, 2019 —
At the University of Manitoba, Recreation Services provides students, staff and alumni the opportunity to participate in organized sport and physical activity through Rec Clubs.
President of Ice Intrepid (U of M's synchronized skate club) Avery Albrecht, shares more about the club and why she loves being a part of it.
Why did you decide to become an executive of your club?
I wanted to play a role in the decisions shaping our club. I love the sport of synchronized skating, and when the opportunity to become president presented itself, I took it as a chance to increase awareness of the sport (especially on campus), enhance my teammates' experience, and push synchro to evolve within the prairie provinces.
What have you learned while being an executive member of your club?
I've learned there's so much more to sport than athletics. The intricacies into making a season successful—from equipment to travel to coaching—has allowed me to grow personally and professionally.
What are some social and/or physical benefits of being in your club?
Ice Intrepid provides skaters with the opportunity to continue to competitively skate with a schedule that is understanding of a university student's life. I joined Intrepid because it gave me a reason to stay active during university and to meet new people. The friends I've made have a similar passion for the sport that's led to lasting friendships outside the rink.
What are some events/tournaments/achievements you want to highlight?
In January, Ice Intrepid travelled to Brampton, Ont. to compete at Winterfest, and Carberry, Man. for the Manitoba Synchro Championships. At the beginning of February, Intrepid competed in the Prairie Regional Synchronized Skating Championships in Tisdale, Sask. Intrepid placed first with 97.03 points qualifying for nationals in Waterloo, Ont., where they placed ninth overall with a score of 92.62.
Do you think it's important for students to join a Rec Club?
The social and physical benefits are undeniable. University can become all-encompassing of a student's life; participating in Rec Clubs is a way to take time away from school to recharge and refocus. Rec Clubs also provides an opportunity for students to take on leadership roles that compliment one's degree, or act as good experience when applying for jobs. Overall, Rec Clubs can take a student's university experience to the next level.
Visit uofmactiveliving.ca to learn more about the club including team requirements and how to become a member. Connect with them on social media [@IceIntrepid].