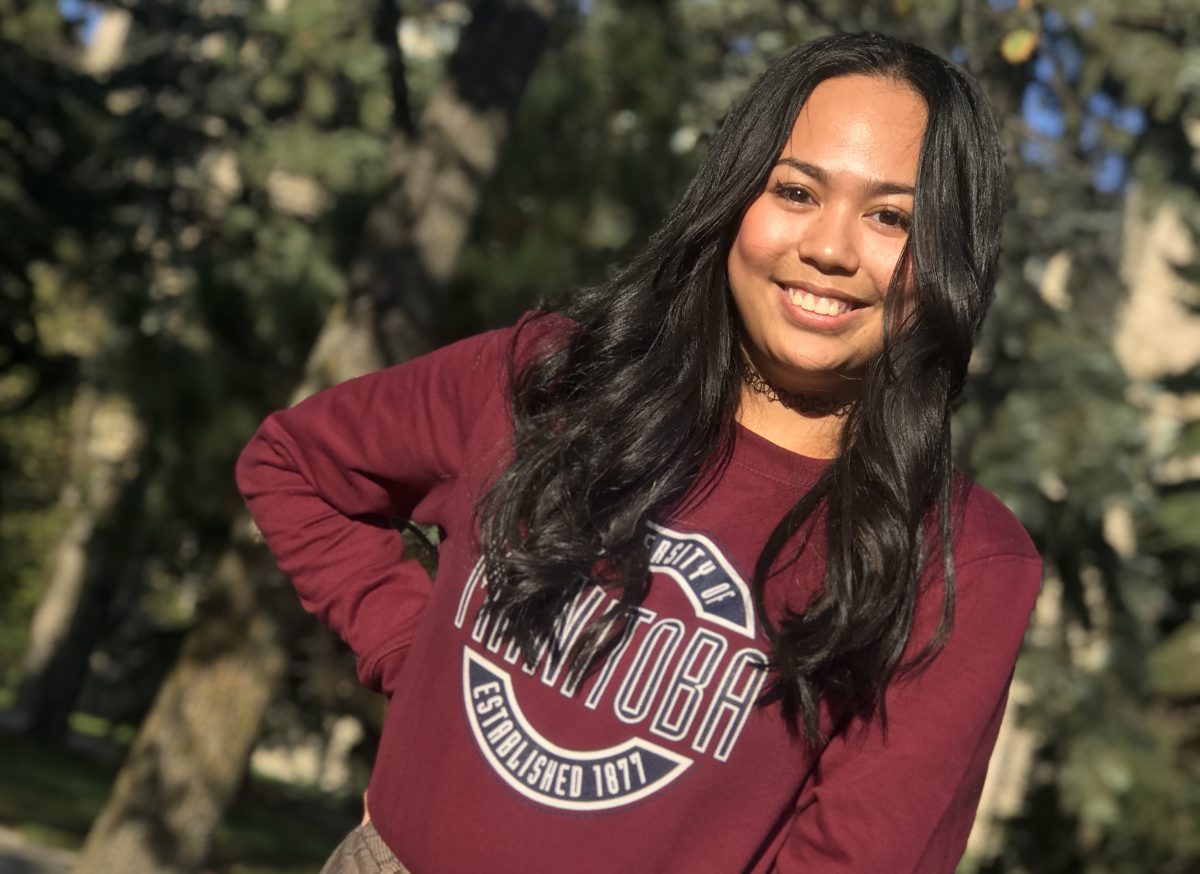 Student Success Month spotlight: Samantha Nicole Tumlos on thinking outside the box
October 10, 2019 —
As part of Student Success Month, we are featuring UM students that have a story to tell about their experiences navigating the challenges of student life.
Samantha Nicole Tumlos was born and raised in the Philippines, and moved to Canada in 2014. She is completing her final year of an Advanced Bachelor of Arts in Labour Studies and Human Resources/Industrial Relations.
Tumlos spoke to UM Today about her holistic approach to university life.
CAN YOU SHARE AN EXAMPLE OF A TIME SOMETHING UNPLANNED OR UNEXPECTED HAPPENED DURING YOUR STUDIES? HOW DID YOU HANDLE IT?
Changing my career path was definitely unexpected. Starting university, I had always planned on a career in business and accounting. Being an overachiever, I thought my extensive academic background and love for math would contribute to my success in university. Unfortunately, I failed my first university-level mathematics course and it made me feel like a failure. I failed a class I thought I would enjoy and felt like my entire life had fallen to pieces.
I stepped out of my comfort zone and reached out to places and people such as career consultants, academic advisors, writing tutors, and counsellors that offered academic, career and personal support. After a few weeks of reflection and exploration, I've realized how much more there is than being caught up in all of the stress of retaking courses and forcing myself into something that did not match with my personality, interests, and passions. I consider myself lucky to have received the support that I got at a very early stage of my university career.
HAVE YOU EVER EXPERIENCED A TIME WHEN YOU FELT THERE WAS A BARRIER IN YOUR WAY? HOW DID YOU MANAGE IT?
Financial barriers to education can be stressful and unmotivating. However, it's important to try and approach things with a "glass half full" perspective.
Personally, I have designed my degree and schedule around a specific timeline for when I was covered by student loans. While this made it challenging to be flexible about how many classes I took or how many part-time hours I worked, I took advantage of having a structured timeline to strategically plan a schedule. Taking evening classes allowed me to keep my day job and having my weekends off gave me enough room to catch up with friends or fulfill academic obligations.
WHAT HELPS YOU BALANCE ALL THE ASPECTS OF YOUR LIFE AS A UNIVERSITY STUDENT?
Words can never express my gratitude towards everyone who has made a significant impact to my development both as a student and as an individual.
Career Services offered me a safe and non-judgmental environment where I was able to openly explore all of my career possibilities. Talking to career consultants also provided me with a way to think and strategize all aspects of my life (e.g. career, personal relationships, academics, self-development, etc.). Heeding their advice contributed to my success.
Counsellors from the Student Counselling Centre, health providers from the University Clinic and Pharmacy, and some of my peers have also helped me find ways to be more aware of negative stressors, how to cope with stress, and find a balance to live a healthy life.
Academic Advisors have also helped me plan my academic career. Not only did they provide me with valuable information regarding academic and graduation requirements, but they have also taken the time to carefully explain each aspect of the academic system that affected decisions that I had to make along the way.
WHAT MESSAGE DO YOU HAVE FOR NEW OR RETURNING STUDENTS WHEN IT COMES TO BEING SUCCESSFUL AT UNIVERSITY AND IN LIFE?
Explore everything the university and life have to offer. As cliché as that sounds, there's really no other way to explore your identity, your passions and your interests than by stepping outside of your comfort zone and taking risks! University is not just a place of learning and earning a degree, it's meant to be a place where you can figure out how you can fit and make a positive impact in this world we live in.
This article is an initiative of Student Success Month, which takes place in October. For a calendar of events, click here.
This interview series is inspired by McMaster University's Planned Happenstance Project.