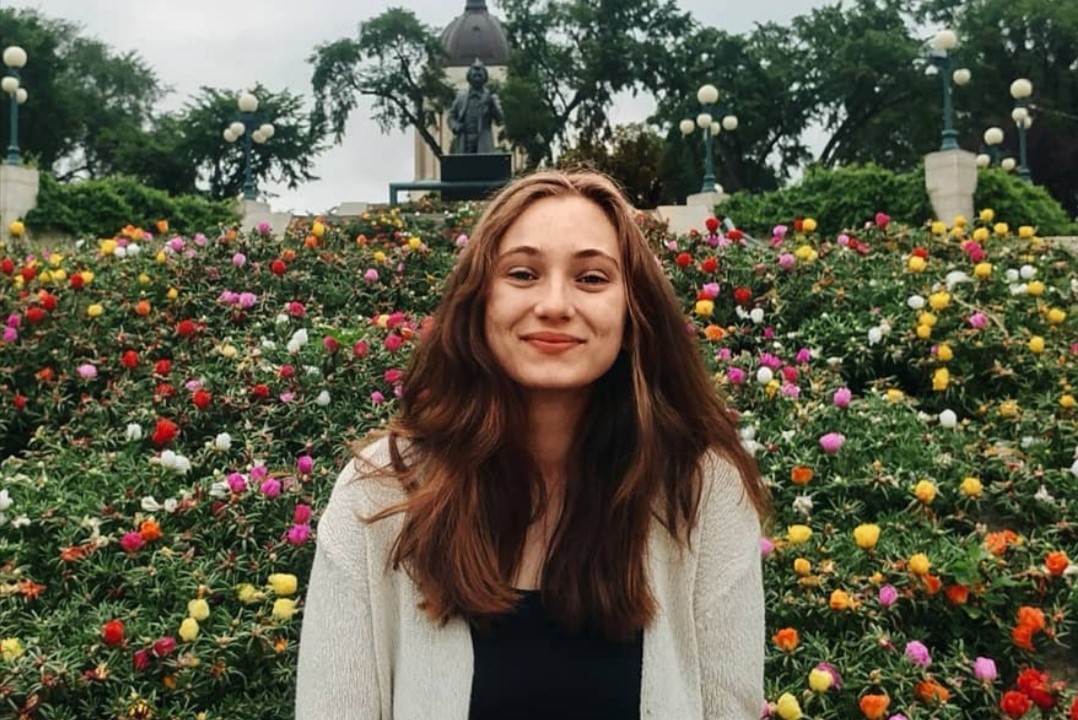 Student Success Month spotlight: Maryse Giesbrecht on switching paths
October 7, 2019 —
As part of Student Success Month, we are featuring UM students that have a story to tell about their experiences navigating the challenges of student life.
Maryse Giesbrecht moved to Winnipeg from Landmark, MB to pursue a degree in the Faculty of Social Work. That wasn't always the plan. Originally Giesbrecht aimed to complete her undergraduate degree in psychology. Upon further reflection she discovered it wasn't the best fit for her.
Giesbrecht spoke to UM Today about the steps she took to shift her undergraduate degree path.
CAN YOU SHARE AN EXAMPLE OF A TIME SOMETHING UNPLANNED OR UNEXPECTED HAPPENED DURING YOUR STUDIES? HOW DID YOU HANDLE IT?
In my second year here at the university, I was studying psychology and realised that I needed to change paths. Being halfway through my undergrad degree, I was very hesitant to switch my degree plan because I feared falling behind and graduating years later than all of my friends. This was very unexpected because I had planned out my degree and my life, based on the fact that I was going to become a 'Counselling Psychologist'. In fact, I even received a scholarship, which I wouldn't have received if not for my thorough educational plan. This made it difficult for me to change what were, essentially, my life plans.
After I had made my decision to switch to a profession in Social Work, I researched different schools around the area, the application processes and even met with advisors from different schools. I went out and collected all the information I could on the available programs around the city, then made an informed decision and applied to the program at UM. When I look back on this event, I think that I was actually really brave and determined throughout the process.
WE ALL HAVE UNCERTAINTIES ABOUT OUR FUTURE. WHAT IS YOUR TIP OR TRICK FOR HANDLING THE UNKNOWN?
It's easy to become anxious about your future but it's really important to be present and live in the moment. Thinking about your future can be really intimidating. For me, I'm worried that graduation is coming faster than I feel that I'm ready for. In these moments I remind myself that everything will work out, even if it doesn't go the way that I had planned. We are capable of accomplishing a lot more than we think we can.
WHAT HELPS YOU BALANCE ALL THE ASPECTS OF YOUR LIFE AS A STUDENT?
For me, keeping an organized schedule is crucial. I honestly heavily depend on my UMSU student agenda to keep myself organized between practicum, classes, meetings and other ventures. I also love to use the gym at the university. When I exercise, I feel my busy week full of classes and assignments completely balance out with that little bit of self-care.
WHAT MESSAGE DO YOU HAVE FOR NEW OR RETURNING STUDENTS WHEN IT COMES TO BEING SUCCESS AT THE UNIVERSITY AND IN LIFE?
Your mental health has a huge impact on your performance at school and in life in general. Eat the green stuff, be in nature, pet some animals, exercise, give and receive love. When you feel good, you do good.
WHAT DO YOU FIND MOST EXCITING WHEN YOU THINK OF THE FUTURE?
I get excited when I think about travelling the world and about all the time I have to become a more positive and kind person. I look forward to all the years of opportunities I will have to help others with using my (future) social work degree. I'm excited to be part of making the world a more beautiful place!
This article is an initiative of Student Success Month, which takes place in October. For a calendar of events, click here.
This interview series is inspired by McMaster University's Planned Happenstance Project.