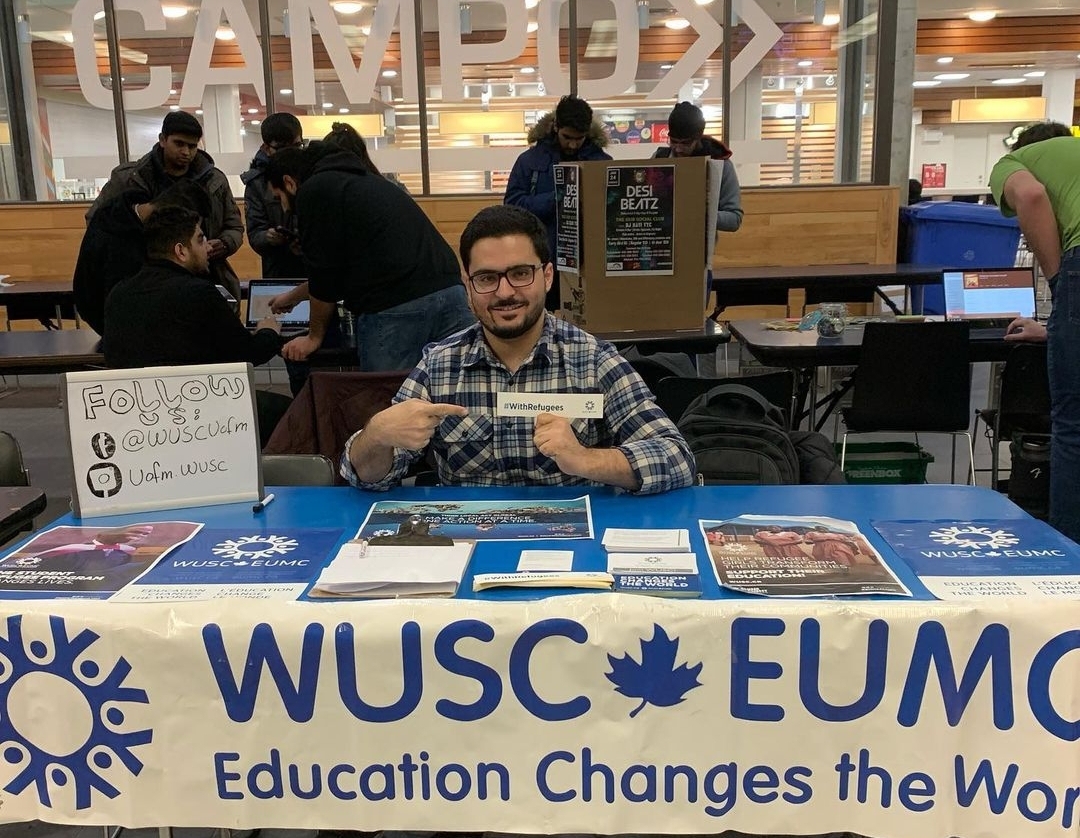 Student Refugee Program Seeking Volunteers
WUSC Student Refugee Program offers university education and resettlement
December 13, 2022 —
For the past four decades, UM has partnered with the World University Service of Canada (WUSC), offering university education and resettlement for refugee students. In 2016, their reach was expanded through a levy by the UM Students' Union which has allowed the WUSC Student Refugee Program to welcome more refugee students than ever before.
Through the expanded Student Refugee Program (SRP), they have sponsored students from refugee camps in Jordan, Lebanon, Kenya, Malawi and Uganda to come study at UM. In 2021, UM welcomed six students originally from Somalia, Syria, Iraq and Yemen, and WUSC will be sponsoring four more students for the 2023 Fall Term.
Syrian student refugee Ameen Alnaser is the Chair of WUSC at UM. Sponsored by the WUSC Student Refugee Program in 2018, Ameen has been volunteering with the program ever since, and is passionate about supporting refugee youth from around the world.
"I wanted to give back to the program that sponsored me and gave me an opportunity that changed my life," Alnaser says. "By volunteering with the WUSC SRP, I also was able to make a meaningful contribution and have a real impact on the lives of refugee youth around the world from Canada."
In his role, Alnaser and a team of nine other UM student volunteers have helped many new student refugees navigate an unfamiliar country, which can be a daunting task without family or friends. They have helped refugees improve their English, chart their educational path and find much-needed work.
Entirely funded and run by university students, the WUSC Student Refugee Program is reliant upon volunteer students, who form the core of the program. Volunteers support the integration and the resettlement of sponsored students and work to raise awareness about global refugee issues and reducing barriers to women's education. Joining WUSC can help students gain leadership skills and valuable experiences by engaging in global and humanitarian issues.
Habiba Mohamed is the WUSC finance director. An Asper School of Business student from Winnipeg, she was inspired to join WUSC after she heard about the program and hopes other students will be too.
"After meeting Ameen in Arabic class and learning about WUSC, I was very inspired by the work that has been done and what continues to be done to support education around the world," say Mohamed. "I really encourage students to apply and get involved in such an impactful initiative with a really great group of people."
The WUSC is currently recruiting eight volunteers who are passionate about international development issues to join the Student Refugee Program. They are looking for volunteers for the Co-Chair for Public Engagement and Outreach Director, as well as Secretary, Social Events Director, and three Student Refugee Program mentors (finance mentor, academic mentor, health mentor). The program is open to all UM students.
Students who choose to volunteer will be actively involved in resettling refugee youth and will have the opportunity to make a positive life-changing impact on their lives. Volunteers will be part of a diverse group and will have the opportunity to learn about new cultures, participate in group social events, and gain Co-curricular credits from the university towards their volunteer hours with the university. The application deadline is January 10, 2023. Contact uofm [dot] wusc [at] gmail [dot] ca for more information and to get involved.
If you would like to support the WUSC Student Refugee Program but are unable to volunteer, you can make a gift to the WUSC Endowment Fund which has been set up to support activities of the WUSC local committee and pay for immigration expenses, tuition and academic supplies for SRP students.