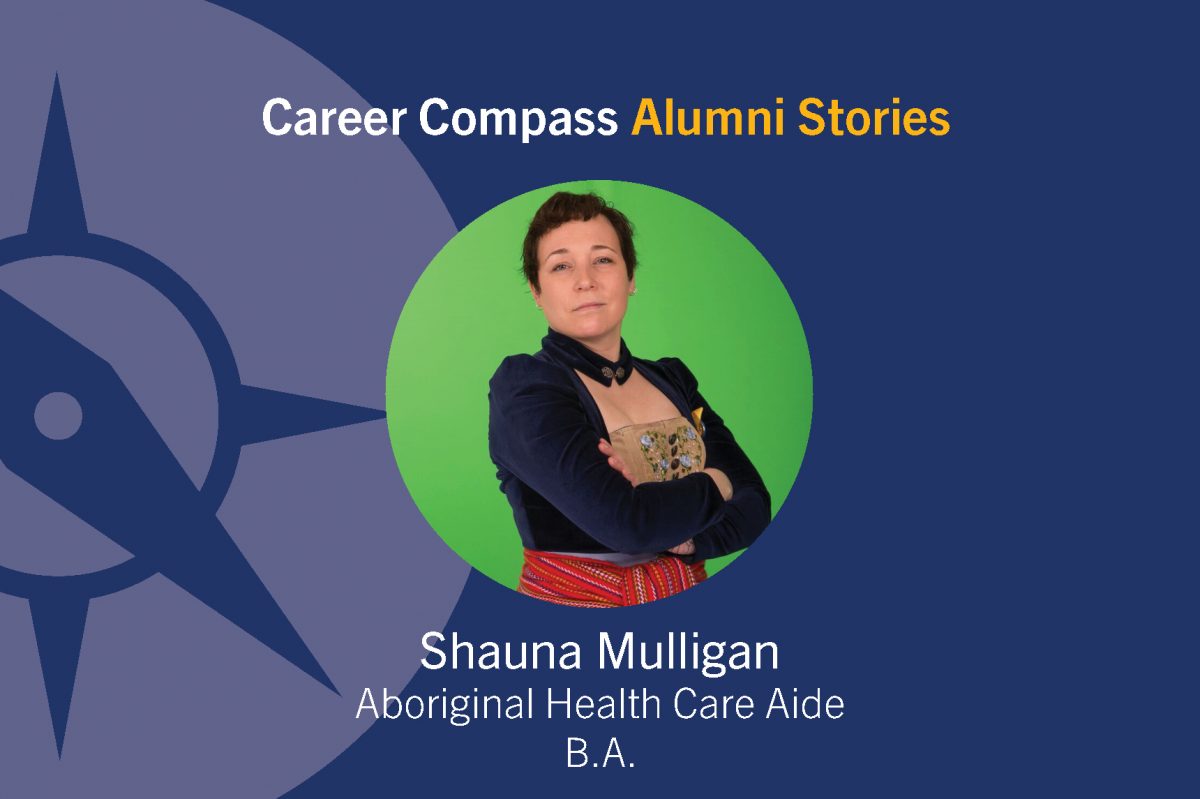 Shauna Mulligan Native Studies Alumni
Briefly, tell us about your job. What do you find most rewarding? What are your greatest challenges within this profession?
I work in two places currently, both of which my degree has helped me with. Firstly, I work at St. Boniface General Hospital in the Neonatal Intensive Care Unit as an Aboriginal Health Care Aide. Secondly, I work as a writing tutor for the Access and Aboriginal Focus Program. The most rewarding part of my job in Aboriginal health services is seeing babies go home with their families and seeing components of culturally appropriate care being given. For tutoring, the most rewarding thing is seeing students succeed in areas in which they were struggling.
The challenges I face within my two jobs are very different. Within the hospital, dealing with the systemic and institutionalized forms of racism is difficult because challenging those ideas creates conflict. I am happy if people understand what I tell them, but there are some who simply refuse to let go of old methods of thinking. With tutoring, the biggest challenge is motivation. When students approach me with little to no motivation, it is challenging to help them develop the skills they need to succeed.
What experiences and activities helped you to map out your career pathway?
Working as a teaching assistant in the third year of my undergraduate degree helped me to understand what professors go through when they teach and this helped solidify my plans to complete a master's degree and teach at the University of Manitoba. Taking that first native studies class helped me discover my passion for learning about Indigenous peoples and the unique challenges they face, but it was my experience as a medical assistant in the Reserves that helped me figure out what I wanted to do with my education. I put the two together and found that there is research and teaching I can do on the subject of Indigenous veterans and currently serving soldiers, which will be the focus of my master's thesis.
As a student, did you see yourself in your current career? What stayed the same and/or changed?
I started attending university to become a nurse, but that changed when I took the required native studies course. I started taking more and more native studies courses and I started to think about what I could do with my degree after I graduated. I knew I wanted to study more, I just didn't know in what area. I didn't figure it out until my third year of university when I began to put my practical military experience together with my native studies learning experience. If a teaching position opens up in the department of native studies after I complete my master's degree, I will be leaving health-care after 15 years of service. This will give me the opportunity I need to pursue a PhD in native studies.
What advice do you have for students who are interested in pursuing a degree in native studies?
Find that one thing you are really good at and hone it. Whether it is writing, research, networking, critical thinking or leadership, find a professor who is willing to challenge you in and help you develop. Don't discount your experiences and your community. They are both valuable sources of information.
What job search advice do you have for students and recent graduates?
Keep in contact with the professors that encouraged you. I found the Access Program tutoring position through a professor, who recommended me to the program director. Having that support was instrumental in getting my application considered for a position generally geared towards master's and PhD level graduates.
Tell us a fun fact about your career path.
As part of my work with the University of Manitoba, I have been interviewed by two different papers. One article was on Métis identity, and the other was on the importance of the Graduation Pow Wow and Indigenous graduates. I will also be featured in the 2016-2017 Faculty of Arts Handbook.