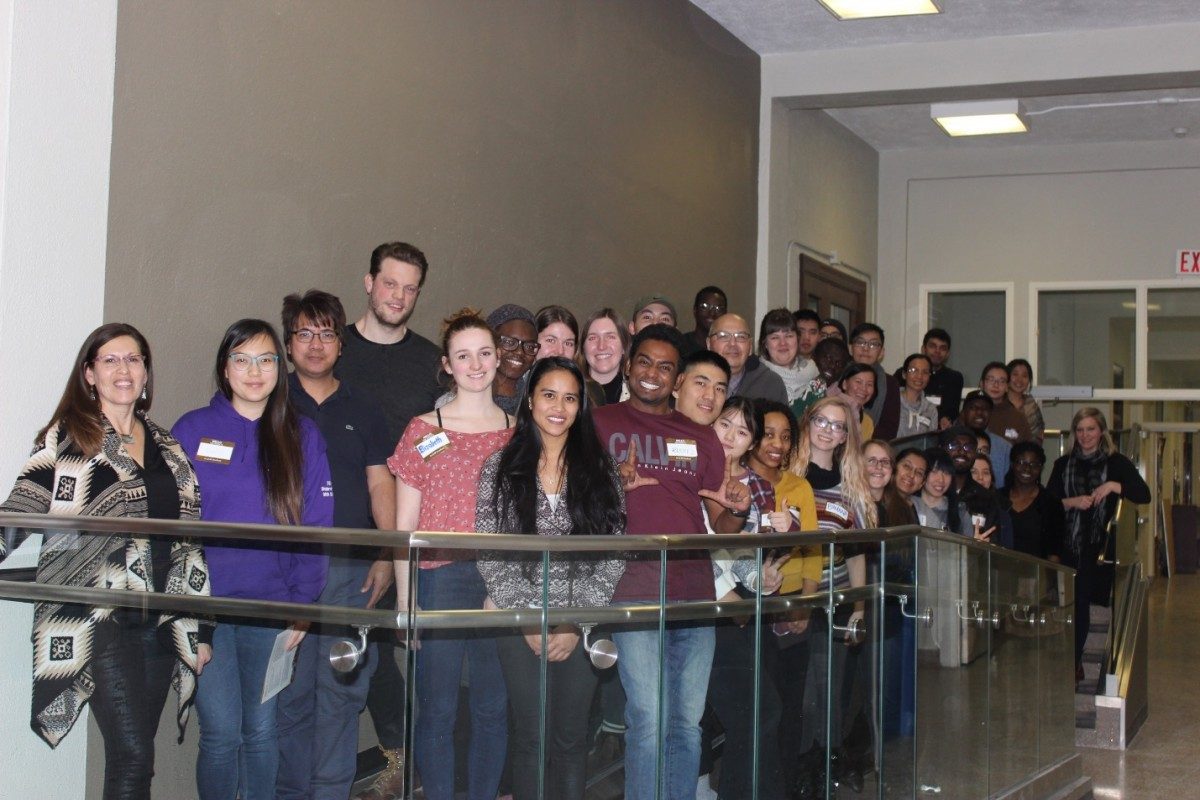 Service-learning in our backyard: Alternative Reading Week Winnipeg 2018
March 9, 2018 —
This year's project-based Alternative Reading Week (ARW) Winnipeg program wrapped up on February 27. Following six weeks of programming aimed to prepare students for work in non-profit agencies serving marginalized communities, students spent the week of February 19-23 in the community. These opportunities provided students with a glimpse into the realities faced by non-profits, which were discussed at daily debriefs and guided reflections led by Community Service-Learning student coordinator, Mercy Oluwafemi.
Here's what student project teams worked on this Reading Week:
Big Brothers Big Sisters of Winnipeg Inc.
Students led group mentoring workshops for elementary school-aged children. The workshops focused on building self-confidence and self-esteem through activities and games. This short-term program serves children who don't typically qualify for the agency's community-based programs.

Circle of Life Thunderbird House
Students designed a new winter initiative for youth that includes a winter teaching lodge and land-based programming. While the winter initiative still needs to secure funding, it provides an important opportunity for urban young people to connect with the land in winter.

Ma Mawi Wi Chi Itata Centre
Students worked out of the agency's Community Care Sites, serving coffee, getting to know community members, and having difficult conversations with people about how to tackle an emerging community priority: crystal meth.
Check out Nina Lam's Instagram Takeover on February 21.

Manitoba Association of Rights and Liberties (MARL)
Students worked on communications for MARL's public education initiatives, helping to produce creative content such as infographics and factsheets. Students also had the opportunity to attend a workshop at the Canadian Museum for Human Rights with executive director Michael Barkman.
Check out Tishad Ahamed's Instagram Takeover on February 20.

Mount Carmel Clinic
Students researched potential program funders and opportunity timelines for Mount Carmel Clinic's Indigenous Wellness program– the first of its kind in a western clinic setting. This placement provided students with a snapshot into the constant drive for funding required to run a non-profit organization.

N.E.E.D.S. Inc.
This placement team helped supervise newcomer and refugee students in classes, as well as provided tutoring and homework support in a variety of subjects. ARW students gained some understanding of the challenges faced by English-language learners who are studying new subjects in a new language.

West Broadway Youth Outreach (WBYO)
Students worked on a tight schedule to clean up storage spaces at WBYO in need of tidying and organizing before youth arrived for the after-school programming. Students learned about the positive cascade that an organized space can provide: staff can grab needed resources, spend less time searching for supplies, and quickly redirect their attention back to youth, which improves their overall relationship and rapport with the young people.

Winnipeg Harvest
Following the Reading Week placements, students were treated to a tour of Winnipeg Harvest and a chance to get their hands dirty, literally, in the warehouse sorting food for distribution – a drop in the more than 13 million pounds of food that Harvest distributes annually. Students also participated in an oppression workshop, which provided an opportunity to understand power and oppression in the context of community organizing, and witnessed a 'living library,' a powerful and emotional 'lived experience panel' consisting of Winnipeg Harvest clients, volunteers and employees.
Check out some of the photos that ARW students captured during Reading Week.
Community Service-Learning offers free local programs for students interested in applying their knowledge outside the classroom and gaining relevant hands-on experience in the community. ARW Winnipeg is offered in partnership with the University of Manitoba Student Union.