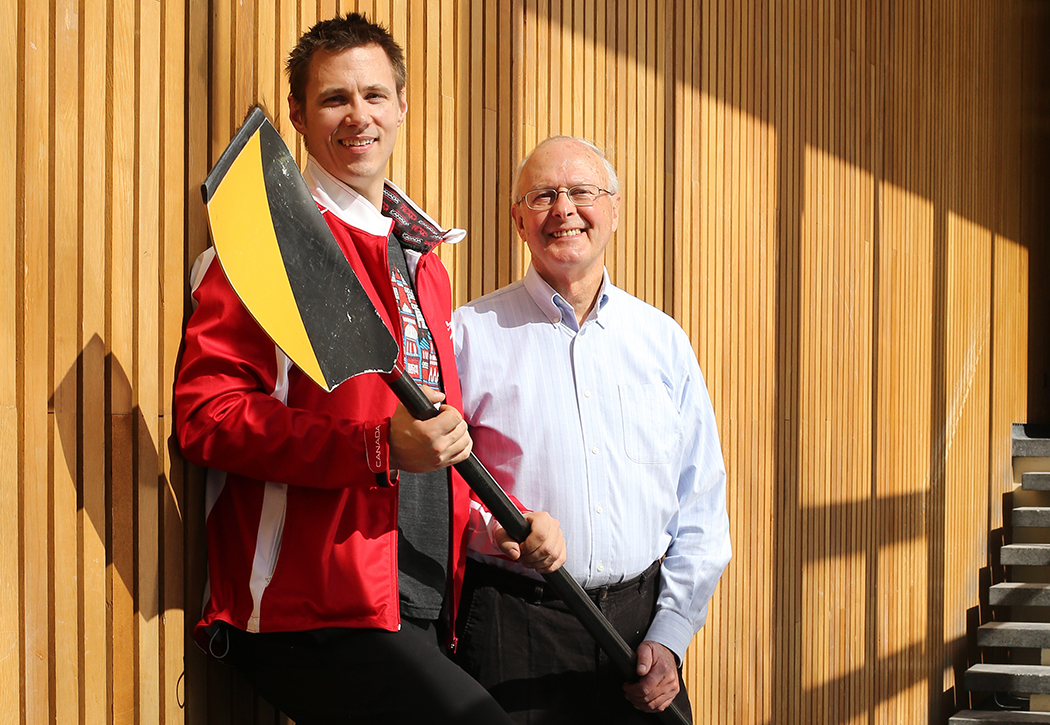 Scholarships and bursaries help students stay afloat
December 2, 2014 —
The Peter Nykoluk Award is for rowers like Kevin Kowalyk: full-time post-secondary students in Manitoba who make outstanding contributions and achievements in the sport of rowing. Started in 1995, the scholarship has provided financial assistance to 26 student athletes over the years. This year, the engineering student and athlete split the $6,000 award with Ashleigh Milani, a third-year student in the Faculty of Kinesiology and Recreation Management.
When you're a full-time student and Olympic rower like Kowalyk, even grocery bills can be a daunting expense — especially during Rowing Canada's men's team tryouts, held every year in British Columbia.
"When you're living in camp, you're typically consuming 7,500 to 9,000 calories a day and it has to be reasonable food," says Kowalyk, who spends considerable time in Victoria training with the national team each season.
In comparison, an active healthy man in his thirties should consume only 2,900 calories per day. It's not just any food, either; Kowalyk also has to be careful about what he's eating in a sport where power and weight matter for the events he competes in.
"It has to be good calories," says Kowalyk. "It has to have a decent portion of protein. On the weekend, I made a big batch of lasagna muffins with wontons from Safeway."
Grocery store bills are one reason winning this year's Peter Nykoluk Rowing Award was such great news to Kowalyk. He's using the money to help pay for food and textbooks, and he also bought some new running shoes.
"I've been a student and an athlete for a couple of years," says 33-year-old Kowalyk, who won the award last year as well. "I wish I had some kind of exciting purchase to flaunt but, no, it's just keeping my head above water."
The award is in memory of Peter Nykoluk, who attended Red River College but rowed with the U of M team. Nykoluk died in 1990, rescuing teammates who were involved in a car accident. The U of M crews had been travelling to a regatta in Minneapolis.
Jim Nykoluk [BSc(ME)/58], Peter's father and a master rower himself, says his family has continued to add capital to the endowment every year in order to increase the financial aid to deserving student athletes. The award amount has grown by more than 500 per cent since its initial amount of $900 in 1995.
Nykoluk remains involved with the Winnipeg Rowing Club since his son's passing, and actively follows Kowalyk's career. "Kevin really represents a lot about what the scholarship is attempting to do: to help needy students who are competing at a high level for their province or country at the same time as trying to obtain a university degree," says Nykoluk.
"The demands are immense and a little bit of financial help sometimes makes a difference. Kevin is really a terrific guy and I've enjoyed seeing him develop over the years and become a fine young man."
You can donate to Scholarships and Bursaries here.
This article originally appeared in the spring 2014 issue of On Manitoba