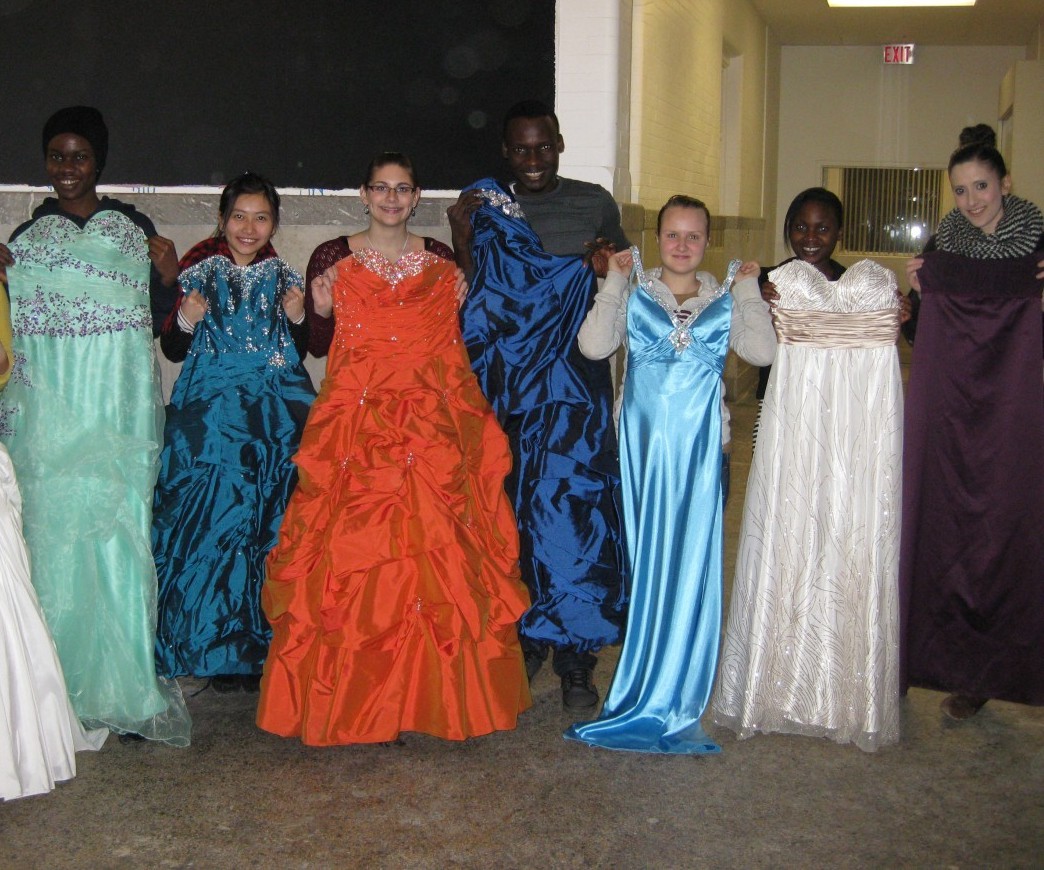 Satin and sparkle: Going to prom
June 20, 2014 —
For students finishing high school, it's that exciting time of year when they get to celebrate graduation and attend prom. But for many young women, finding a dress to wear to graduation ceremonies and celebrations can be stressful, due to issues of cost.
Gowns for Grads was initiated by St. John's High School in 2009 after learning that some young women were not attending their graduation because they did not have a gown to wear. Since then the program has expanded to other schools, collecting dresses and accessories and distributing them to girls who otherwise could not afford to purchase a gown for grad.
For the past fours years the U of M's student-run program, PRAXIS, has participated in Gowns for Grads by collecting dresses and accessories in January and February and sending volunteers to the final Gowns for Grads event at the end of April that is held at the RBC Convention Centre.
PRAXIS is a student-run program offered to the students of the University of Manitoba through the Student Life Office. The word, "praxis," means putting theory into action. Participants in the PRAXIS program learn of socio-economic issues in the local community and apply their knowledge through service and grow through reflection.
At the final event PRAXIS participants help Gowns for Grad recipients choose a dress and accessories that fits their personality, liking and size. The Laura Milner White Project collects the dresses from campus at the end of February, send them to dry-cleaning and display them to the Gowns for Grad recipients at the final event. PRAXIS has put on bake sales, hosted fashion shows to raise awareness of the event, and this past year had a booth in University Centre.
In 2014 the group collected from January 20 to February 25, receiving 118 dresses and many accessories and pairs of shoes. Six participants went to the final event.
Britney Truman, a volunteer at the final event, said that one recipient of a Gowns for Grad dress turned to her and said that she wasn't planning on going to grad, but now that she had a nice dress she couldn't wait to go. Volunteer Lydia Gindy agrees that "the best part of Gowns for Grads was seeing your efforts of volunteering have actual importance in other people's lives.
"A couple of girls that I was helping throughout the night were struggling to find dresses at the final Gown for Grads Event. It was extremely rewarding to see how happy they were once they finally found the right dress. It was humbling to realize that you as a volunteer were helping them make one of the most memorable nights of their life even better."
Gowns for Grad recipients receive a dress and accessories including shoes and a bag.
If you have any dresses or accessories to donate to this cause please contact praxis [at] umanitoba [dot] ca.