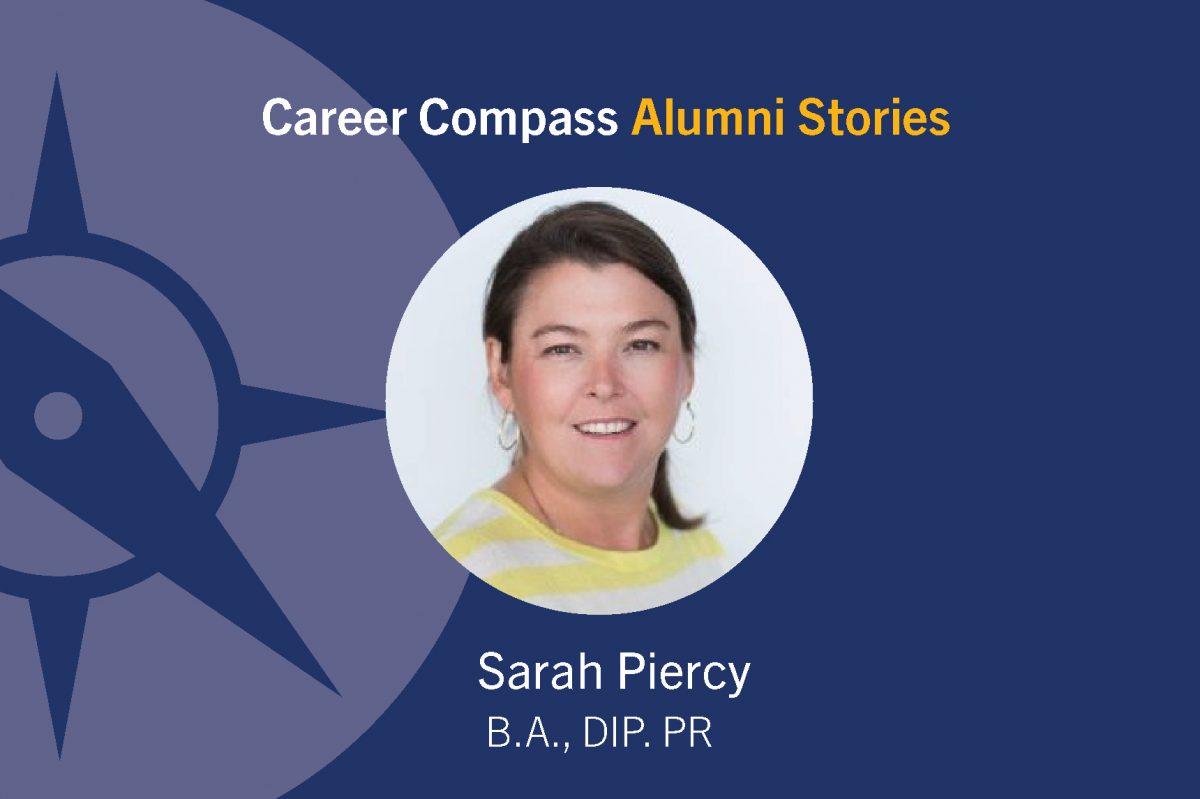 Sarah Piercy Anthropology Alumni
Briefly, tell us about your job. What do you find most rewarding? What are your greatest challenges within this profession?
I operate a boutique communications firm, Sarah Piercy Communications, that specializes in providing proactive and comprehensive communications services and products for companies, individuals, non-profit organizations and charities, associations, industry groups and government.
The rewards of my career are many, including flexibility and being able to work with a broad variety of clients; at current, my greatest challenge relates to capacity, as I'm operating as a sole proprietor.
What experiences and activities helped you to map out your career pathway?
Attending The University of Manitoba and pursuing a degree in Anthropology offered me many unique experiences and activities that guided my career path. However, it was not until I left graduate school, choosing to work full time, that I really developed an appreciation and clearer understanding of what I enjoyed, and excelled at, when it came to work. While in school, I had the opportunity to travel as part of my academic program and also served in a voluntary board capacity with a non-profit association that was directly linked to my studies. Both experiences stand out for providing me with exposure to functional, real world application of my learnings. Upon graduation and entry into the workforce, I took advantage of every single opportunity shared with me; and now, running my own firm, I follow the same approach and relish the variety of experiences and activities that I have the opportunity to engage in.
As a student, did you see yourself in your current career? What stayed the same and/or changed?
As a student, working for myself as a consultant was on my radar but not as an immediate goal. After over 15 years working in my field, I decided to start my own company; work has come to me and I'm flattered to work on so many different projects with so many incredible clients. Over time, I've maintained a commitment to thoughtful and critically reviewed research and analysis, sound outputs and outcomes, evidence based decision making and ensuring quality relationship building and community engagement. As to what changed, it was life that changed! I chose to travel, move back and forth across the country and explore opportunities. Those good, early decisions have resulted in life changing experiences that have positively shaped my career and personal life. That said, the education I received, the experiences I participated in and the constructive counsel I heard as a student have greatly shaped how my career path unfolded. I remain grateful to The University of Manitoba and the department of anthropology.
What advice do you have for students who are interested in pursuing a degree in anthropology?
University, or any kind of post-secondary education, is full of teachable moments. Besides learning the applied technical and academic components of my degree, my Bachelor of Arts degree shaped my professional career. The broader learnings I gained included how to work with others, knowing how to work towards deadlines and within budget, understanding differing points of view, respecting governance and rules and knowing why they are applied, practicing critical thinking and reasoned arguments and balancing autonomy and personal responsibility. On the academic side, I was taught the merits of research, writing, editing, oral presentation and self-awareness. A degree in anthropology is highly adaptable; ultimately it is to you to make the most of your degree, no matter the discipline.
What job search advice do you have for students and recent graduates?
Do what you love and you'll never work a day in your life. While it's a certainty that workers will change jobs and/or careers many times, generally, we work for many years – so find a field you enjoy and you'll never be bored. My job search advice for students and recent graduates is to:
Embrace the courage of your convictions.
Purchase the best quality technical tools you can afford; guard them closely.
Choose to be kind; make the time to volunteer, donate and or give back, in whatever manner works for you.
Aspire to be a life-long learner and be flexible.
Trust yourself, but don't be afraid to admit when you may be wrong.
Praise others liberally, but don't be too hard on yourself; the world will take care of that for you.
Don't let the drama of others become your problem – it's your life and your responsibility to manage your reactions; you cannot control how others respond. Working life is full of ups and downs, and it takes all kinds of people to make our world function.
Learn to appreciate the obvious and subtle differences in others and acknowledge that some will certainly know more than you.
And finally, know that education is an excellent investment and the dividends will appear over time, in varying forms; for some, the school and work path is linear, for others it's scenic; appreciate the journey and you'll reap the benefits.
Tell us a fun fact about your career path.
All these years later, I'm still fascinated by Anthropology; I use all facets of my degree every single day, including my Minor in Art History! My career path has been fulfilling and rewarding; I'm looking forward to the future.