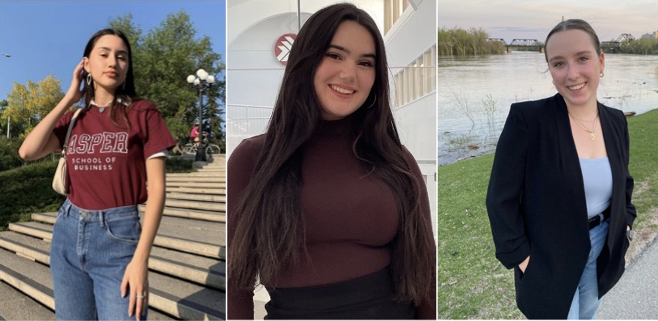 Return to in-person student perspectives
September 6, 2022 —
The thought of returning to in-person learning, especially if you're experiencing it for the first time, can be intimidating. Despite this reality, it's also a time for new beginnings while rediscovering the best parts of the campus environment.
It is important to know that you are not alone and that there are resources across campus to support you through this transition.  Read on to learn about the experiences of four current students as returned to in-person learning over the summer term, and find out what they each took away from that transition:
Rachael Buchwald, bachelor of health studies student in her 5th year, found the thought of returning to in-person lectures daunting after two years of virtual delivery. "My biggest concerns were my diminished attention span and transitioning to in-person, written exams," she says.
Buchwald registered for an in-person summer course to fulfill a program elective and to help her with the transition back to campus. Soon after getting back to her routine, she realized she was simply getting back on track.
She explains, "Returning to Fort Garry Campus felt like travelling back in time! It brought back fond memories of my first two years of university spent on campus. My nerves were immediately settled. While I felt myself struggle for the first week of classes or so, I found myself right back into the routine of my commute, walking around campus and interacting with my peers and professors face-to-face."
Continuing with her studies and in her position as the Treasurer of the Community Health Students' Association, Buchwald is now thrilled to be completely returning to in-person learning in the Fall.
Asper School of Business student Matthew Dumain also reflects on the surreal feeling of being back on campus. He didn't mind virtual delivery but knew he preferred in-person lectures as part of the entire university experience. "It did feel kind of weird being back after a long break. After a while it felt normal again, but it was a strange feeling for a bit," Dumain says.
It's the little details and seemingly mundane parts of in-person classes that he didn't even realize he missed. "I remember going to pick up my textbooks and walking to my first class back in person. It honestly had the same feeling as my first day of university – I was excited," Dumain says. "It was nice to be able to meet people and have conversations with peers and professors. Those interactions would have likely never happened over a Zoom call."
For Nikol Sokolsky, entering her second year of studies felt completely new. She started university during the pandemic and had only known remote learning until this summer. She found it stressful at first as she didn't exactly know what to expect, but eventually had no issues settling in.
"One thing that helped me with my transition was being able to talk to my mentor from the University of Manitoba Actuarial Club and my peers from the Commerce Students' Association who have experienced in-person classes before and were able to answer some of my questions," Sokolsky says.
The actuarial mathematics major has been enjoying in-person classes. She's noticed she's more present in lectures, can ask questions and interact with her peers.
Sokolsky looks forward to joining more in-person events including Commerce Week, Asper socials, and Case Competitions. "I'm excited for the year ahead and to finally experience the university life I've been missing out on," she says.
Despite all the uncertainty around returning to campus, Asper School of Business student Sofia Peralta Baron found herself in the same situation as anyone else feeling nervous about this adjustment. She admits that her first day back was filled with anxiety but soon noticed it didn't need to be.
"My nerves finally stopped when I realized everybody around me felt the same. Everybody was nervous, but eager to meet new people and make new friends," says Peralta Baron. "I'm happy to say that after my first day back in person, I've already made a new friend."
Just like many other students transitioning back to in-person learning later on in their studies, Peralta Baron is still finding new ways to enjoy her university experience.
These are only four of many students starting their return to campus this year, and each of them have found success in their own ways. Take your transition back to in-person learning one step at a time, know that you are not alone. Connect with the services and programs available to support you. Explore ways to engage with your student community. We are excited to welcome you all back to our campuses and see you make the best of the year ahead!