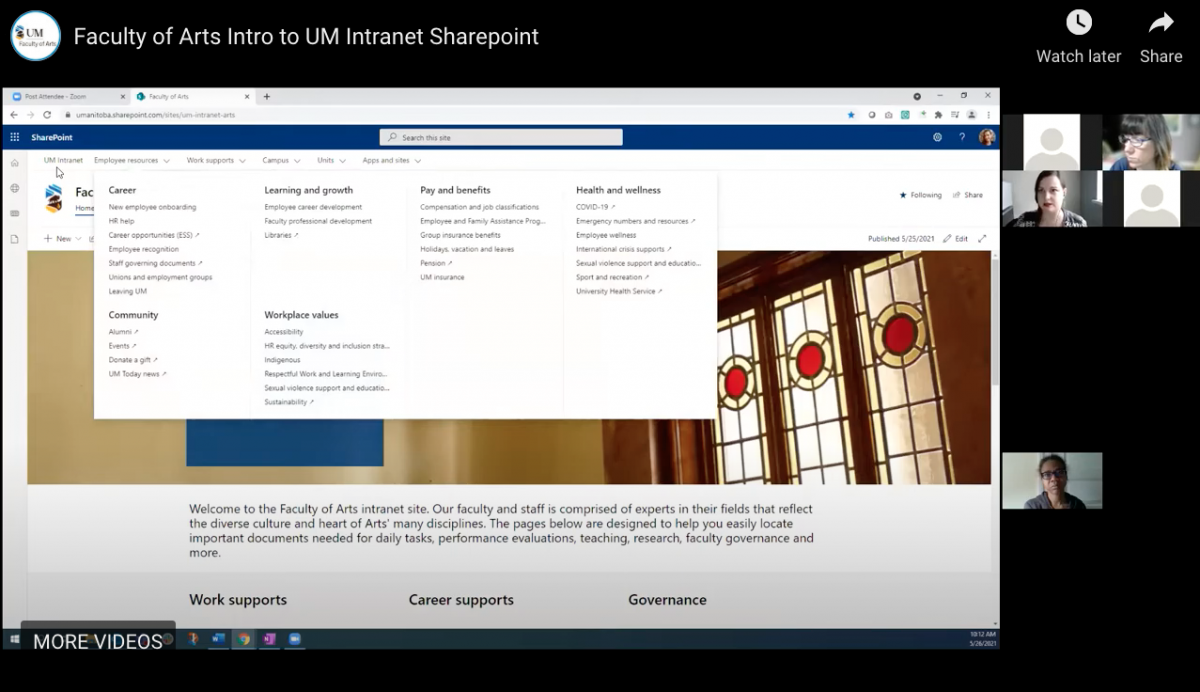 Plan to attend: Live UM Intranet orientation tours
Sessions designed to help you navigate our new UM digital workspace
July 21, 2021 —
Attend a virtual one-hour live site orientation tour and learn more about our shared UM Intranet space.
These orientation tours are designed to help you to better understand and navigate the individual communication sites on UM Intranet, and help you to easily find the materials and information you need to do your work.
Each orientation tour will focus on a specific faculty or campus unit, starting with Registrar's Office on July 29, then faculties of Social Work and Health Sciences (joint tour) on Aug. 9, then and finally two separate sessions in August for the Human Resources site—one general and another for managers and administrators.
Tours are led by specific site owners and the UM Sharepoint Coordinator team, and there will be time for questions so you can get the specific help you need.
Find out more on the UM Intranet support site. All sessions will be recorded and will also be available there soon after the live dates.
Note: To access UM Intranet, you need to be logged in with your umanitoba.ca email address.
Read more about UM Intranet, and all the benefits of this new digital platform.
Upcoming UM Intranet orientation tours
July 29, 11 a.m. Registrar's Office
Aug. 9, 11 a.m. Faculties of Social Work and Health Sciences (joint tour)
Aug. 18, 11 a.m. Human Resources (General)
Aug. 19, 11 a.m. Human Resources (Administrators/managers)
The schedule will be updated to include more units as additional UM Intranet content becomes available.
If you are in UM Intranet, you can add add the sessions directly to your calendar.
Note: ​​​​​​​Sessions are accessed through Microsoft Teams, so please be sure you're logged in to your Teams application using your umanitoba.ca email address.
Read more about UM Intranet: