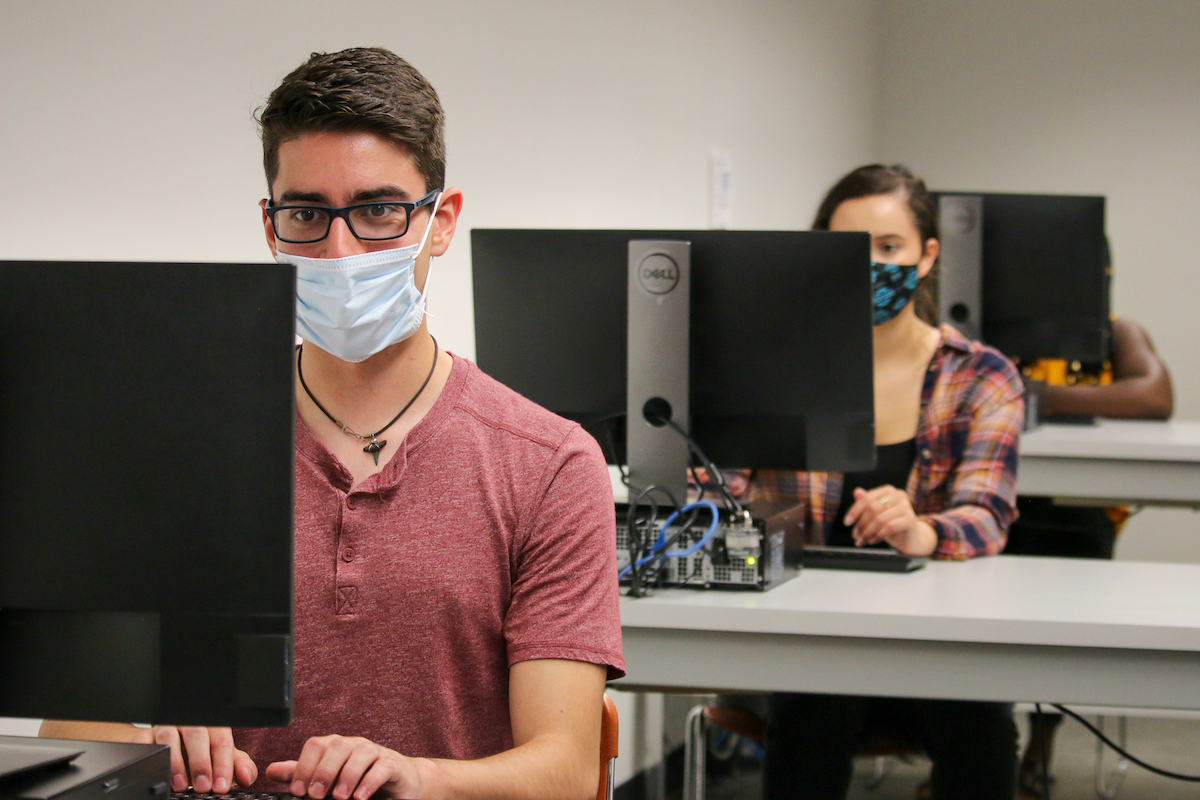 Pandemic puts inappropriate conduct in the spotlight
March 30, 2021 —
When the University of Manitoba switched to online learning at the beginning of the COVID-19 pandemic, students needed to adapt to a new way of taking classes, writing exams and building connections with fellow students. Faculty and staff needed to embrace new technology and pivot to a new way of presenting classes and engaging with students. The change was rapid, and it occurred against a backdrop of uncertainty and fear created by the global pandemic, leading to heightened stress and anxiety as well as confusion about how to manage all the change. In that kind of pressure cooker situation, it is not surprising that issues of academic integrity and inappropriate conduct have flared up.
What we're seeing
"There has been an increase in academic misconduct during online tests and exams that weren't as common when exams were written in person," Heather Morris, director of student advocacy and case management says. "We see students asking questions and sharing information in chat groups while writing exams, students having someone with them during an exam to help answer questions or even write the exam, or students writing exams in the same location and discussing answers. All of these behaviours are against UM's Academic Integrity Policy."
Misconduct hasn't been limited to academics. Inappropriate behaviour in online classes has also been an issue, with some students engaging in activities they never would do in a physical classroom.
"We've seen situations where students are participating in group chat discussions and posting information or comments that are inappropriate or offensive to others," Morris says. "This includes making disrespectful or discriminatory comments about fellow classmates or using this forum to make negative comments about the instructor. There are more appropriate avenues for students to bring forward concerns so they are addressed constructively."
There are likely many reasons why the university is seeing upticks in this kind of behaviour right now. From Morris' perspective, she feels it has to do with how students generally use social media and other online forums.
"Students' previous experiences with online activities like chat groups and video calls are informal and social activities," she says. "Now these online tools are being used for a more formal purpose, so I wonder if the lines between the social and informal approach to interacting virtually become blurred. We encourage students to think before they post something— is this something you would normally raise your hand and express verbally during an in-person class? If not, perhaps it is not something worth posting."
Challenges for instructors
Managing inappropriate conduct in online classes has also been a challenge for instructors. Many are looking for ways to be proactive and get ahead of problems before they emerge.
"Instructors can help students understand that context matters," says Brenda Stoesz, senior faculty specialist (Science of Teaching and Learning & Academic Integrity). "One way to encourage critical thinking about this issue is to provide students with resources for understanding netiquette and chatiquette, and to discuss expectations for appropriate use of discussion boards and chat tools in virtual class meetings."
Teaching and learning resources for netiquette have been developed by The Centre for the Advancement of Teaching and Learning and are available through the resource repository called Knowledge Nuggets. Instructors can contact Brenda Stoesz to access this repository.
Real world consequences
Students need to know there are real-world consequences for virtual misconduct. They can be prevented from continuing in a class, receive a disciplinary grade, get a notation on their transcript, be suspended from taking courses from a department/faculty or even be suspended or expelled from the university. Depending on the type of behaviour and the student's response to an allegation of non-academic misconduct, an educational outcome may also be assigned in which the student has to participate in learning activities about the Respectful Working and Learning policy for example.
Show your integrity
There are many things students can do to show their integrity in online classes and make sure they know the academic and behavioural expectations of the university. Students can visit the Academic Integrity page on UM's website and presentations on social media and professionalism are also available to students through the Access and Privacy Office and the Office of Human Rights and Conflict Management.
"Everyone who attends the University of Manitoba has a right to feel safe in their classroom, whether we're on campus or connecting remotely," Morris says. "As a member of the university community, all students are expected to demonstrate behaviour that upholds academic integrity and is appropriate and respectful."
To find out the rules, go to the Academic Integrity section of the UM website.