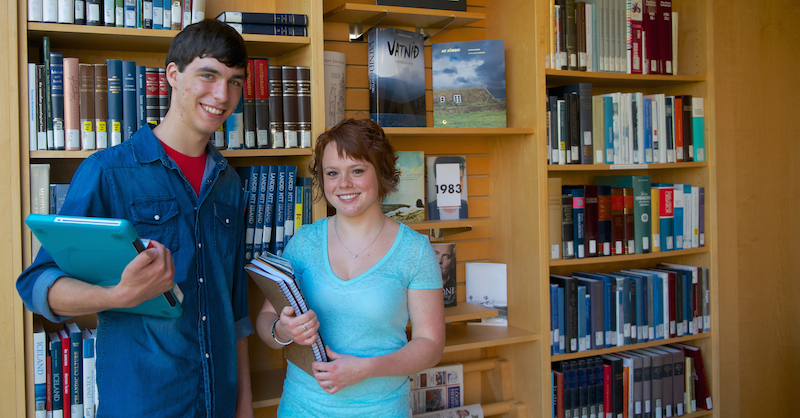 News Release: Two of the newest U of M students receive the Schulich Leadership Scholarship
Their personal histories will shape their future career paths, each determined to save and improve lives
September 5, 2014 —
For the third year in a row, two upcoming U of M first-year students have each been awarded Schulich Leader Scholarships.
Alexander Czehryn, who recently graduated from Mennonite Brethren Collegiate Institute will receive a total of $80,000 over four years, and Kailee Rutherford, a new graduate of Prairie Mountain High, will receive $60,000.
Czehryn will enter the Faculty of Engineering when he arrives to the U of M.
His long-term goal is to be a tissue engineer, a career path inspired by watching his father cope with hemophilia. Czehryn saw how research dramatically improved his dad's treatment options, and he sees tissue engineering as a way to help people with conditions like his dad's.
"Tissue engineering is a new frontier so there's still a lot of research being done and I want to be a part of that," says Czehryn. "I want to be a part of creating solutions for the future."
He had a 99 per cent average upon graduation from the Mennonite Brethren Collegiate Institute, grades he maintained while being active in leadership roles in student council, as a tutor, and as a mentor to children with special needs.  He has also volunteered with the Canadian Hemophilia Society.
The other outstanding student winner is Kailee Rutherford. She will use her Schulich Leader Scholarship to study science at the U of M.
Rutherford's application essay highlights many of her leadership qualities including compassion, focus, determination, and ambition. In 2012, her Grade 11 year, she was diagnosed with osteosarcoma, a type of cancer.
"When I was half way done my chemo treatment, there was a 23-month-old boy beside me and I found out he had passed away," says Rutherford. "I knew then that I wanted to be able to help because I was mad that there was this little kid that was barely in this world and he was taken."
Taking the diagnosis as a challenge, she maintained excellent academics, she became an ambassador for the Terry Fox Foundation, and was elected president of her student council. In her varying accomplishments and tenures, Rutherford was able to complete her Grade 11 year as an honour roll student, educate her community in cancer awareness, and raise funds for Philippine relief after Hurricane Hyan. Her diagnosis did not come without hardships: her parents suffered considerable financial strain. As a recipient of the Schulich Leader Scholarship, Rutherford will not only overcome her financial strain, but will continue to develop into an outstanding leader at the University of Manitoba allowing her to achieve her life goal of becoming a medical doctor.
This year there were 1,147 Schulich Leader Nominees across Canada (last year saw 996). Of these students, 54 applied to the U of M, and only Czehryn and Rutherford were selected.
Every Canadian high school and secondary school could each nominate one student to be eligible to receive the scholarship while each CEGEP (in Quebec) could nominate two students. In the end, only 40 students could win this significant award, which will pay for their undergraduate degree at one of the 20 designated universities in Canada.
About Schulich Leader Scholarships
Created in 2011 by entrepreneur and philanthropist Seymour Schulich, Schulich Leader Scholarships are 40 undergraduate scholarships awarded annually to students pursuing undergraduate studies in STEM subjects: Science, Technology, Engineering and Mathematics. This $100 million scholarship program is the largest undergraduate STEM scholarship opportunity in Canada and the second-largest endowment to Canadian academia in history.  A sister program in Israel distributes 35 awards at five participating universities with over $1 million worth of scholarships annually.  Schulich Leader Scholarships are administered and represented by UJA Federation of Greater Toronto.
For reporters and producers looking for experts and breaking news, follow us on Twitter: @UM_Today
For more information contact Sean Moore, Marketing Communications Office, University of Manitoba, 204-474-7963 (sean_moore [at] umanitoba [dot] ca).