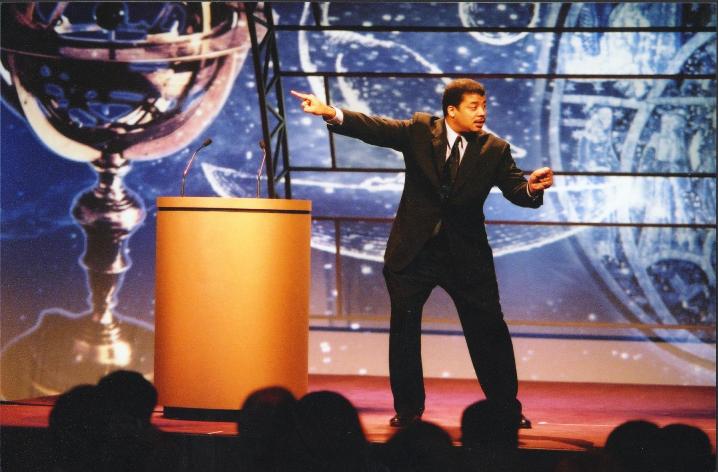 Neil deGrasse Tyson, Pluto killer and 'sexiest astrophysicist', speaks on campus
This year's Robert and Elizabeth Knight Distinguished Visiting Lecture will focus on the scope and grandeur of the universe
March 11, 2014 —
In his first lecture at a Canadian university, acclaimed astrophysicist and television personality Dr. Neil deGrasse Tyson will give a free public presentation titled, "The Sky Is Not the Limit," on March 13 at 4 p.m. in Investors Group Athletic Centre. It's rush seating and doors open at 3 p.m. It's free and open to the public, though space is limited.
Tyson will be introduced by Walter Natynczyk, president of the Canadian Space Agency. The lecture is part of "Dream Big," a week-long series of cosmic events, a list of which can be viewed at here.
Tyson is this year's Knight Distinguished Visitor. He will provide valuable insight into how scientists work in and think about the social, political and physical world. With wit, charm and eloquence, he will tell the captivating story of a boy from the Bronx who, with a pair of binoculars, first looked up into the night sky and became enthralled with the cosmos.
Neil deGrasse Tyson was born and raised in New York City and earned his BA in physics from Harvard and his PhD in astrophysics from Columbia. His professional research interests include star formation, exploding stars, dwarf galaxies and the structure of our Milky Way.
Tyson was appointed by President Bush to serve on commissions that examined the future of the US Aerospace Industry and the United States Space Exploration Policy. In 2006, the head of NASA appointed Tyson to serve on its prestigious Advisory Council.
In addition to dozens of professional publications, Tyson has written for lay publications as an advocate of science and in particular, astronomy. His ten books include his memoir The Sky is Not the Limit: Adventures of an Urban Astrophysicist and Origins: Fourteen Billion Years of Cosmic Evolution, co-written with Donald Goldsmith. Origins is the companion book to the 2004 PBS-NOVA 4-part mini-series Origins, in which Tyson served as on-camera host. Two of Tyson's recent books are the playful and informative Death By Black Hole and Other Cosmic Quandaries, which was a New York Times bestseller, and The Pluto Files: The Rise and Fall of America's Favorite Planet, chronicling his experience at the center of the controversy over Pluto's planetary status. Tyson is sometimes called "The Man Who Killed Pluto." The 2010 PBS/NOVA documentary The Pluto Files was based on his book.
Tyson's many other media appearances include five seasons as the on-camera host of PBS-NOVA's spinoff program ScienceNOW, and the 2009 National Science Foundation program and podcast StarTalk. Now also a podcast, StarTalk Radio. His target audience is all those people who never thought they would, or could, like science.
Tyson is the recipient of eighteen honorary doctorates and the NASA Distinguished Public Service Medal, the highest award given by NASA to a non-government citizen. His contributions to the public appreciation of the cosmos have been recognized by the International Astronomical Union in their official naming of asteroid "13123 Tyson." And in 2000, Tyson was voted "Sexiest Astrophysicist Alive" by People magazine.
Tyson recently finished making a reboot of Carl Sagan's landmark television series Cosmos, which airs on the FOX network beginning in March 2014.
The purpose of the Robert and Elizabeth Knight Distinguished Visitors Program is to enhance the quality of higher education at the University of Manitoba and enrich its academic life by supporting visits to the University by: scholars in the fields of commerce, finance, economics, political studies, history and literature; leaders in the areas of commerce, industry and government; and outstanding achievers from other disciplines who have made distinguished contributions to the advancement of knowledge or to cultural, social and economic development.
In the evening, Tyson will be the honoured guest at the Emerging Leaders Dinner, celebrating student leadership. The Emerging Leader Award (ELA) is a way the University of Manitoba recognizes the outstanding contributions that students make to the enhancement of the institution and our community. The award was introduced in 2006 to recognize students who are committed to furthering our educational mission by contributing to the social, cultural or economic well-being of communities on and/or off campus, while encouraging cross cultural understanding and demonstrating sustained leadership and initiative that is worthy of recognition.
 If you're not sold on this event yet…
YouTube is packed with videos of Neil deGrasse Tyson, and here's just one example of how he speaks about science.
For more information, please contact David Grad, student life coordinator, at: 204-474-6637 or email: david [dot] grad [at] umanitoba [dot] ca