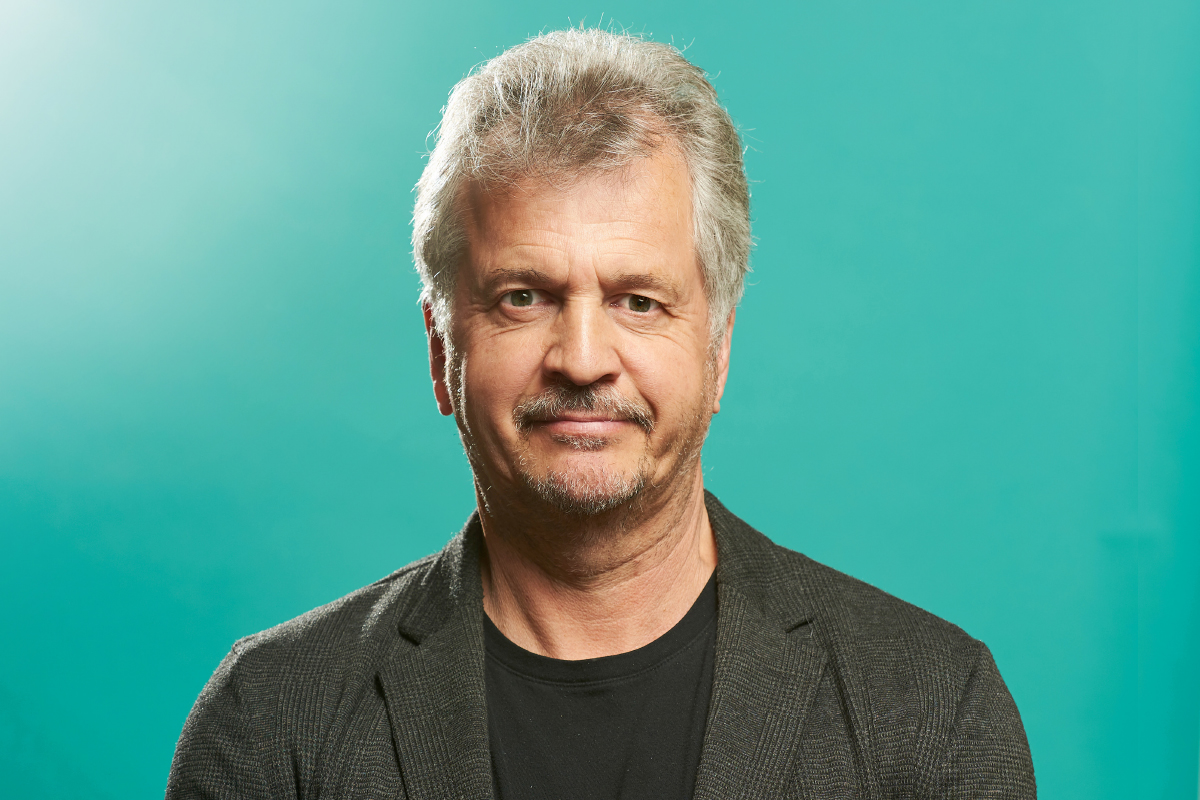 Mohawk scholar believes experiential learning provides a deeper appreciation for the land
Meet Dr. Brian Rice
September 7, 2021 —
After a transformative education from an all-Indigenous run program called the Traditional Knowledge Program from the Division of Transformative Learning at the California Institute of Integral Studies, Dr. Brian Rice gained a life-long appreciation for land-based learning.
A member of the Mohawk nation with an affiliation with the Kahnawake (near Montreal), he firmly believes that engaging with the rich cultural history that surrounds us can help us appreciate the places we call home. UM Today sat down with Dr. Rice to learn more about his journey that led him to his role as professor in the Faculty of Kinesiology and Recreation Management.

UM Today: What was your early education journey like?

Dr. Brian Rice: I went to a public school in Montreal, and there was very little Indigenous content taught at that time. The history was very negative when it came to Mohawk people. I think part of it was an adversarial situation between the French and the Mohawk. What people don't understand about the history, Kahnawake Mohawks in particular, were in relationship with the French and not with the English. The history can get misconstrued. There are a lot of misconceptions but over time, these details are being corrected.

In those days, I lacked any knowledge that might make me more of aware of a broader perspective of the world. What got me really involved, more than anything else, was after spending roughly eight years using alcohol and smoking cigarettes, I decided to change my life in 1981. My world opened and that included furthering my education and other opportunities. I wouldn't have had those opportunities if I hadn't cleaned up. That is my life experience. I am 40 years sober and since that time, I've learned so much and none of that would have occurred if I didn't change my lifestyle. I applied myself to do things I never thought I was able to before.

What was it like to graduate from an all-Indigenous doctoral program?

The program was for Native Americans and Aboriginal Canadians (what they called us back in the day). We studied in the Redwood Forest. We stayed in cabins and by the second year, we transformed into a global Indigenous program. That's when global Indigeneity came into my life. We went to different places in the world to learn with Elders and their teachings. We went from a localized North American program to a more global one during my studies.

I've never stopped travelling since the program. Even now, I prefer to travel and stay in Indigenous areas and I want to exchange stories and dialogues on colonization and how it affects us. There is a language we all have that may be different verbally, but it is the language of culture. We can all relate on that. The importance of land and environment being a key part of that.

I also did a walk through my own territory, a 650-mile walk, to earn the right to write my dissertation. My all-Indigenous doctoral committee and an Elder helped me with this. I started by travelling by car with the Elder to all of the cultural sites of our people and mapping my route. I said to the Elder, "I will walk that journey, and have a different perspective to write the dissertation." It took me about a month to complete the walk. This was later turned into a book called The Rotinonshonni: A Traditional Iroquoian History Through the Eyes of Teharonhia:wako and Sawiskera.

What are some things you've learned about global Indigenous peoples?

We all have that common issue of development, colonization, western education coming into our cultures and it's how we approach these challenges that can help us retain our cultures. As we know, we are going through revitalization here in Canada, and there are cultures that are learning from this revitalization.

Even if you lose the most integral thing in your culture, which is the ability to self-sustain, you can still find ways to retain your cultural teachings in new forms. That's part of our evolution here in Canada, and a lot of people will never go back to the traditional life they may have experienced, but instead find new ways, based on old ways, to ensure our kids aren't under-developed in their cultural understanding. The values, perspectives and teaching remain. We ensure they still serve us in the life that we lead today.

Your research has taken you all over the world. What led you to UM in Winnipeg?

If things have gone differently, I may have gone back to my own traditional territory and facilitated more of those journeys I did for my dissertation. What I do here at UM is still very much in line with that type of work. We can talk history and culture as we experience walking through the lands right here in the city.
This is my home and it's been my home for 25 years now. Even though it is not my traditional territory, I must learn and understand the history that is here. I have embraced this land as a person who has come from elsewhere. I won't be leaving it anytime soon. I embrace the history and the culture, and I know my people did come out here during the Fur Trade, and some people stayed here. I feel like a contemporary version of that.

Tell us about how you decided to focus on land-based education.

The big part was my walk for my dissertation. As far as I am concerned, that was my introduction to land-based education. Being on the land and learning about the cultural teachings that go with that, and participating with others in that process, is how I've come to understand land-based education.

One of the things that is important in land-based education is physical health. We experience a lot of issues with health, and I've learned if we're not being physically active while we're learning, we have lost a big portion of what it means to learn from the land. The Faculty of Kinesiology and Recreation Management offers me those two opportunities to learn from the land, but also practice health and fitness.

Any upcoming projects you're working on?

I will be inviting my faculty to do a reclamation walk and explore campus and this land before we begin our school year. For me, this is important work. As this is the place we work, we have to understand that we have Métis and First Nations history here, we have animals that roam the campus and we have a main wetlands area here. I am going to be doing a reclamation of the campus from the effects of COVID-19 for me and my colleagues.

What advice do you have for Indigenous students interested in land-based education?

Land-based education, right now, may not be exactly the same as it was when their ancestors were doing the education. There is no one set way to incorporate land-based learning. I want to see a lot more experiential learning for more students. Land-based learning ties us back to our culture and the land and the places we come from or come to, and if you get the opportunity to do these things, take them up! If you're rural, take them up with Elders and help create programs in your communities by taking your community's lead.

Graduate work in particular has to be centered on something within yourself, because you have something you can hold onto. The journey has more meaning that way. We have a beautiful area and a historically rich city with so much in it.