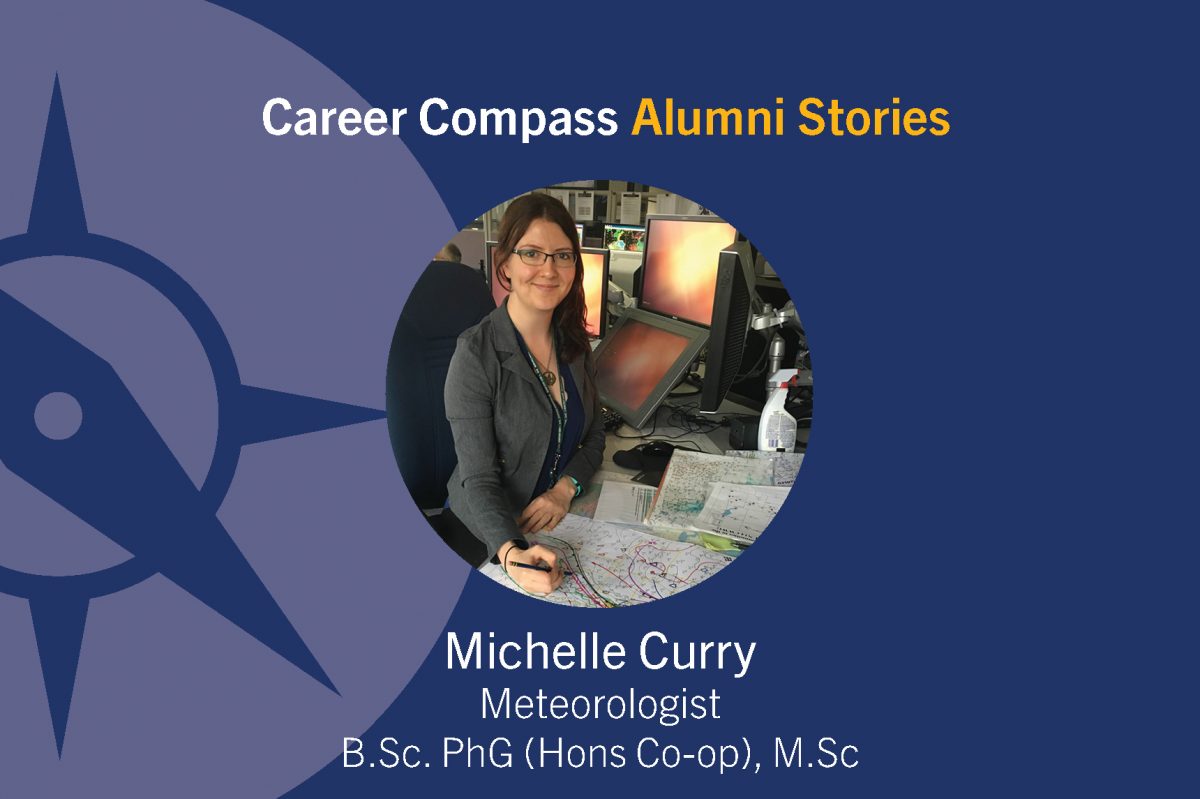 Michelle Curry Physical Geography Alumni
Briefly, tell us about your job. What do you find most rewarding? What are your greatest challenges within this profession?
I work for the Meteorological Service of Canada as a meteorologist in the Prairie and Arctic Storm Prediction Center. In my position, I produce the weather forecasts for a broad area of Canada; Manitoba, southern Saskatchewan, and eastern Nunavut. I also get the opportunity to produce marine forecasts for the eastern Arctic and Manitoba Lakes and the air quality forecasts for the eastern prairies. The great thing about my job is that the weather is constantly changing, so my day always looks a bit different. It's rewarding to be able to produce a product (in this case a forecast) that I know is directly impacting Canadians, particularly if there is the potential for adverse weather conditions. Since weather is constantly changing, my job can be extremely challenging at times trying to figure out what will happen and how to best communicate that in my forecast.
What experiences and activities helped you to map out your career pathway?
There were two experiences that helped me decide to pursue a career in meteorology. The first one was visiting the Winnipeg weather office (where I now work) at the beginning of my university program and seeing what an amazing environment and office it was. The second was taking my first atmospheric science class in my geography program and realizing I could actually pursue this as a career. Being a part of the cooperative education program helped me make decisions relating to my career path along the way as I got more exposure to the different options available to me.
As a student, did you see yourself in your current career? What stayed the same and/or changed?
After my first cooperative education placement at the Centre for Earth Observation Science at the University of Manitoba, I actually planned to pursue graduate education and eventually a career in research and academia. I went back and forth trying to decide if I wanted to continue my education or apply to Environment Canada to be a meteorologist. In the end, I decided to apply to Environment Canada and am now almost two years into my career with them.
What advice do you have for students who are interested in pursuing a degree in physical geography?
First and foremost, make sure you focus on your math and physics courses in the first two years of your program! These courses are the foundation for the rest of your career both in university and beyond. I also highly recommend taking courses in computer programing. Weather and climate models are an extremely important and quickly growing field in atmospheric science and understanding computer programing is a huge asset regardless of what field you go into. Finally, doing a cooperative education program and making professional connections in the field is invaluable as you move into your career. These connections may make the difference for landing your dream job!
What job search advice do you have for students and recent graduates?
Don't pigeon hole yourself. I think many people limit themselves to either an ideal job, or what they "think" they should do with their degree. In reality, there are so many options from research and academics, to government agencies and private companies. For example, students from the physical geography program have gotten jobs as meteorologists, technicians, water survey technicians, fire weather forecasting, private sector forecasting, forecasting or technician jobs for private industry (oil and gas, energy, agriculture). The best thing you can do is to start making contacts early in your program and ask what opportunities they are aware of or people they can put you in contact with. Don't be scared to apply for a job that might be a bit outside of your comfort zone or that you weren't first considering.
Tell us a fun fact about your career path.
Since weather is a 24/7 phenomena, so is my job. As a meteorologist I work rotating shift work, including the night shift. While night shifts may not be a highlight of my job, getting two to six days off between rotations definitely is! Also, it is a great conversation starter at a party when people ask me what I do.