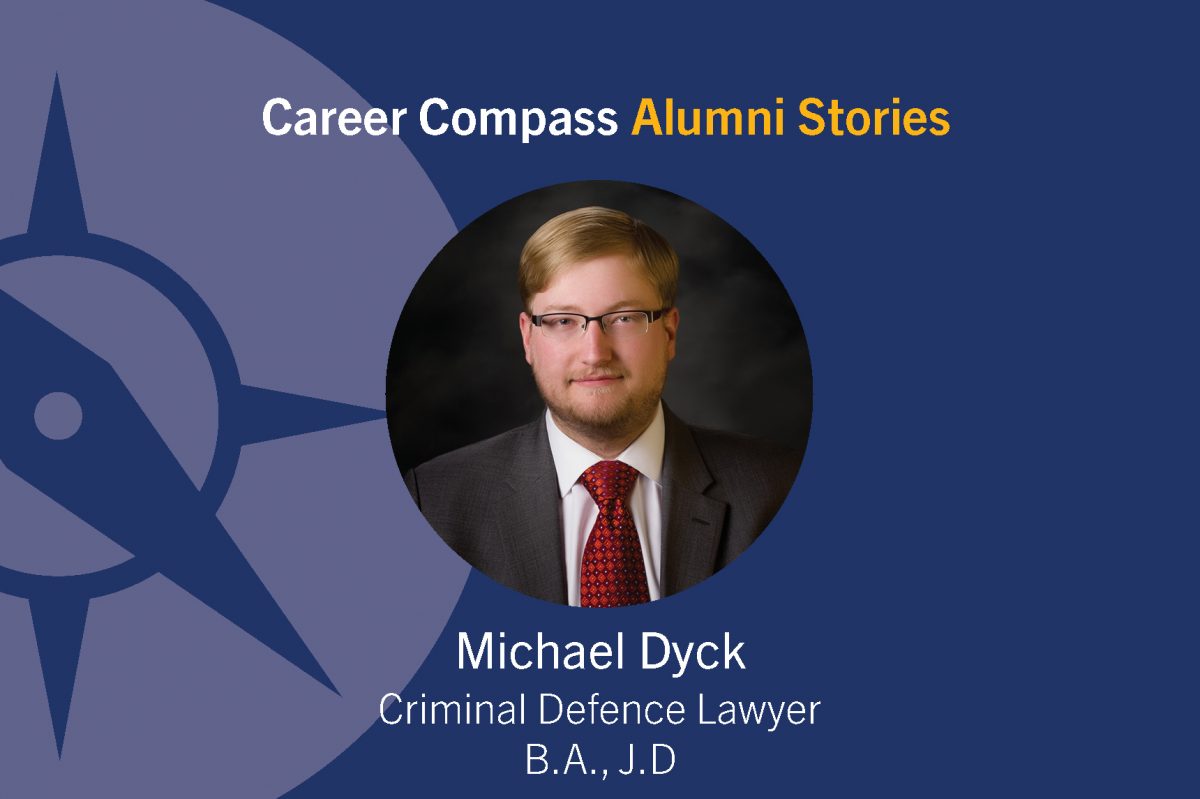 Michael Dyck Sociology Alumni
Briefly, tell us about your job. What do you find most rewarding? What are your greatest challenges within this profession?
I am a criminal defence lawyer in Winnipeg. I provide legal advice to clients, negotiate with crown attorneys and advocate for my clients in court. From first court appearances, to guilty pleas and sentencing hearings, to trials, it is rare that two days are ever the same. I love the challenges of thinking quickly and creatively to be persuasive. I enjoy the connection I have with clients and colleagues as well as the business/entrepreneurial side that I get to focus on because I work at a private firm. Advertising and business development are things I turned out to really enjoy and I have spent countless hours working on and adding content to my website. Some of challenges I face include ethical issues that arise almost daily and ensuring that I am providing the best legal services for my clients.
What experiences and activities helped you to map out your career pathway?
I wanted to be a lawyer while I was in junior high school. I attended the Mini University program at the University of Winnipeg and took a criminology course. I thought it was very interesting and that my somewhat argumentative nature and quick thinking would help me become a great lawyer.
As a student, did you see yourself in your current career? What stayed the same and/or changed?
When I first arrived at the University of Manitoba, I knew I wanted to pursue a law degree and my focus did not waver. In law school, I toyed with the idea of working in corporate/commercial law. However, my personality suited better to courtroom work so I ultimately focused on criminal law.
What advice do you have for students who are interested in pursuing a degree in law?
First, you have to be prepared to take on a significant amount of student debt that you will slowly pay off over the early years of your career. Second, a law degree is not a licence to print money. There are many lawyers who are unsuccessful. I think it is important that you enjoy the day to day work because otherwise you will not be motivated to work hard. Third, lawyers are respected and having a law degree can open a lot of doors, especially in politics. Finally, there are many different areas of law that fit many different personality types. Not everyone is going to be a courtroom lawyer and not everyone is going to love researching issues in estate law.
What job search advice do you have for students and recent graduates?
Searching for jobs as a lawyer can be difficult. My best advice is to connect with former classmates and talk to them about opportunities that they may know of. If you know lawyers that have been practicing for a few years, talk to them and see what they recommend.
Tell us a fun fact about your career path.
Most people do not associate the word fun with lawyer. I suppose a fun fact is that as a lawyer you will find an almost immediate dislike of all lawyer jokes and that most new people that you meet are incredibly keen to tell you the most recent one they heard. If someone starts talking about what to do with a lawyer buried up to his neck in sand, it is probably best to just walk away.