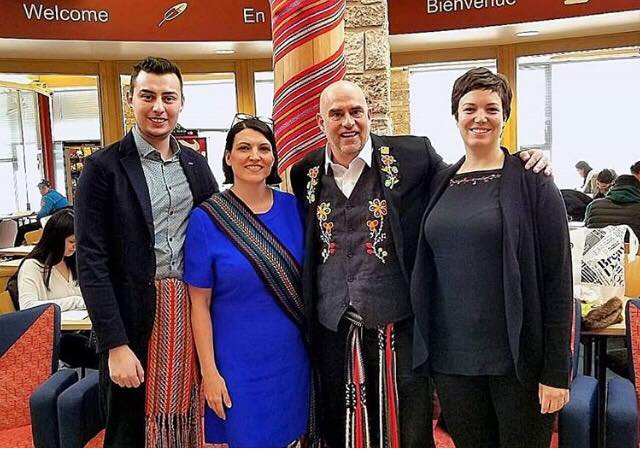 Métis programming is gaining its stride for 2020
January 8, 2020 —
With a growing interest in the Michif language course, and a packed house for a kitchen party, it is clear that Métis programming is on the rise at the University of Manitoba. At the centre of its organizing is Métis inclusion coordinator Laura Forsythe, whose role is to provide cultural, linguistic, political and academic supports to 1,400 Métis students while creating awareness about her people to the broader university community.
UM Today sat down with Forsythe to ask her about upcoming initiatives.
UM Today: Where do you come from, and how did that lead you to the position of Métis inclusion coordinator?
Laura Forsythe: I am descended from buffalo hunters. I am descended from voyageurs. I am descended from victors at Frog Plain. I am descended from the people of Rooster Town. I am descended from farmers, ranchers, teamsters, seamstresses, and tradesmen. I will become first in our entire lineage to obtain this [my PhD]. I share this to establish my experience within the academy as foreign with no familial support, no one within my kinship ties to ease the culture shock of being in a space dominated by the educated. It is with this lived experience that I have strived to create spaces on campuses that provide Métis students with a sense of belonging.
How long have you been the Métis inclusion coordinator?
In 2016, the director of the Indigenous Student Centre recognized a need for Métis inclusion at the University of Manitoba and applied for the Indigenous Initiatives Fund to create the position of Métis inclusion program coordinator for 16 hours a week. I was fortunate to receive the role in May 2017. After a successful year of programming and uptake from the community at large, Manitoba Metis Federation (MMF) President David Chartrand requested to meet with me to discuss making the position at the university permanent. Since 2018, the role is now funded in partnership with the MMF and has recently been allocated full-time hours.
What were your experiences and involvement with the newly introduced Michif language course?
I began to advocate for the University of Manitoba, through the department of Native studies, to teach Michif. I was charged with having to demonstrate a need in the campus community for the language to be taught and to identify a teacher able to conduct the course. With the help of Métis historian Lawrie Barkwell, I was able to find Heather Souter, a Métis Michif speaker with a master of education in language revitalization, to take on the role. Over two years, we began to host free monthly Michif workshops open to students, staff, faculty and the community to prove a desire for Michif. In working with Dr. Cary Miller, we continued to advocate within the Faculty of Arts to host a Michif class in summer 2019. Although it took two years to actualize, the course ran in June, with students taking 39 hours of Michif in four weeks. Upon the success of the course and minor convincing, we ran Michif 1 and Michif 2 in the 2019-2020 academic calendar to an oversubscribed class. It has been an incredible journey over the past two-and-a-half years, creating the Michif courses and the beginnings of a Michif speech community here at the University of Manitoba.
Tell us about your top three highlights so far as the Métis inclusion coordinator.
The top three highlights of the time I have spent as the Métis inclusion coordinator are:
Working with the Métis students, staff, and faculty who are citizens on campus to create the MMF Bison Local.
Seeing my vision of a 45-metre sash adorning the centre pole of Migizii Agamik becoming a reality.
All of the work we have done to create a speech community coming to one place and space to celebrate with the Michif Kitchen Party held Nov. 30 is a memory I will cherish my entire life.
What are some of the partnerships that you have created both on and off the University of Manitoba campuses?
Over the last three years, we cultivated relationships with the Louis Riel Institute, MMF Infinity Women Secretariat, Metis Education and Training, MMF Citizenship Registry Office, Metis University Students' Association, U of M Indigenous Concerns on the Environment, and the MMF Bison Local. In the upcoming year, we will be adding partnerships with Union Nationale métisse Saint-Joseph du Manitoba, Métis Child and Family Services, and the La Société historique de Saint-Boniface to our line of programming.
What are your strategies for improving the revitalization of Métis culture on campus?
All of our Métis programming and direction has been dictated by the Métis community on and off-campus through consultation with MMF departments, affiliates, ministers as well as meeting with various student groups and leaders on campus. We strive to meet the expectations and needs of over 1,400 Métis students through consultation and provide them with a voice to identify what we, as a university community, need.
Beginning Jan. 13, the Indigenous Student Centre, MMF Bison Local and Métis University Students' Association will be hosting Métis Mondays: A Meal in Michif from 4:30 – 5:45 p.m.
On Jan. 21 from 1 p.m. to 2:15 p.m., Dr. Evelyn Peters will be at the Fort Garry campus to discuss the book Rooster Town, the way forward to honour the Métis displaced and the developments since the book launched in 2018. Join the discussion in the Engineering building, room E2 350. Rooster Town reconstructs the story of a Métis community rooted in kinship, culture and historical circumstance, whose residents existed unofficially in the cracks of municipal bureaucracy, while navigating the legacy of settler colonialism and the demands of modernity and urbanization. Books for purchase and opportunity for book signing.
On Feb. 10, Dr. Michelle Driedger will be at the Fort Garry campus for the Indigenous Scholars Speaker Series at 11:30 a.m. in the Circle Room of Migizii Agamik – Bald Eagle Lodge.