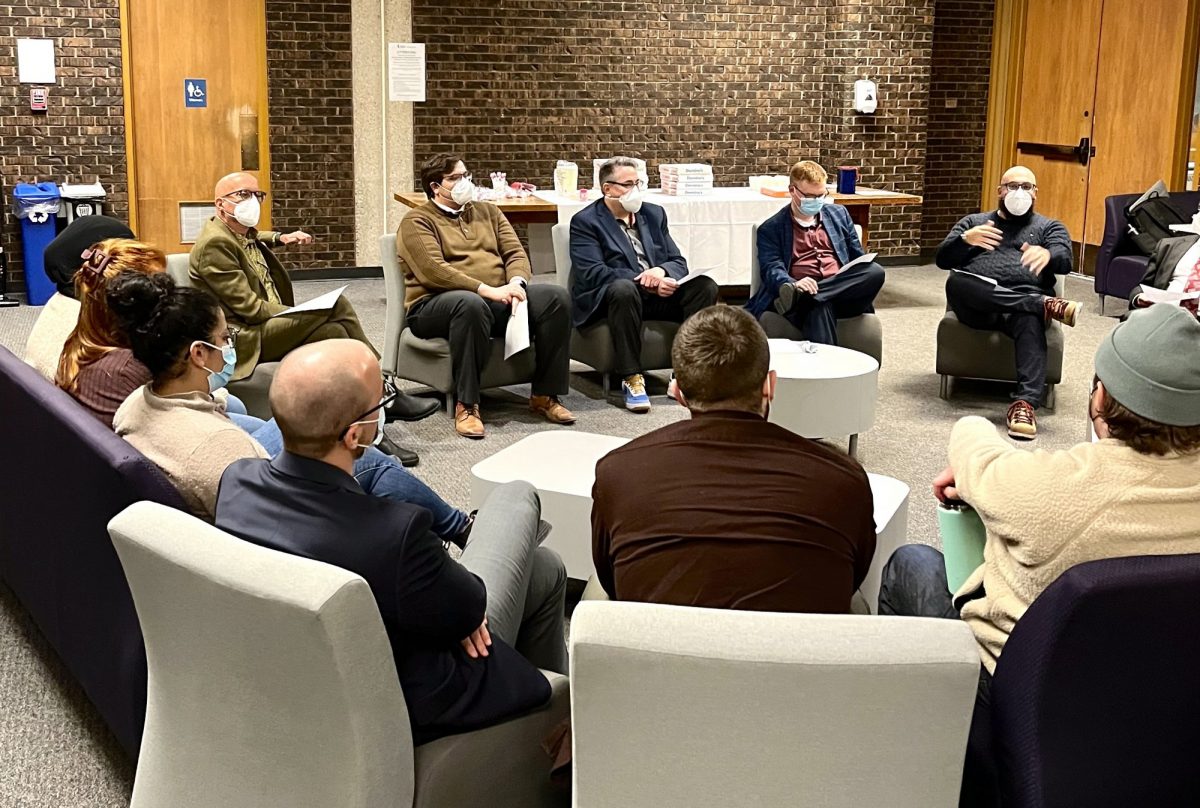 Men's Mental Health in the Legal Profession
November 25, 2022 —
In the finale of Die Hard, Bruce Willis' character, John McLane, is in utter shambles. His face is bruised, his body is broken, and he is hardly able to walk. Often, whether due to shame or a lack of knowledge, men will find themselves in similar disarray before seeking out mental health support. As our panelists for the Men's Mental Health in the Legal Profession categorically stated, men should not wait until their well-being is similarly tattered before reaching out for help.
This panel was a collaborative event between the Feminist Legal Forum (FLF), the Robson Hall Mental Health Group, the Manitoba Bar Association Representative (MBA Rep), the Robson Hall Movember Fundraising Team, and it was graciously sponsored by LexisNexis.
The event was held on Tuesday, November 15th in the Robson Hall Common Room, and featured a variety of legal professionals from both the law school and the Winnipeg legal community. The panel featured Professor Brandon Trask [JD/2012], Greg Evans, K.C. (of Evans Family Law) [LLB/1997], articling students Shawn Singh [JD/2022] and Rowan Greger [JD/2022] (both at Manitoba Prosecutions), and Steve Silva (a Therapist through the Wellness Program at Manitoba Justice). The panel was moderated by Dean of Law, Dr. Richard Jochelson.
The goal of the event was to encourage men's voices around mental health, to create a supportive environment for male students to make connections, and to share resources with male and non-male students about how we can all support the mental health of our male colleagues. While this event focused on men's mental health, all students were encouraged to attend, regardless of gender.
At the event, the six-person panel discussed a variety of topics relating to mental health in the legal profession, as well as the barriers that are faced by men in the profession. Some of the topics covered included the panelist's own experiences throughout law school, articling, and practice, how to reach out for support, networks and supports available to law students and lawyers, how to find ways to take care of mental health, and how to make time for mental health.
"It is important for members of the legal community to speak openly and candidly about mental health," said Jochelson. "I am grateful for the organizers of this event and for the practitioners and faculty who gave of their time to share their stories and good advice with the attendees. We know that speaking about our mental health is a first critical step in a lifelong journey of healing and wellness. Events like this evening help us embark on this project."
"We are very pleased with how this event went," said Jayden Wlasichuk, a second-year law student and the 2022-23 Women's Legal Forum Liaison for the FLF. "It was the first event of this type that the FLF has hosted, particularly with this group of collaborators. We are happy with the student turnout, as well as the broader support that this event received from the faculty at Robson Hall and the legal community."
"It sounds silly, but this event came together because of a book I read over the summer," Wlasichuk said. "'Man Enough: Undefining my Masculinity' by Justin Baldoni really got me thinking about the ways in which we all need to learn how to support men's mental health, and how impactful an open conversation and supportive environment can be. November 19th is International Men's Day, so I pitched the idea to the FLF team at our first meeting of the year to host a panel-style event on men's mental health, and I was met with so much support and enthusiasm to make this event happen! Collaborating with the Mental Health Group and the Movember team made sense because they would be able to bring knowledge and experience to the event, and the MBA Rep was on board to support the event through planning, advertising, and connecting us to resources in the legal community."
Sawarn Benning, a 2L student and member of the Robson Hall Mental Health Group, spoke about the stigma of mental health. "It's common to see mental health events catered toward certain groups, like law students or women. While all these considerations are important and impactful, it was great to see the expansion of this topic to men as well."
The stigma and socially constructed hesitancy on men's mental health isn't new to hear about, but it's events like these that actively combat the barriers surrounding men's mental health. Mental health isn't sanctioned to a specific group of individuals, it affects us all. As such, it was an initiative that the Mental Health Group was excited to endorse.

– Sawarn Benning, 2L
While the panel was facilitated by students of all gender identities, ensuring men's voices were heard was a priority for planners.
"It was important from the beginning of planning to ensure that this event was championed by men, so the panel was all-male professionals, speaking directly about their experiences. This allowed all attendees to learn from people in similar circumstances about what support is available, how to ask for support, and most importantly, how to support one another," said Wlasichuk.
"I was thrilled when FLF reached out to collaborate in organizing a panel for such an important topic" said Eric Gagnon, the MBA Representative for the Manitoba Law Students' Association. "Both the pressures of law school and the pandemic have really taken a toll on folks' mental health. Nor is this a problem that is unique to Manitoba; across Canada, law students are facing difficulties keeping up and taking care of their mental well-being. What's more, as men there are unique barriers that we face in reaching out for support. Thankfully, this event was an important step in breaking down those walls and creating community through candid conversations about our mental health."
One of the additional impacts of the Panel was the opportunity to raise money for the Robson Hall Movember Team Fundraiser.
"Movember is a wonderful initiative that focuses on raising awareness and funds for men's mental health, suicide prevention, and research for prostate and testicular cancer throughout the month of November," said Liam Menec, a third-year law student and this year's captain of the Robson Hall Movember Team. "The Men's Mental Health Panel was an opportunity for the Movember team to raise funds and to help bring together male students to talk about men's mental health. I am proud of the participation from Robson Hall for this amazing cause and it is really fun to see all of the growing moustaches around the school," he added.
Events on mental health are important, particularly as we move into the stress of exam season. Event organizers want to emphasize the importance of reaching out for help, whether to peers, administration, campus counselling services, or other trusted sources. In addition to growing moustaches, the Robson Hall Movember team is still accepting donations.