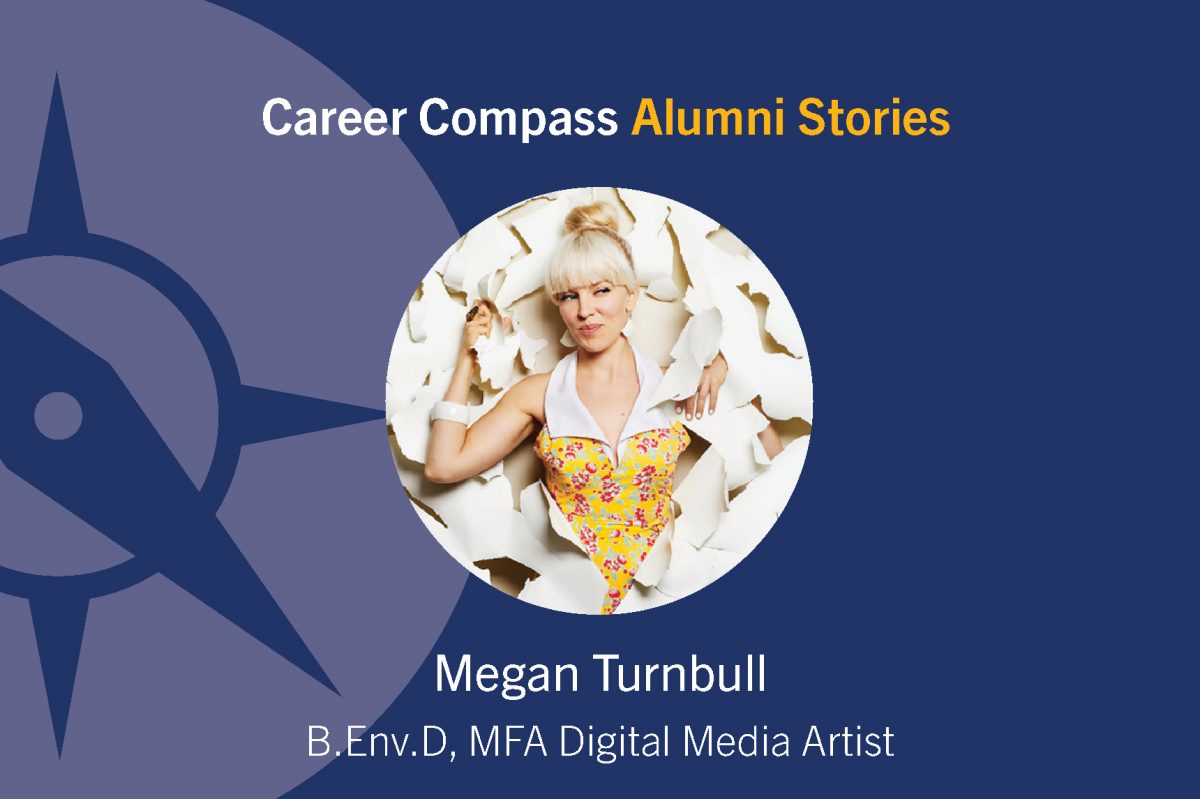 Megan Turnbull Environmental Design Alumni
Briefly, tell us about your job. What do you find most rewarding? What are your greatest challenges within this profession?
My career has led me to work as a freelance multidisciplinary digital media artist and filmmaker to a wide variety of clients and projects. I work as director, editor, animator and writer, depending on the project and team. I have completed projects for DAVID's Tea, Banfield Marketing and Communications Agency, the National Film Board of Canada, Place d'Orleans Mall, the National Arts Centre of Canada, the Canadian embassy in Vienna and various musicians. I really enjoy the challenge of telling people's stories and relaying their message in a visually compelling manner. You can view my portfolio at www.ameganturbull.com.
I am currently working at the Canadian embassy in Vienna in a marketing and communications position. The rest of my week I dedicate to client work and artistic endeavours. I find it is challenging finding work here as my German is not at a very high level yet.
What experiences and activities helped you to map out your career pathway?
After completing the environmental design program,I worked on residential projects in Winnipeg and the Whiteshell, but I wanted an adventure so I applied for landscape designer positions in Hong Kong and moved there in 2007 to work for Urbis International. While in Hong Kong, I worked predominantly on a project in Dubai, which I found to be disenchanting in its disregard for sustainable design. I did, however, discover that I enjoyed presentation methods and conveying design stories to clients, so I decided to return to school to study digital multimedia technology, with a focus on video and animation. After completing my studies, I moved to Ottawa and worked with Banfield Marketing and Communications Agency, while also working on my own films and other client work. This was a very rewarding and busy time. So busy, in fact, that I had to choose whether to focus on commercial or artistic projects. I decided to focus on my artistic filmmaking and take a hiatus from commercial work, so I returned to school once again to take the Master in Fine Arts program at Concordia University. While there, I was able to work as a sessional instructor while pursuing my studies. After completing my course work, I moved to Vienna to work on my thesis.
As far as activities that helped me to map out my career path, I would have to admit that many of my opportunities arose out of applying for things and waiting to see what I would get. Being friendly, enthusiastic and resourceful is also quite important if you move around as much as I have, because it helps build a community and support structure that is important if you predominantly work for yourself. And of course, saying "yes" to projects and opportunities, even when they seemed daunting or intimidating, has really shaped my career.
As a student, did you see yourself in your current career? What stayed the same and/or changed?
As a student I did see myself in a similar career to my current position. I always knew I wanted to do something studio based and working directly with clients. The medium seems to have changed many times, from landscape architecture, to advertising, motion graphics and short films, but the work dynamic and creative environment has remained the same.
What advice do you have for students who are interested in pursuing a degree in environmental design?
Go for it. Be prepared to work your butt off!
What job search advice do you have for students and recent graduates?
Apply for jobs you may not even think you have a chance at getting. The more you apply for, the more opportunities you will have and the more experience you will gain, which allows you to be more selective about the work you do.
Don't believe everything you hear about "finding your calling" or "having your dream job." In the end, you are paid to do a job because it is a job, not a dream. All you can do is your best and try to do work that you're proud of so that it leads to similar opportunities.
Be nice to people.
Tell us a fun fact about your career path.
My career path wasn't direct or straight. I envied the people who knew what they want to be right out of high school. My own path was much more meandering, which has provided me with a lot of interesting experiences. Sometimes not having a clear path can be a good thing because you try so many things along the way.