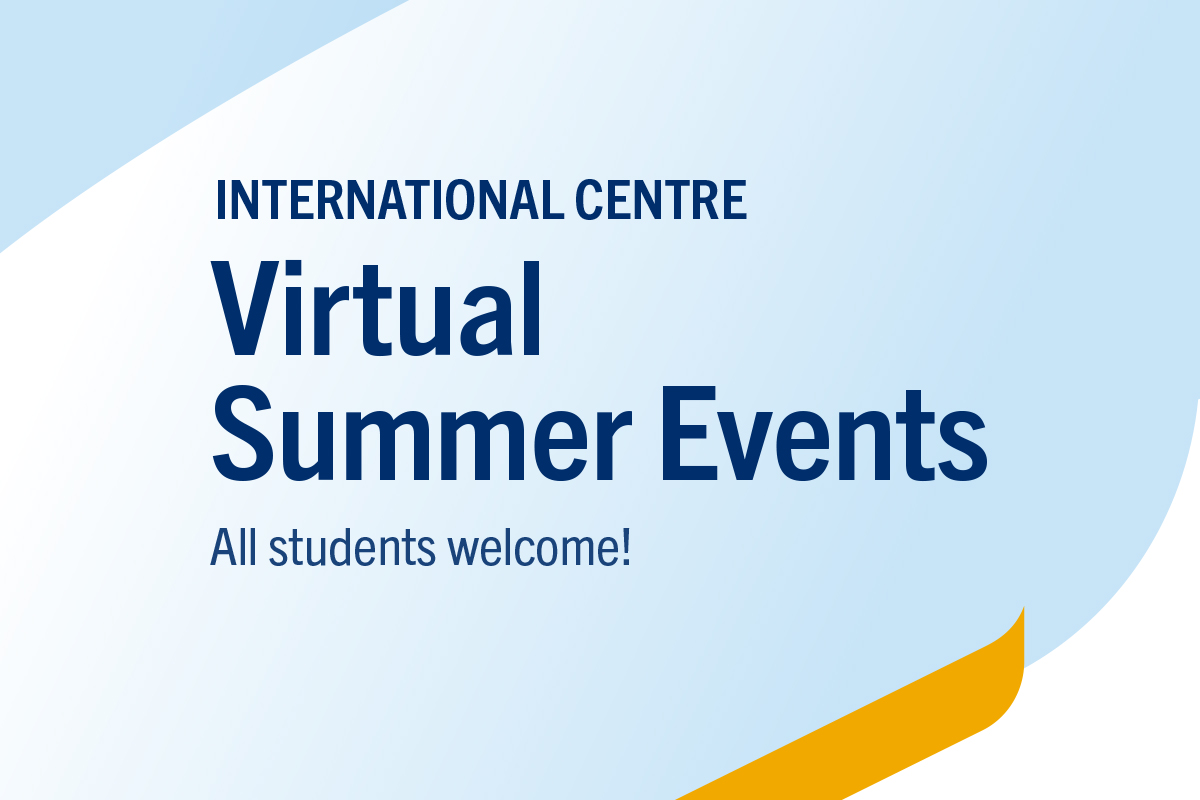 Meet your fellow students at two virtual summer events
May 20, 2021 —
The International Centre is hosting two virtual summer events: a virtual cookout and a virtual talent show, both happening on Zoom. All current students studying in person or remotely are invited to attend.
"For students studying remotely, particularly those who have not been able to travel to Winnipeg yet, it has been very challenging to find opportunities to connect with fellow students," says Roxanne Tackie, Intercultural Program Coordinator. "We hope that through these two events, students will feel more connected to campus life at UM, and of course have some fun!"
The Virtual Cookout is happening May 28 from 11 a.m. to 12:30 p.m. CDT (Central Daylight Time). Students are invited to bring their lunch and a drink and meet fellow students while taking in three cooking demonstrations featuring popular recipes from around the world.
After the cooking demos, students will break into small groups to share their favourite dishes from around the world and meet other students. Register for the cookout online.
The Virtual Talent Show is an opportunity to showcase your special talents. Whether it's dancing, singing, playing an instrument, spoken word, comedy, the visual arts or any other talent you have, this is your opportunity to shine.
There are two categories of talent submissions:
Visual Arts: Students may submit a photo of their artwork in JPEG format. Examples of this type of submission include painting, drawing, sculpture, ceramics, photography or crafts.
Performing Arts: Students may submit a 30-60 second video of their performance in MP4 format. Please try to record high quality video/audio, and consider your backdrop and lighting
The International Centre will select the top submissions, and the entrants will then be invited to perform live at the finals showcase on Zoom. The live audience will vote to select the top performers who will receive a prize.
Submissions are due on June 4, and the finals are on June 24 from 11:30 a.m. – 12:45 p.m. CDT. Find full details for the talent show here.
Both events are open to international and Canadian students. They are an opportunity to make new friends and learn about other cultures.
Farinaz Jonidi Shariatzadeh attended the IC's virtual holiday party in December and had a great time.
"As an international student I'd like to take advantage of each opportunity to not only find friends but also to become familiar with Canadian and other countries' cultures. International Centre events are very good places to meet this goal," she says. "I highly recommend all students from all majors and disciplines to at least try one event at the International Center. It's a great opportunity to meet new people and have fun while you learn new and interesting facts about other cultures."