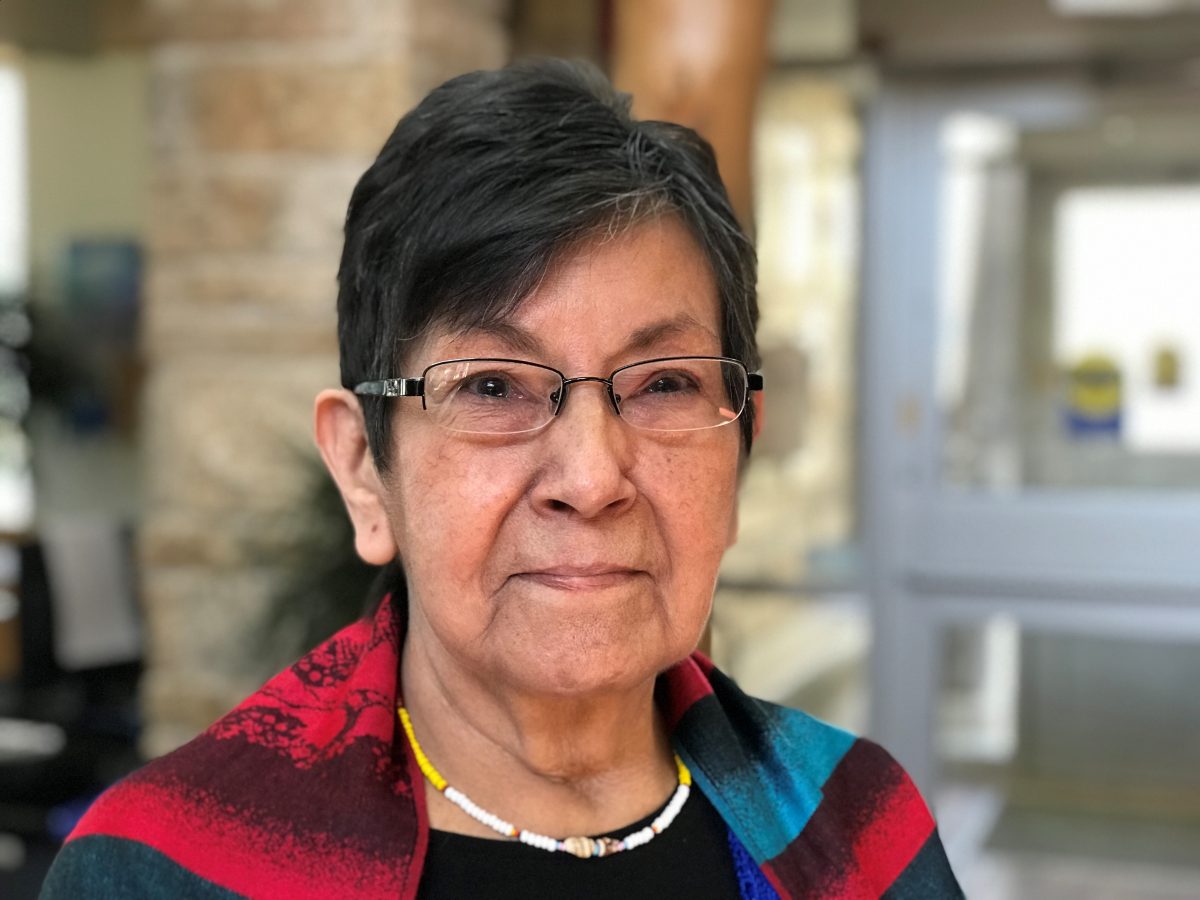 Meet the new Grandmother-in-Residence
Lorraine Cameron-Munro is both a teacher and a student who promotes respect for all living things
May 23, 2019 —
Migizii Agamik – Bald Eagle Lodge is described as being "a home away from home" for students. As someone who called many communities home, the new Grandmother-in-Residence can attest to the importance of finding a home in new places.
Discovery
Lorraine Cameron-Munro is an Ininew Iskwew (Cree woman) from Fisher River and moved away from her community at 15 years old. Her parents, whom she credits for teaching her about respect, caring and unconditional love, came from a Christian background. "I knew during my teens that there was another way of life," she says. "I discovered this when I met my first husband."
Lorraine's first husband had a busy career that took them from community to community. When she met him, she had just taken her Licensed Practical Nurse (LPN) training at Red River College and had been working for a year. His job relocated them to his home reserve, Swan Lake First Nation, as well as to Brokenhead Ojibway Nation, Sioux Valley Dakota Nation, Brandon and Virden. Throughout the relocations, Lorraine and her husband had two children, and temporarily cared for a foster child. Despite many moves, she always managed to find work as a registered nurse, even if it meant commuting, and developed lasting relationships with friends and families.
The relationship she cultivated with her mother-in-law was influential to Lorraine's early adulthood. Her mother-in-law, now in the spirit world, was committed to a traditional, land-based Anishinaabe way of life and shared many of her teachings with Lorraine.
Grief
Lorraine remembers her daughter as an active busy-body involved in sports and community. "I was working night shifts, so I would get home in the morning, drive her to practice and go to bed." In 1982, her daughter passed away at 12.
A year later, her husband was killed in a car accident. "The grief was so overwhelming, and so overbearing, that I couldn't function," she says.
"You lose your child, and then your partner and even your closest friends start treating you differently," she continues. "I was grieving, and I was also losing friendships during that time."
On the night she found out about her husband's passing, Lorraine recalls her five-year-old son looking into her eyes and saying, "I guess I am the man of the house now." She credits his presence and his strength in her life as the reason she was able to continue forward.
Moving forward
As she moved toward a healing path, Lorraine explains that she came to recognize that the Creator only allows as much learning as a person can handle. "Even though it was a big loss losing a child and a partner, I am able to share and listen to other people's experiences who experience loss," she says. "I recognize that death is a part of our life journey."
After her losses, Lorraine and her son briefly returned to her home community of Fisher River, where they resided until she was able to secure work as a cleaner in Winnipeg.
"I realized moving from place to place was a coping technique and that I was running from loss. After moving to Winnipeg, I needed to stop running and face reality and deal with my losses," she says. "So we stayed."
It was during her time in Winnipeg that Lorraine met her second husband. Soon after, they had a daughter together and were married. "We had a traditional wedding in Fisher River and a church wedding."
Lorraine and her family settled in Winnipeg, and in 1996, she graduated from the University of Manitoba with a bachelor of nursing.
The take-away
Now a grandmother of seven grandchildren, Lorraine says she is committed to living by the Seven Sacred Teachings and Indigenous Natural Law. She is also a life-long learner and is currently pursuing her master of arts in Indigenous governance at the University of Winnipeg.
"As an Ininew Iskwew, the most important Sacred Teaching to me is kistenimowin, or respect," she says. "We are all interconnected in this web of life." A committed advocate for Mother Earth, Lorraine hopes to share teachings on the importance of respect for all living beings.
She acknowledges the current climate crisis, and believes these teachings are urgent. "As we get older through all our lived experiences, we are responsible for teaching and sharing our experiences to the young people – because they are our future."
She says coming into her role at Migizii Agamik – Bald Eagle Lodge feels like a homecoming. After a life of relocating, pursuing education, raising a family and losing loved ones, Lorraine sees her role here as one built on a foundation of unconditional love. She is eager to begin building respectful relationships with her coworkers, students, and the university community.
When asked what she was most looking forward to in her new role, Lorraine ended with:
"I look forward to walking with you in this journey by supporting each other in the common goal of empowering and taking care of the students, who are the future leaders," she says. "Kisanaskomitin kahkinaw niwisisanak. Thank you, all my relations."
You can find Lorraine Cameron-Munro in Migizii Agamik – Bald Eagle Lodge or walking the hallways of campus engaging with students. She will host a tea and bannock session on Mondays, and a Women's Circle on Tuesdays. Stay tuned for more details.