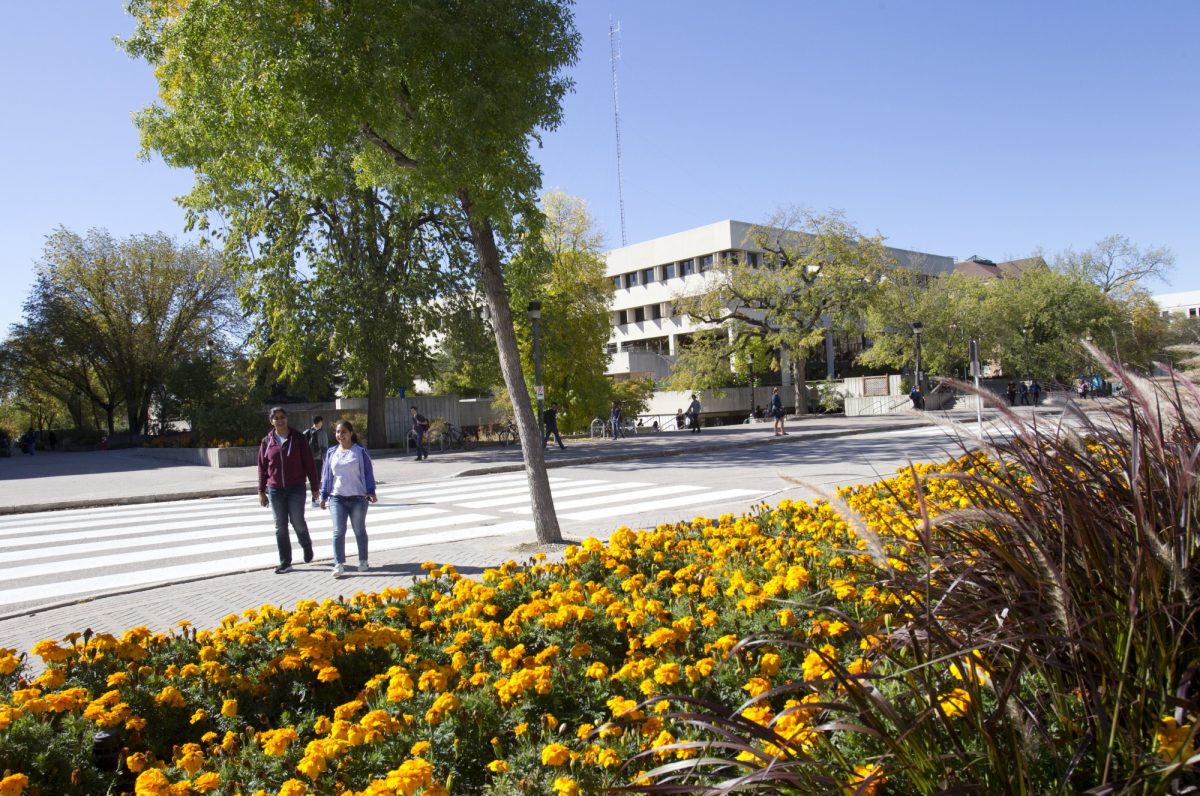 Meet the 2021 Emerging Leaders
64 recipients recognized for outstanding contributions
July 21, 2021 —
The University of Manitoba pleased to announce the 2021 recipients of the Emerging Leader Awards. The Emerging Leader Award is a way the University of Manitoba recognizes the outstanding contributions that students make to the enhancement of the institution and our community. Introduced in 2006, it has recognized students who have demonstrated a commitment to furthering our educational mission by contributing to the social, cultural, or economic well-being of communities on and off campus. The recipients of this award have consistently encouraged cross cultural understanding and exemplified sustained leadership initiative that is worthy of recognition. In 2021, the 64 students receiving Emerging Leader Awards have proven they are inspired by these values through their continued work in their respective communities.
Here are some of the recipients of the 2021 Emerging Leader Award:
Ewurafua Opoku-Agyeman
As a Faculty of Arts undergraduate student in their second year, recipient Ewurafua Opoku-Agyeman began their leadership experience in service of Faculty of Arts students as the arts lounge director on the Arts Student Body Council (ASBC). Opoku-Agyeman managed their role exceptionally by recognizing issues in the Arts Lounge and taking initiative to resolve them. Following this role, they were elected as the vice-president of ASBC, where they prioritized and exceeded expectations in establishing greater engagements among departmental groups. As ASBC president in 2020-2021 during the height of the pandemic, Opoku-Agyeman worked diligently with council members to provide the student body with options to stay digitally engaged through various initiatives, most notably the Arts Relief Program, which offered support to students struggling during the pandemic.
When asked what Opoku-Agyeman has learned through their leadership involvement at the University of Manitoba, they stated "Through my leadership involvement here at the university, I have learned the importance of advocacy. I have gotten the opportunity to see first-hand the power that advocating for change holds. I also learned the power of teamwork. Serving in a leadership role does not necessarily mean that you always have to do everything by yourself; it teaches you to delegate tasks and work efficiently with your team. Afterall, teamwork makes the dream work. I believe this to be the backbone of leadership and being a leader."
Jamie Pfau
Jamie Pfau is a University of Manitoba graduate student who is currently completing a master of social work in the leadership, management, and policy stream. Pfau has excelled throughout their life as a natural leader in formal and informal settings, supporting and uplifting those surrounding her with each opportunity that presents itself. Pfau's strong awareness of social issues is carried forth in their actions, as they have been a treatment foster parent for 10 years on top of being a full-time student and lead researcher. Alongside this, Pfau's family works diligently to successfully provide housing options for domestic violence survivors and their children, as well as youth aging out of foster care.
Upon asking Pfau what inspires them to continue as a leader, they responded "Passing it on to the next generation has inspired me to continue. Everything I do, I know our children are watching. Our children see how fulfilling it is to help others and genuine happiness is created from this – not collecting possessions. I also want my fellow humans and our community to know that they are worthy of love, support, empathy and a true sense of belonging. It is a true gift to help others feel this way."
Bryden Bukich
Bryden Bukich is planning to continue to bring his passion for leadership forward with him as he enters into the master of science degree in Indigenous Health in the Faculty of Kinesiology and Recreation Management at UM next year. Bukich is a proud coach of the 14U North American Indigenous Games male basketball team and has managed to continue to provide players a way to safely stay connected and have access to training over the course of the COVID-19 pandemic. Bukich is also a member of the Indigenous Engagement Circle, Academic and Student Working Groups in Kinesiology, and was a PERKS student council senator, Neechiwaken Mentor, and student representative for the Kinesiology BIPOC Hiring Committee during the 2020-21 academic year. Outside of volunteering, Bukich is a research coordinator for the First Nations Health and Social Secretariat of Manitoba, where they are researching ways of educating Canadian nurses in anti-racist health care practices for Indigenous Peoples.
When asked how UM has supported Bukich's leadership journey, he stated "I have had the great fortune within my faculty to learn from and be supported by some incredible mentors who motivate, inspire, and challenge me daily. As well, the University of Manitoba has time and time again allowed me to step out of my comfort zone, giving me various platforms to advocate for and support underserved and underrepresented populations. Working along so many like-minded people has made UM feel like home, and has been lifechanging as I pursue a career in medicine and Indigenous health research."
Selection Committee Members for the 2021 Emerging Leader Award
We want to acknowledge that this year's awards would not have been possible without our amazing selection committee. Thank you for all your contributions!
Angela Soulsby (Undergraduate Student, College of Nursing, Rady Faculty of Health Sciences)
Judy Piasta (Communications Coordinator, Graduate Studies)
Justin Rasmussen (Student Advisor, Indigenous Student Centre)
Kevin Boreskie (Graduate Student, Faculty of Kinesiology and Recreation Management and Rady Faculty of Health Sciences: Applied Health Sciences)
Leah Deane (Director, Student Services Bannatyne, Student Support)
Lisa Tinley (Associate Director of Athletics and Recreation, Active Living Centre)
Matt Semchyshyn (Marketing and Communications Officer, St. Paul's College)
Sherry Peters (Registrar/Confidential Assistant, St. John's College)
Teri Stevens (Communications Officer, Marketing Communications Office)
Zach Unrau (Student Life Coordinator, Student Life Office)
2021 Emerging Leader Award Recipients
Undergraduate recipients:
Ahmad Majeed, Rady Faculty of Health Sciences: Health Studies
Aleena Shah, Asper School of Business
Allison O'Brien, Faculty of Arts
Aminollah Montazeri Pour Agha, Faculty of Kinesiology and Recreation Management
Angela Griffith, Rady Faculty of Health Sciences: Health Studies
Anh Sang Tran, Faculty of Science
Anika Khan, Faculty of Arts
Anna Stacey, Faculty of Science
Ashley Dawn Wolfe, Faculty of Arts
Atlin Reichardt, Asper School of Business
Audrey Garcia, Faculty of Science
Breanna Duncan, Faculty of Arts
Bryden Bukich, Faculty of Kinesiology and Recreation Management
Carmen Huang, Faculty of Architecture
Chiamaka Nwadike, Price Faculty of Engineering
Chloe Dreilich-Girard, Faculty of Arts
Claire Risbey, Faculty of Science
Clare Brigham, Faculty of Science
Cole Austin Coughlin, Faculty of Science
Danial Ismael Peirson, Faculty of Arts
Diana Prince, Faculty of Science
Divleen Mangat, Faculty of Science
Evan Chan, Desautels Faculty of Music
Ewurafua Opoku-Agyeman, Faculty of Arts
Fiona Vickers, College of Medicine, Rady Faculty of Health Sciences
Guneet Uppal, Faculty of Science
Harman Kaur Vats, Faculty of Science
Jayelle Friesen-Enns, College of Medicine, Rady Faculty of Health Sciences
Jessica Ritchie, College of Nursing, Rady Faculty of Health Sciences
Justin Langan, Faculty of Arts
Kyle Briscoe, Desautels Faculty of Music
Laura Stoyko, Price Faculty of Engineering
Lauren Gray, Faculty of Science
Madison Reed, Faculty of Science
Mahyar Mirrashed, Price Faculty of Engineering
Natalie Kathler, Faculty of Arts
Nicole Singcay, Extended Education, (Awarded Bachelor of Science)
Rebeka Gauthier, Faculty of Arts
Reem Elmahi, Faculty of Science
Sem Perez, Faculty of Science
Shelly Lam, Faculty of Science
Skylar-Ann Christina Dyck, Faculty of Arts
Snimar Bali, College of Pharmacy, Rady Faculty of Health Sciences
Stephanie Kalo, Asper School of Business
Tahbit Dewan, Asper School of Business
Tanmay Bhatia, Rady Faculty of Health Sciences: Health Sciences
Taylor Antonchuk, Robson Hall Faculty of Law
Tolani Olanrewaju, Faculty of Science
Yashas Ravi Samtani, Faculty of Arts
Zoe Quill, Faculty of Science
Graduate Recipients:
Aaron Klymasz-Swartz, Faculty of Science: Biological Sciences (Master's student)
Akshi Malik, Max Rady College of Medicine, Rady Faculty of Health Sciences: Physiology and Pathophysiology (PhD student)
Bradley Feltham, Faculty of Agricultural and Food Sciences: Human Nutritional Sciences (PhD student)
Corrine Margaret Jane Clyne, College of Rehabilitation Sciences, Rady Faculty of Health Sciences (Master's student)
Daniel Schwade Araujo, Faculty of Kinesiology and Recreation Management: Applied Health Sciences (Master's student)
Erin White, Faculty of Arts: Psychology (Master's student)
Farinaz Jonidi Shariatzadeh, Price Faculty of Engineering: Biomedical Engineering (PhD student)
Jamie Pfau, Faculty of Social Work: Community of Health Sciences (Master's student)
Jocelyn Elias, College of Nursing, Rady Faculty of Health Sciences (Master's student)
Joshua Okyere, Faculty of Arts: Peace and Conflicts Studies (PhD student)
Katherine Chimney, Max Rady College of Medicine, Rady Faculty of Health Sciences: Genetic Counselling (Master's student)
Kimia Shadkami, Faculty of Science: Computer Science (Master's student)
Muhammad Aldhshan, Rady Faculty of Health Sciences: Physiology & Pathophysiology (Master's student)
Toby Le, Max Rady College of Medicine, Rady Faculty of Health Sciences: Medical Microbiology and Infectious Diseases (PhD student)