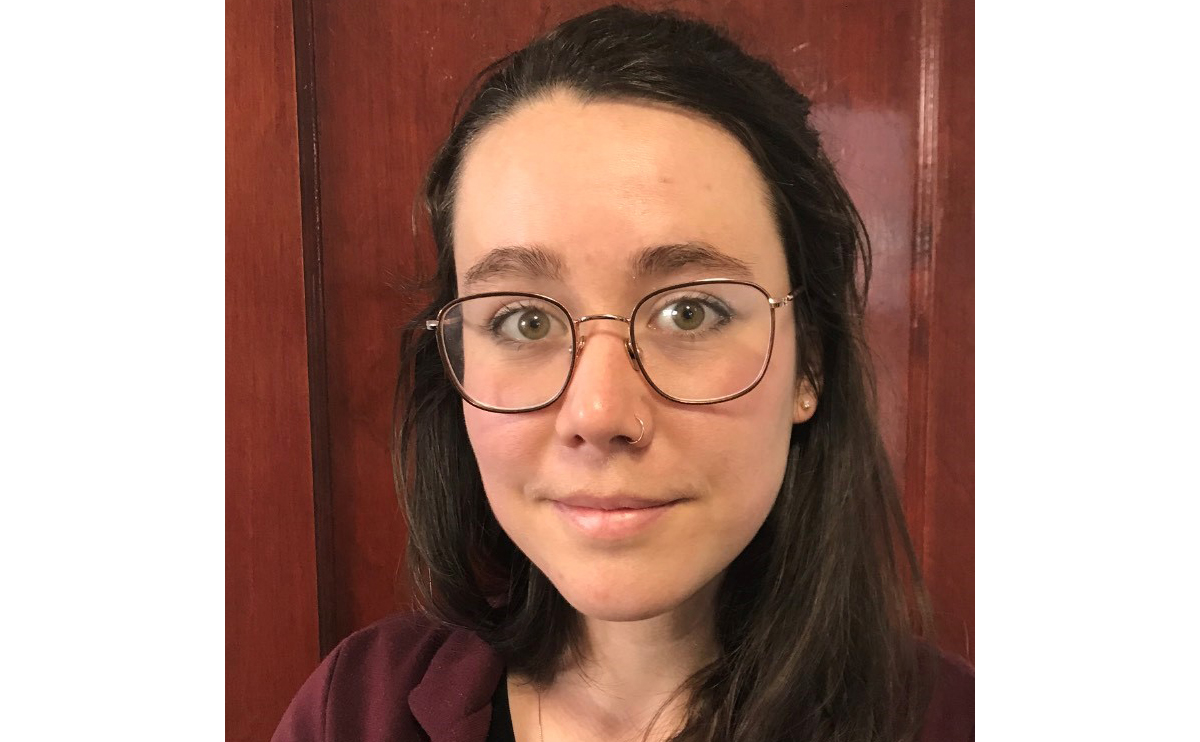 UM Master's Student named McCall MacBain Scholarship finalist
March 1, 2021 —
University of Manitoba graduate student Caitlin Thomas [MA/21] could be one of Canada's next McCall MacBain Scholars at McGill University. She has been named a finalist for the prestigious award and will complete interviews this month to see if she makes the final cut.
The McCall MacBain Scholarship is Canada's first comprehensive leadership-based scholarship for master's and professional studies. It enables students to pursue a fully funded master's or professional degree at McGill while connecting with mentors, advisors and industry professionals through an intensive leadership development program.
Throughout her studies at UM, where she's completed a master of arts in peace and conflict studies, Thomas exemplified success not only in her academic career, but also in her role within the community. "My time at the university was molded by my engagement in civil society and learning the importance of connecting my studies and research with those experiences on the ground," she says.
Recognizing the importance of connecting theory and practice, Thomas treasures the privilege of being able to integrate her academic passions, volunteer participation, professional background, and belief systems to influence the direction of her career. "My learning was enriched because in my day-to-day activities, I was engaging with ideas at different levels and in different spaces," she adds.
Over the past few years, Thomas has been supporting a family of refugee newcomers by providing psychosocial support and a connection network for them as they begin their lives in Canada. This opportunity from a local Volunteer Matching Program has evolved into one of her most rewarding experiences. "I learned so much from them – they became my family," Thomas says. Additionally, she has engaged in gender equity advocacy with the Institute for International Women's Rights, among other volunteer opportunities. These activities have allowed her to mobilize and improve her skills and knowledge while also immersing herself in concepts and fields of study she finds most compelling.
As a result, Thomas has grown confident in her professional and academic career: "I've found my place and what I'm supposed to be doing. I don't think I would've found that without my involvement in the Volunteer Matching Program."
Being at the University of Manitoba has also been key to her success. "I really appreciate my time with UM because it opened up many opportunities and connections that I wouldn't have had otherwise," she says. She's grateful for the influence and support from her peers, community members, and the faculty within the program, especially her thesis advisor. "I've been surprised over and over again at the university, with the opportunities and privileges that I've been afforded, the people I've been able to meet and the conversations that I've been able to be a part of."
Her achievements have been noticed across the country. Out of over 735 initial applicants for the McCall MacBain Scholarship, Thomas is one of 50 finalists across 28 Canadian universities who will be attending final interviews this month. She reflects on the scholarship selection process, noting the many benefits and connections she continues to develop through a variety of seminars and meetings with McGill faculty, alumni and mentors. "The whole process has been amazing. I feel so fortunate to be a part of it," she says. She emphasizes the value of staying present at each stage of the process and embracing every opportunity afforded to learn and grow. It's clear that Thomas will continue to demonstrate this mindset in her future, particularly as she starts the joint bachelor of civil law and juris doctor program at McGill.
Each finalist was chosen based on their character, community engagement, leadership potential, entrepreneurial spirit, academic strength, and intellectual curiosity. "We look for potential in students from all walks of life, with different academic and volunteer interests," Natasha Sawh, dean, McCall MacBain Scholarships, explains. "What unites them is the inner drive to learn, lead, and make a positive impact in other people's lives."
The McCall MacBain Scholarship is a full graduate scholarship that will provide students with mentorship networks, interdisciplinary learning opportunities, and global community partnerships to accelerate their impact on the world. Students must have a bachelor's degree, and must have Canadian citizenship, permanent residency or refugee status in order to apply.
If you're interested in following in Thomas's footsteps, applications are now open for Summer/Fall 2022 admission. The application will be due in September 2021, however, students interested in learning more about the McCall MacBain Scholarship are invited to register for the UM information session on March 2, 2021 at 2:00 PM here. For those with scheduling conflicts, alternative information sessions can be found here.
Find out more about all the scholarships and bursaries offered to University of Manitoba students by visiting Financial Aid and Awards.