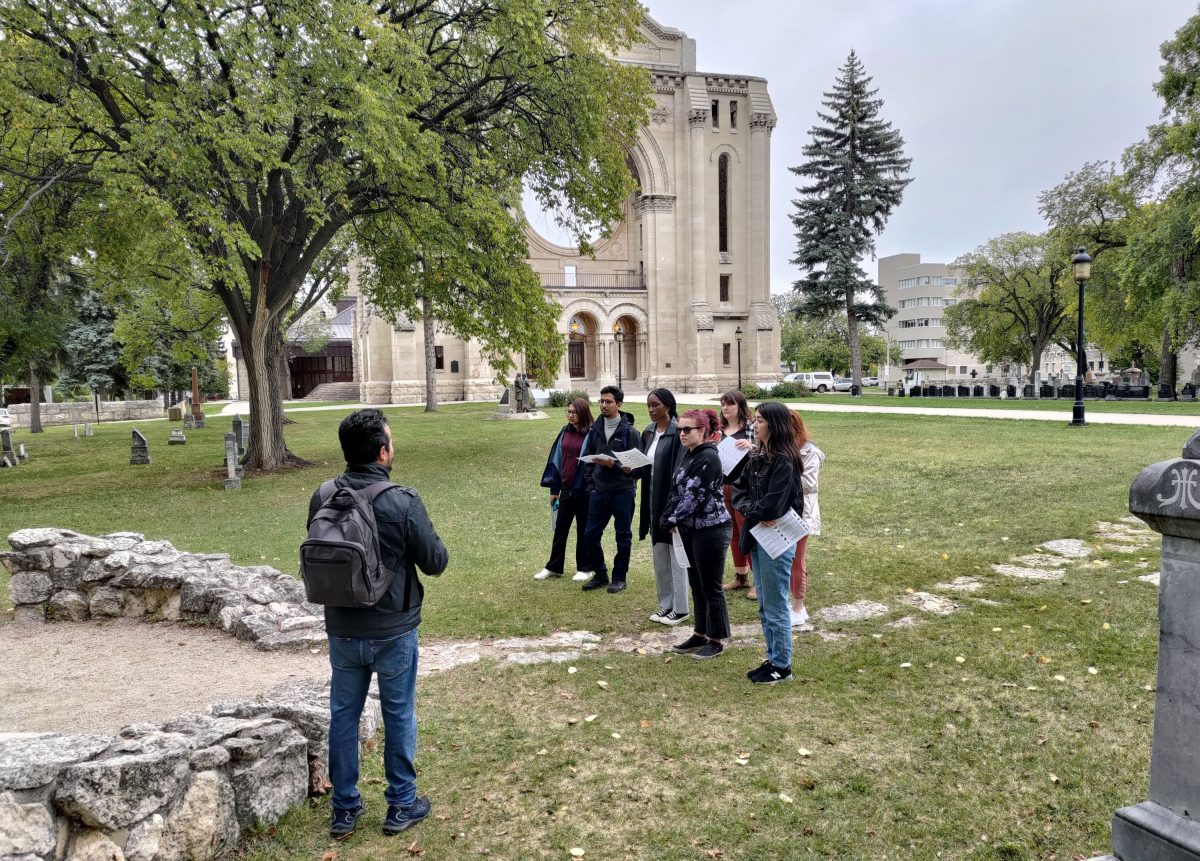 Master's program introduces Winnipeg Human Rights Tour
Introduction to Winnipeg takes grad students to iconic landmarks
October 6, 2023 —
The Winnipeg Human Rights Tour began in 2022 as a way to introduce new Master of Human Rights program students to some of the many Human Rights aspects of Winnipeg. Beginning in St. Boniface at the grave of Louis Riel, founder of Manitoba, the tour has now been successfully delivered to two generations of Master of Human Rights students and has grown in content, scope and recognition.
The main goals of MHR program administrators is that the Tour sparks dialogue, promotes reflection, and educates participants about the dynamic nature of human rights. The Tour emphasizes how historical events have shaped Winnipeg's present human rights climate and projects their significance into Canada's future, intertwining past events with current activism and future aspirations for justice and inclusion.
"The Winnipeg Human Rights Tour is one of the land-based learning activities of the Master of Human Rights program at the University of Manitoba, and provides a unique opportunity for participants to explore some of the rich history and current struggles of human rights in Winnipeg," said Dr. Nathan Derejko, who holds the Mauro Chair in Human Rights and Social Justice.
This year, program administrators commissioned an intricately designed map, enriched with additional stops of interest. More than just a tool for navigation, this map narrates Winnipeg's ever-evolving journey in human rights. With concise descriptions of significant landmarks, participants are not only informed about historical events but are also introduced to ongoing human rights initiatives and potential future developments. The map fosters a deeper connection between the participants, the city's history, its contemporary human rights scenario, and future aspirations.
Winnipeg's human rights history is a combination of struggles and heartening victories. While it is essential to acquaint university students with the past, it is equally important to connect these historical accounts with contemporary issues and future human rights prospects. This tour serves as a bridge, fostering awareness and inspiration, and reminding participants of sacrifices, achievements, and the ongoing journey towards a more inclusive society.
Pia, an International Student from Chile, said, "I really liked the tour because it provided insight into the city's history, which is very important as a newcomer, and also, I enjoyed the participatory approach between the guide and the participants."
This year's tour took place on Saturday, September 17 and was open to all Master of Human Rights program students and alumni. While primarily designed for university students to promote academic discussion and ideas, plans are in the works to expand the tour to a broader audience. The tour is focused on downtown Winnipeg and the Forks, and takes about two to three hours to walk. This year, Javier Torres, Master of Human Rights Professional Development Coordinator led the tour.
Priscila, an International Student from Brazil, described an encounter the group had with a passerby who was also an activist, taking part that day in a protest to search the Brady Landfill. "As an international student, this tour allowed me to connect with the city and with local events related to human rights," she said. "The highest point was talking to a representative of a local protest who claimed the search for missing Indigenous women in the region. It was an important experience to feel the city and its culture."
Augustine Caesar, another participating student, said, "The Winnipeg Human Rights Tour has helped me to learn what happened in the past and to realize the importance of keeping track records of whatever happened. As a Human Right Student and activist, it has helped me to appreciate and recognize the past happenings, and definitely it will help me to shape the present now, the future and to hold duty bearers accountable for their actions."
The Human Rights Tour of Winnipeg offers a rich tapestry of stories, struggles, and triumphs that can inspire a new generation to continue the work of their predecessors, ensuring a brighter and more inclusive future.