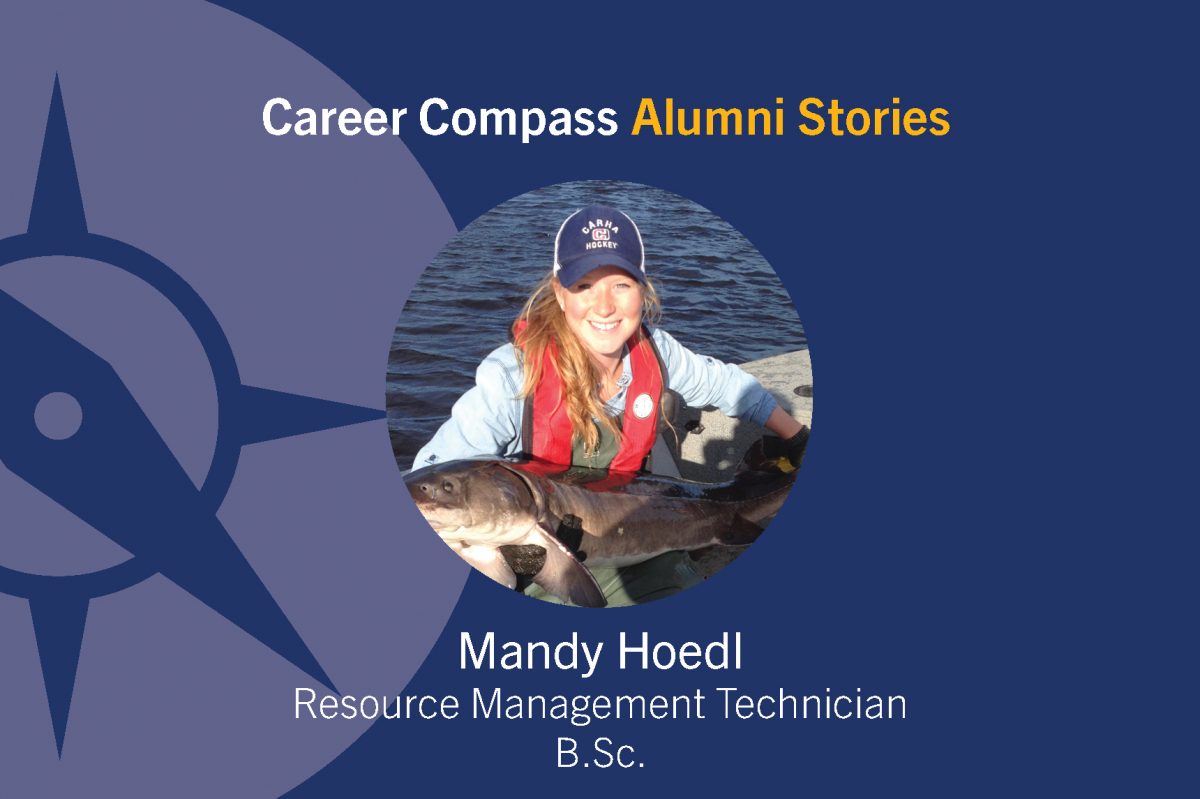 Mandy Hoedl Life Sciences Alumni
Briefly, tell us about your job. What do you find most rewarding? What are your greatest challenges within this profession?
I am a resource management technician with the Dryden District Ministry of Natural Resources and Forestry (MNRF). My mandate is to ensure the good stewardship and sustainability of our natural resources. In this position, I play a role in fish and wildlife monitoring and research of forestry planning, lands tenure and environmental compliance. My job involves a lot of boots on the ground, eyes in the air and boats on the water fieldwork. Half the time my office is the beautiful wilderness of northwestern Ontario and that is the most rewarding part of my job. A big challenge I face in this profession is trying to preserve and protect our natural resources in an ever-changing environment. The MNRF as a whole needs to adapt with these changes and determine new and improved ways to maintain our mandate.
What experiences and activities helped you to map out your career pathway?
I've always enjoyed spending time outdoors and have never been afraid to get my hands dirty. I grew up on a farm with lots of animals and have always loved going camping, fishing, horseback riding and hiking. Science was always my favorite subject in school and it didn't hurt that I excelled in biology and chemistry, which lead me to believe that a degree in science was my future.
As a student, did you see yourself in your current career? What stayed the same and/or changed?
All throughout high school and even into my first couple years of university I was dead set on becoming a veterinarian. I did a co-op work term at an animal clinic and even worked at one for several years. One summer, I decided to branch out and apply for a summer student position with the Ministry of Natural Resources (MNR). I gained a wide variety of experience in various areas and I began to realize how much I enjoyed the diversity of the MNR and not being stuck inside all day, every day. I didn't abandon biology but simply moved in a different direction and so began my journey through the MNR. I bounced from contract to contract, working as a fisheries technician with the broad-scale monitoring program in the summer and an assistant fisheries aging technician at the regional aging lab in the winter before finally landing a permanent, full time position.
What advice do you have for students who are interested in pursuing a degree in biological sciences?
A Bachelor of Science degree is quite unique in that you can keep your studying broad or become very specialized. If you know science is the right path for you, then you've already made the most difficult choice. The wonderful thing about this degree is that whatever science-related career you choose, this degree will take you there and even if you change your end goal, this degree can still get you there!
What job search advice do you have for students and recent graduates?
You must be patient and very persistent when embarking on the search for a job because you cannot expect to jump right into your dream job immediately after graduation. You'll find the career you're looking for if you keep at it and, in the meantime, you may have to work a few odd-ball jobs because your student debt will be there waiting for you immediately after you graduate.
Tell us a fun fact about your career path.
I worked as a bank teller for 8 months post graduation before I landed my first contract as a fisheries technician. I went from formal business attire to fish covered rain gear in a matter of days!