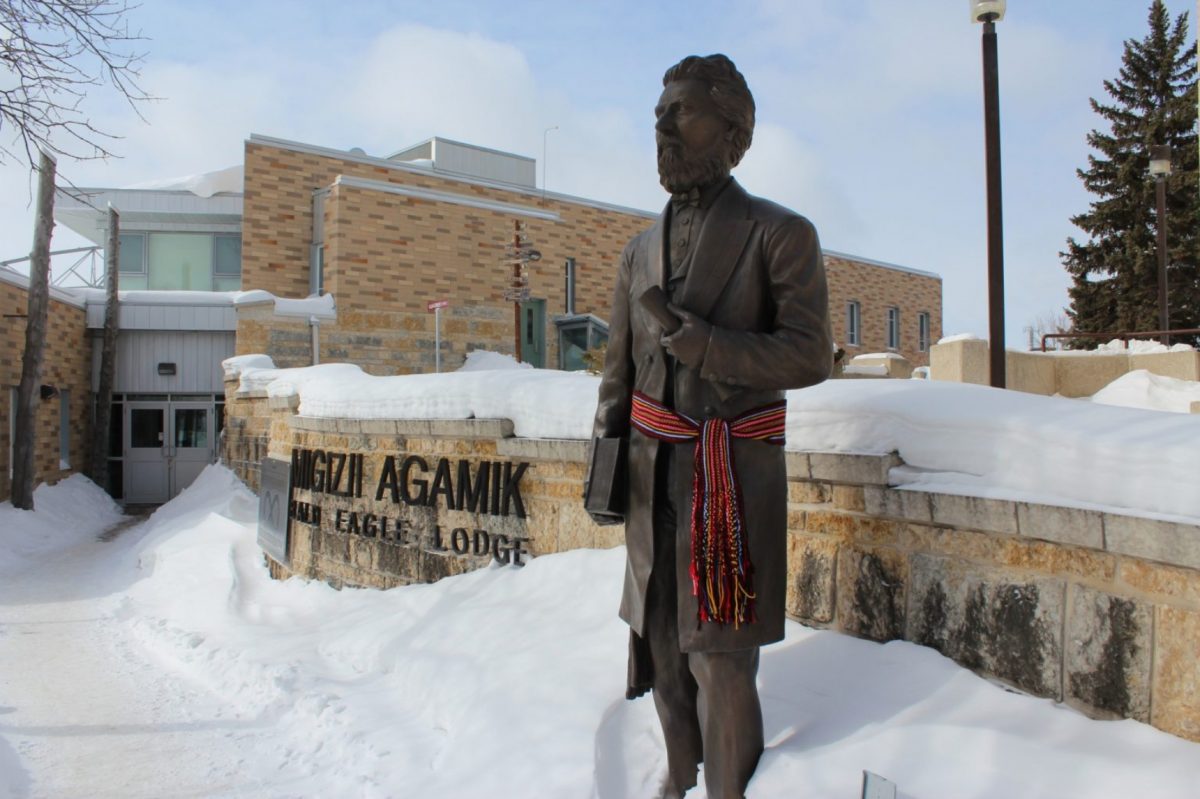 Louis Riel Day celebration returns to UM
Meet the team behind the celebration and other cultural events
February 7, 2023 —
Mark your calendars! For the first time since the start of the pandemic, Louis Riel Day will be celebrated in person at the University of Manitoba's Fort Garry campus.
Louis Riel is a Métis hero, founding father of Manitoba and leader who fought to protect his people. In his honour, Louis Riel Day celebrates the history, resiliency and cultural pride of the Métis people whom he defended.
A celebration of Métis culture and community will take place on Friday, Feb. 17 at 11 a.m. at Migizii Agamik – Bald Eagle Lodge. The Office of Vice-President (Indigenous) at UM and the Manitoba Métis Federation welcome everyone to join in the celebration.
Cultural integration a growing focus in UM spaces
Since its inception, the Office of the Vice-President (Indigenous) has grown to include newly created units and teams that advance Indigenous engagement, achievement and governance at UM and build a culturally safe environment for Indigenous students, staff, faculty and guests. In March 2021, Christine Cyr was appointed as Associate Vice-President (AVP) Indigenous – Students, Community and Cultural Integration.
"In general, there is an air of relief and celebration in our environment as we move towards resuming life, work and play in-person. As a proud citizen of the Red River Métis Nation, I have specific reasons to be hopeful and joyful as we prepare to gather together on Feb. 17 to celebrate our Métis champions, our identities, our history and our kinship ties. As usual, there will be music, food, laughter and sashes," says Cyr.
"The work of Métis inclusion is growing and so is the number of Métis students who are attending UM and succeeding," she continues. "I am inspired by the up-and-coming generation of fierce and brilliant Métis students and leaders in our midst, and I am excited for where we are going as a Nation."
Collaborating with our partners
Joining Cyr's team as director of cultural integration is Vanessa Lillie. A Cree and Métis woman with roots in Peguis First Nation, Lillie seeks possibilities to make our collective space more accessible, inclusive and healing. The cultural integration team also recently welcomed Meghan Young, thanks to a new partnership with the Manitoba Métis Federation.
As Métis inclusion coordinator, Young, who is Red River Métis with ancestral ties to the Métis community of St. Norbert, who will be hosted at UM and will work in collaboration with UM, the Manitoba Métis Federation and the broader campus to create opportunities for Métis culture to be acknowledged and celebrated. Together, they will work to provide a full range of supports to Métis students, fostering resilience, cultural pride and academic success.
"Through my role I am excited to continue exploring opportunities to create a strong Métis community at UM. It is important that Métis students feel pride in their cultural identity and a strong sense of belonging," says Young.
To stay updated on cultural events at UM, please visit the Indigenous events calendar. Please note: The Louis Riel Day celebration and other events follow UM's masking policies.