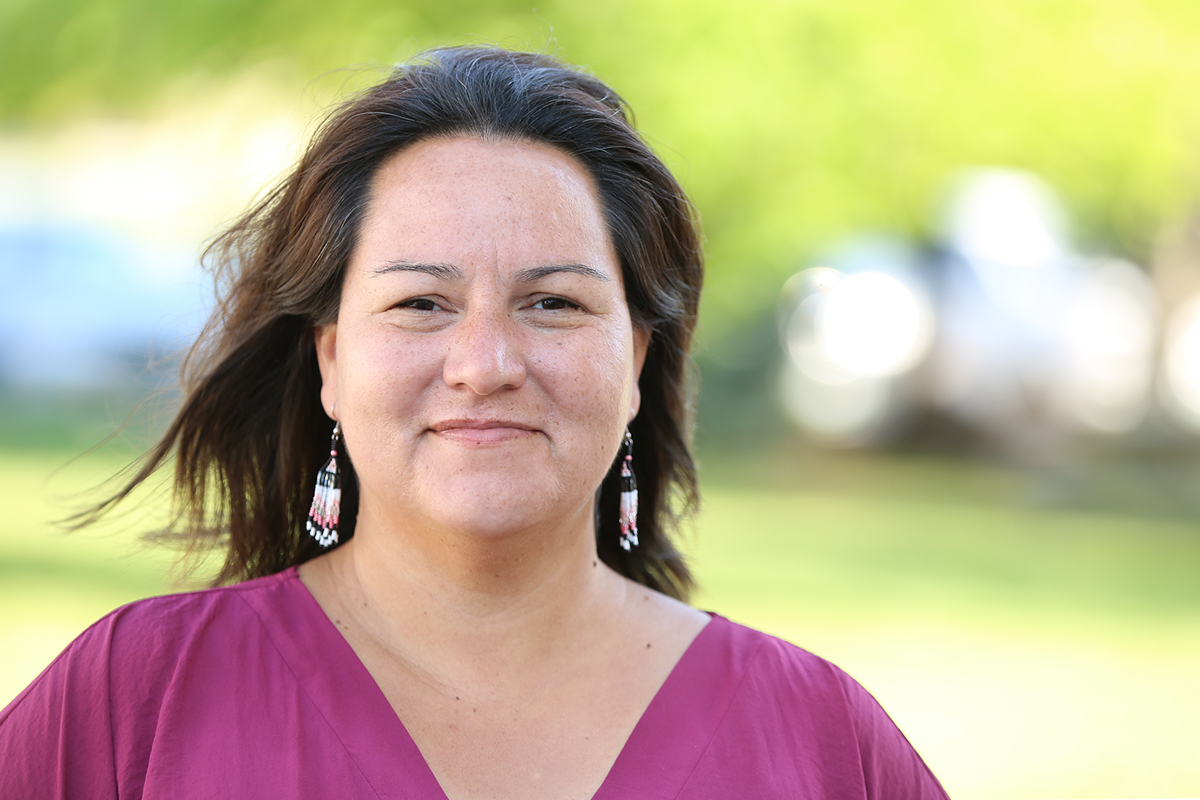 Christine Cyr appointed Associate Vice-President Indigenous – Students, Community and Cultural Integration
February 24, 2021 —
Christine Cyr has been appointed as Associate Vice-President Indigenous – Students, Community and Cultural Integration. This is the first Associate Vice-President Indigenous appointment by Dr. Catherine Cook, Vice-President (Indigenous). Cyr begins her new role March 8, 2021.
"I am thrilled that Christine accepted this role. She is a highly regarded member of the Indigenous and university communities. She is a strong leader who drives forward change, ensuring that student success is at the centre of her work," says Dr. Cook.
A Métis woman from Winnipeg, Cyr comes to this new leadership position after being Director of UM's Indigenous Student Centre (ISC). She has worked at UM for 20 years and is a UM Arts alumna.
Having overseen strategic planning and cultural education that benefits Indigenous students and faculties across campus, Cyr has been instrumental in creating a supportive learning and work environment for the Indigenous community at UM. She is co-leading the UM's anti-Indigenous racism strategy development and is a champion of Indigenous faculty, staff and students.
As someone who is dedicated to amplifying and strengthening the Indigenous community at UM, Cyr has developed and led programs like the Post-Secondary Club that advance the recruitment of Indigenous high school students in Manitoba. She also co-created the Indigenous Circle of Empowerment (ICE) leadership program, and established the Métis Working Group and the new position of Métis Inclusion Coordinator.
An accomplished mentor and leader, Cyr received the Future Leaders of Manitoba Award in 2013 and the Service Award from UM in 2014. Her volunteer work has included sitting as Chair of the United Way of Winnipeg's Indigenous Relations Council, member of United Way's Board of Trustees, Chair of the Circle on Aboriginal People and Philanthropy's 3rd Annual All My Relations Gathering, and Vice-Chair of Career Trek.
In her new role Cyr will develop and implement transformative programs and services across campus and continue to create pathways for Indigenous students. She will also join the Vice-President (Indigenous)'s executive team to work with academic, research and administrative specialists in engagement of Indigenous faculty, staff and students.
"This good work we do as a team is all about being in service to our community. I am very excited to have the privilege of working alongside Dr. Cook and the UM community to support Indigenous students in achieving their goals and dreams," says Cyr.
Cyr is active on the Red Road – attending, participating in, and leading ceremonies. She lives in Winnipeg surrounded by her husband, four children and eight grandchildren.