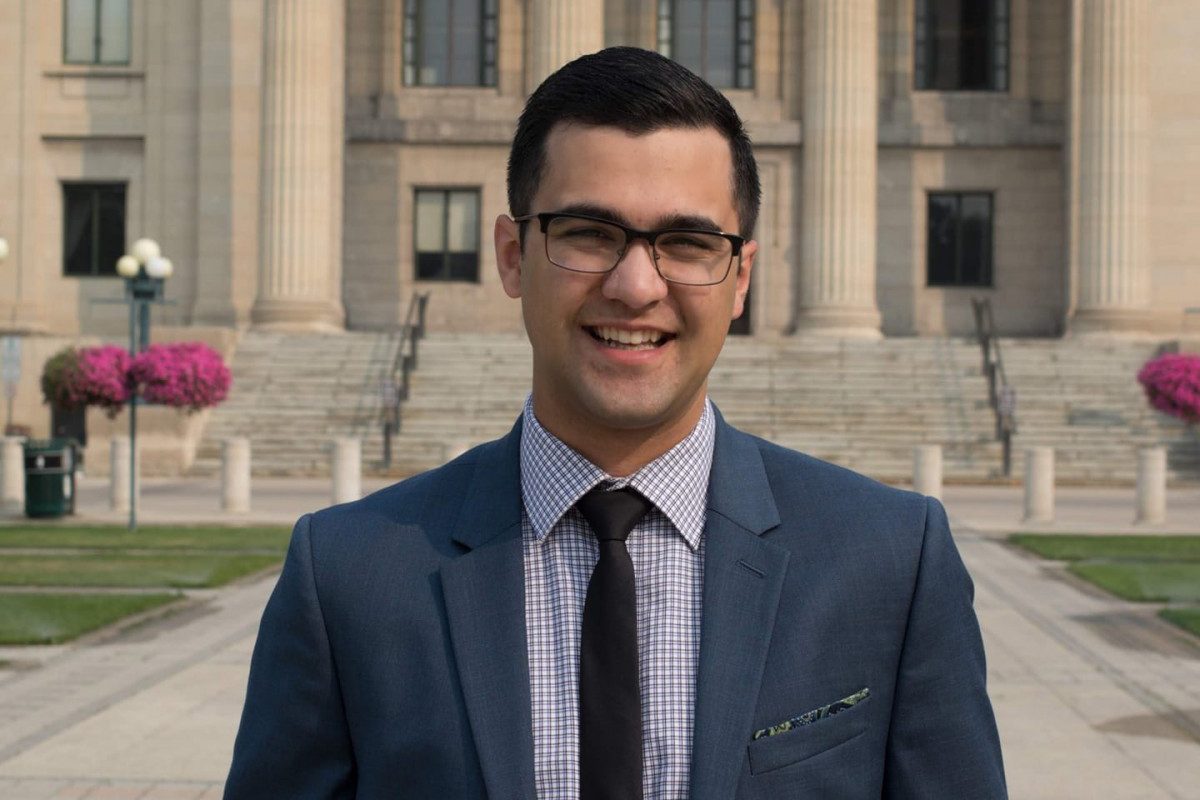 Looking to inspire and create change
Darius Hunter is receiving a Bachelor of Arts in political studies
October 16, 2018 —
With an experienced background working in politics, which includes the Clinton campaign during the 2016 United States presidential elections, Darius Hunter is receiving a Bachelor of Arts in political studies. He is also an Emerging Leader Award winner, which comes to no surprise given his desire to be involved in what he can, whenever he can.

What was your inspiration?
I was always interested in the fields of politics and religion. My professors made the material interesting and compelling enough that it inspired me to take what I learned into other areas that were not academic– namely political staffing and becoming more involved in the religious communities on campus. The ability to see the direct relation between my education at the University of Manitoba and the work I was doing full-time while in school was continuously an inspiration. Many of my professors took note that I was a political staffer and would look for more from me. This extra push helped keep me inspired to do work when life was busy, and frankly, rather stressful!

What was your greatest obstacle in your post-secondary journey?
The greatest obstacle was my own belief that I could continue to take on anything. From working full-time while in a full course load, to being a director on the University of Manitoba Students' Union while managing the University of Manitoba Hindu Students' council, it felt like I could continue to take on anything I dreamed of because the university continuously provided ample opportunity to be involved. Upon reflection though, it began to take a toll. I needed to step back which for someone with a "go, go, go" personality was difficult.
What is the most interesting thing that happened to you at the U of M?
A series of events occurred in my first year. In my second or third political studies class we had a politician visit, and I remember asking him a question on taxation to which he was really excited to answer. I later applied to an entry job at a political party, and it turned out he was my interviewer and remembered me from that class. This led to my involvement in politics, from being a data analyst, to working on political outreach during campaigns, to now working with MLA's and ministers on political policy – and it all stems back to one of my first classes at the U of M.

What's next?
As of right now I am attending Law School at the University of Manitoba, Robson Hall. Mother Theresa said: we all can't do great things, but we can do little things with great love. I hope to utilize my Bachelor of Arts degree and my Juris Doctor (JD) in this capacity. That is what I have been trying to do in the process of achieving my JD. Whether as a lawyer, judge, or in a political position, I hope to inspire or create change in wherever my path in life takes me.
Don't forget to check our student accounts on Instagram and Facebook to learn more about some of the students graduating this week. You can also join the 'Convocation conversation' on social media by following #umanitoba2018.