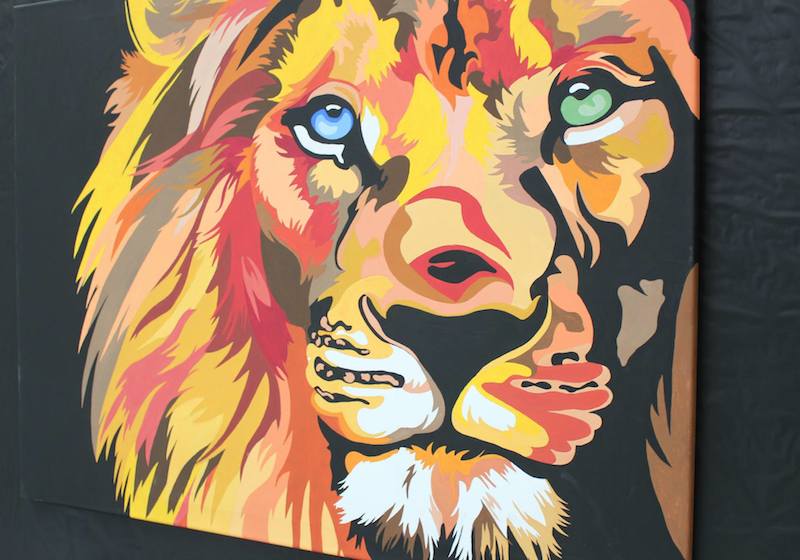 Living the dream…sharing the dream
Votes were tallied and winners were announced
April 25, 2014 —
Students, faculty, staff and guests were treated to an evening of art and entertainment at the U of M's Bannatyne Campus on April 23.
An annual art exhibit – led by first and second-year med students – transforms the Brodie Centre atrium into a gallery. This year's theme "Living the Dream" attracted submissions from 20 artists from the Colleges of Medicine and Medical Rehabilitation and several faculty grad students.
First Prize: Ryan Chard (Med III); The Leader, acrylic painting on canvas and The world weighs heavy, acrylic on canvas.

Second Prize: Irene Xie (Med I); Pathologies, (four) acrylic and watercolour paintings on canvas.

Third Prize: Chris Proctor (Med II); an untitled collection of photographs.
Loni Cheng, Med II student and co-chair of the art show committee, feels many students struggle with finding a balance between academia and pursuing other personal interests. "It's important for students to engage in arts whenever we can, whether it's music, or drawing or painting – just for our own well-being."
Jonathan Wong, a palliative care consultant with WRHA and instructor with the College of Medicine relates. As a high school student he played a lot of piano, "I grew up thinking I wanted to be a professional musician." He was one of five musical acts that performed for a packed atrium.
Wong recently released Keys to home, a 15-track album featuring musical pieces composed by Frederic Chopin. He's managed to find a balance with his medical career and artistic gift by partnering with not-for-profit organizations and donating 100 per cent of sales from each of his albums. Keys to Home is his third partnership; proceeds will go to the 2014 Habitat for Humanity build project – which will include broad participation by  faculty, staff and students of the new Faculty of Health Sciences.
Patrons also heard Med II student Caleb Yeung on the piano followed by a voice and piano performance by Med II students Loni Cheng and Diane Kim – who blew everyone away when she belted out a beautiful rendition of Ava Maria. Other performances included a saxophone quartet –made up of Med I and II students Matthew Packer and Andrea Wills who were joined by friends – and closing the show was Mike Zdan (Med II) who played an assortment of notable works on the violin.
According to art show advisor Dr. Merril Pauls, the College is proud of the shows successes. "What we're most proud of is this is a program where we do the least to make it happen. Fundamentally it's a student inspired, student-driven event … all credit goes to the students," said Pauls, Director, Pre-Clerkship, College of Medicine.
The University of Manitoba medical student art show was originally conceived as a way to help students bridge the gap between the scientific and the humanistic – to give students who have spent years immersed in facts and theories the opportunity to explore emotion and experience.
Pauls adds that an important goal of the art show is to help students imagine and explore what the illness experience is like from the patient perspective. "Over the years we have found that not only are students using the art show to explore their patient's experiences, but they are also sharing their own stories of illness and vulnerability in incredibly creative ways."