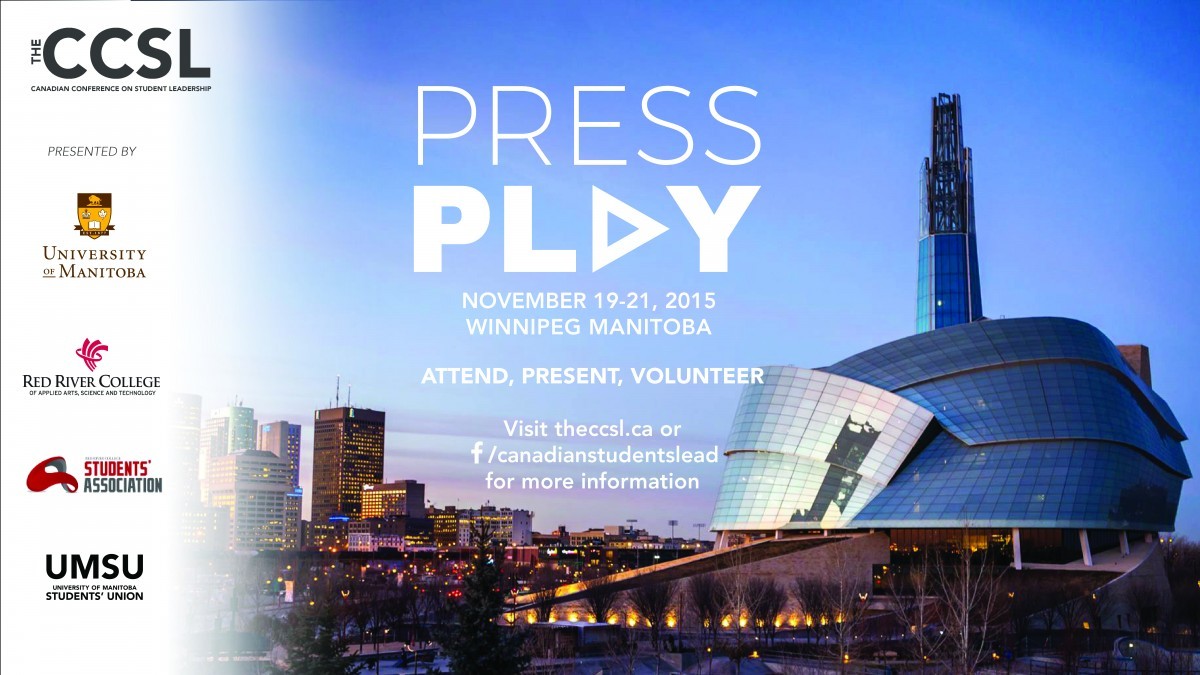 Lessons in leadership
Conference co-chair shares his leadership with other students
November 2, 2015 —
Students at the University of Manitoba gain hands on leadership experience while providing opportunities for other students to learn, thrive and grow in their own leadership development through programs like the Canadian Conference on Student Leadership (CCSL).
Spencer Yasui, fourth year Faculty of Arts psychology student, is a co-chair for the annual conference. He shares some of his lessons in leadership, and talks about the impact the conference has had on him so far.
Why did you get involved with the Canadian Conference on Student Leadership Organizing Committee?
I am very fortunate to be surrounded by people who have inspired me to realize my own leadership potential. I am incredibly grateful for these opportunities, and I want to pay it forward. By joining this committee I hope that I make a positive impact for student leaders from across the country, and I will continue to work hard to do just that.
What did you expect from the experience?
I had expected the unexpected (just as I had expected to avoid clichés like that), and that is exactly what I am experiencing. I am someone who craves order and structure, but sometimes that is not always possible. I have learned so much from everyone else on the committee. We have a diverse team of a dozen leaders working toward the success of this conference. Together, we have faced and consistently overcome unforeseen challenges, and that is the benchmark upon which I measure growth in any project.
What have you learned so far?
I have continued to learn about the fundamentals of leadership. I have been challenged to sharpen my communication skills, work collaboratively with talented leaders who are different than me, all while driving results to meet rapid deadlines.
We are each tasked with very distinct portfolios, but ultimately we are working as part of a larger cohesive team. Each component is separate, but they must remain congruous to support the success of the conference. I am finding that this process demands that I develop new skills while simultaneously honing my existing set, in order to accomplish these ambitious goals.
Based on your experience, what advice would you give to other students thinking about getting involved?
Press Play! Which is the theme of the 2015 CCSL. What I mean, of course, is that it is simply a matter of initiative. The only step you need to take is the first one, and from there you're pretty much along for the ride. Once you get involved you will find yourself astounded with how rewarding it is when you are accomplishing things that look impossible to other people. PRESS PLAY ON YOUR LEADERSHIP DEVELOPMENT!!!
Why should someone attend the Canadian Conference on Student Leadership?
I have seen firsthand the passion and dedication that is flowing into this conference every day. My fellow committee members are doing everything they can, on a volunteer basis, to deliver an exceptional leadership development experience.
Our vision for this event is extraordinary – we will bring more than 160 student leaders from across this country together to grow in unison, to share exceptional programming, and to showcase all that the beautiful city of Winnipeg has to offer.  You are not going to want to miss this.
____________
Started in 2006, the Canadian Conference on Student Leadership is an intensive weekend of leadership education developed by students for students. It is an opportunity for student leaders from across Canada to share ideas, become inspired, and create avenues for social change.  Highlights of the 2015 conference include a facilitated journey through the Canadian Museum for Human Rights; keynotes from Dr. Jacqueline Ottmann, and Benjamin O'Keefe and dozens of presentations, and workshops delivered by students. To find out more view our schedule and register today.