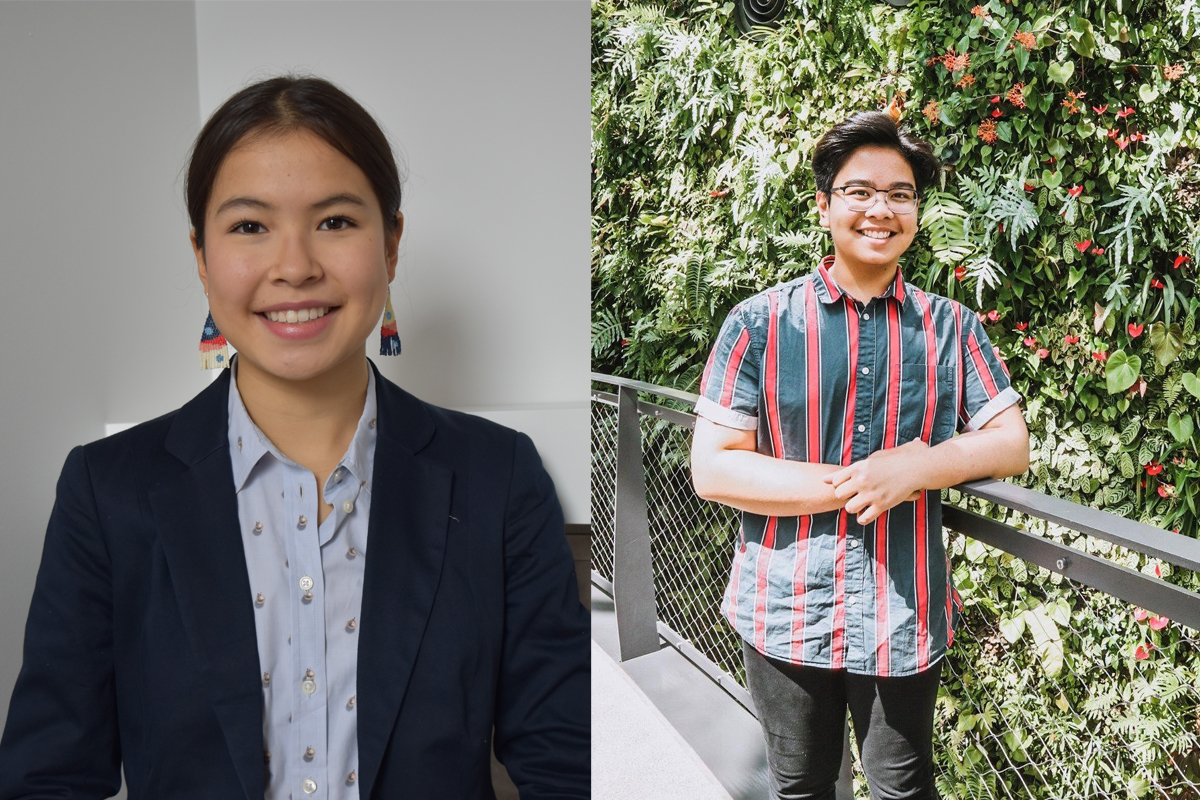 Leaders in many ways
2021's Leaders of Tomorrow recipients demonstrate resilience and drive during a challenging year
April 12, 2021 —
Nine high school students seeking admission to UM have been awarded BMO Financial Group Leaders of Tomorrow and BMO Financial Group Indigenous Leaders of Tomorrow scholarships. Recipients are all multitalented, are greatly involved in their communities, and have high academic standards, having a minimum 90 per cent average in specific grade 11 courses. Each scholarship is valued at $16,000 over four years of study.
"Amidst all the challenges that our students were faced with in their final year of high school during the pandemic, they demonstrated much resilience and drive," says Jane Lastra, associate registrar and director, Financial Aid & Awards. "Each and every student interviewed is worthy of recognition— the interview panel were unanimously impressed with their academic, personal and community strengths. There is no doubt that these scholars will achieve all of their academic hopes and dreams."
The 2021 BMO Financial Group Indigenous Leader of Tomorrow Scholarship recipients are: Halle Cochrane (St. John's Ravenscourt), Graydon Kirkness (Gordon Bell High School) and Chloe Gate (Nelson McIntyre Collegiate).
Halle Cochrane, a member of Fisher River Cree Nation, was born and raised in Winnipeg. A Community Service Prefect at her high school, she was determined to bring more awareness to Indigenous issues. Among her community efforts, she organized a REDress project to hang red dresses around the school to spread awareness about Missing and Murdered Indigenous Women, Girls and Two-Spirit people (MMIWG2S).
"I am driven to advocate for Indigenous people in healthcare and be a role model for youth," Cochrane explains. "I am very fortunate to have access to healthcare in Winnipeg, but this is not the case for my relatives who live on Fisher River Cree Nation. My grandpa, who lives on the reserve, suffers from many health problems related to diabetes and has to travel three hours to Winnipeg for his medical appointments because there are no physicians in Fisher River."
With an ambition to become a psychiatrist or a family doctor, she says she is drawn to learning and enjoys discovering "why things are the way they are."
Cochrane says: "The BMO Financial Group Leaders of Tomorrow Scholarship will allow me to become involved in the university community, pursue future leadership roles at university and achieve my career goals. I am looking forward to learning and taking on new roles as an Indigenous leader."
The 2021 BMO Financial Group Leaders of Tomorrow Scholarship recipients are: Sadaf Saberi (Gordon Bell High School), Olivia Velasco (Vincent Massey Collegiate), Joyce Ji (Fort Richmond Collegiate), Miguel San Pedro (Maples MET School), Noor Imran (Miles Macdonell Collegiate) and Gabriella Barone (St. Mary's Academy).
"The Leaders of Tomorrow Scholarship will reduce some of the financial burden that comes with paying off tuition," says Miguel San Pedro. "As I'm currently wanting to pursue medical school, this award will help me to get one step closer."
San Pedro has been interning and volunteering in health-related fields with the Exchange District Pharmacy, NorWest Co-op Community Health and St. Joseph's Residence. In addition, he is a professional relations director for Project Pulse Winnipeg, an organization that familiarizes motivated students with the world of health sciences, allowing them to engage directly with researchers and physicians.
He explains: "I want to attend the UM Interdisciplinary Health Program because it will help me grow as a well-rounded learner and will prepare me for both the scientific and social aspects of the health sciences. I think it'll also help open a lot of doors, whether I decide on medicine, pharmacy, dentistry, or another health-related field. I'm most excited about getting involved with the many student groups such as Let's Talk Science, STEM, UM Undergraduate Leaders in Healthcare, and the UM Filipino Student Association."
Become a Leader of Tomorrow
Visit the Financial Aid & Awards website for more information on the BMO Financial Group Leader of Tomorrow scholarships and the BMO Financial Group Indigenous Leader of Tomorrow scholarships.