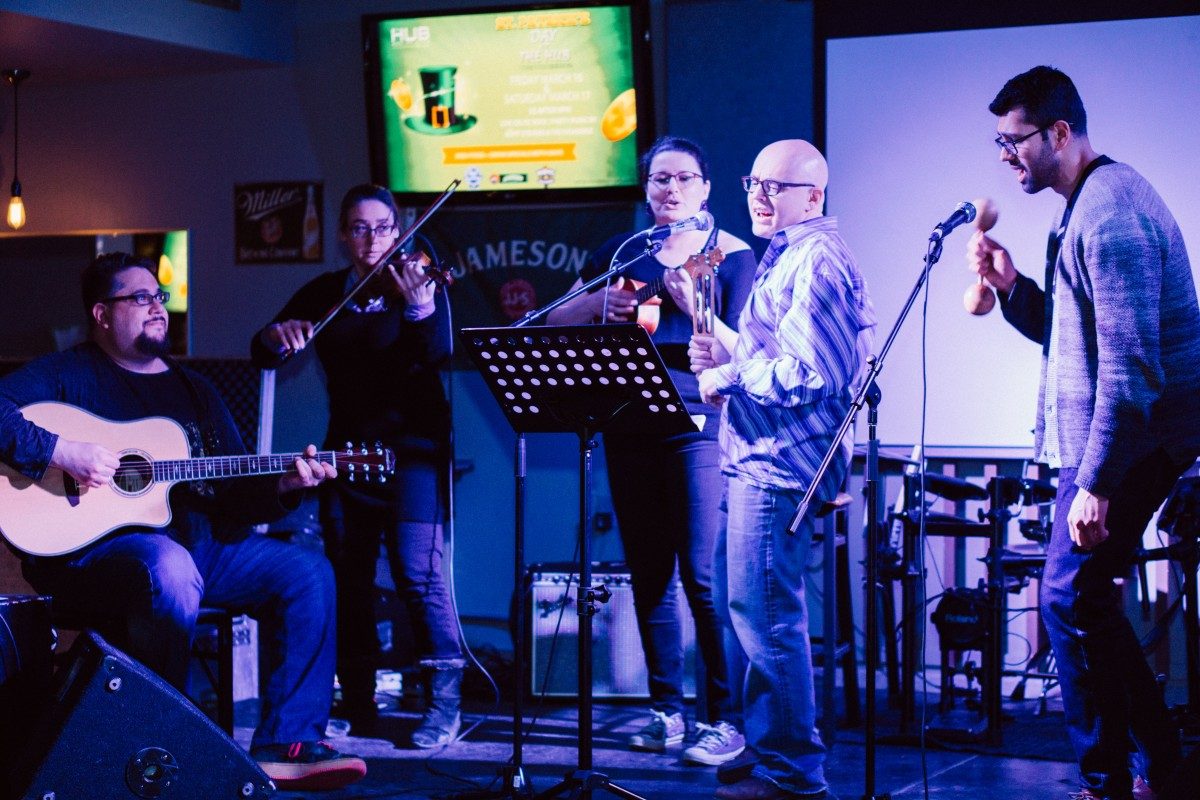 Law Students and Faculty share hidden talents for a good cause
Annual student-organized coffee house brings law faculty community together
March 15, 2018 —
Each year, the Manitoba Law Student's Association (MLSA) Social Committee organizes a fun "Coffee House" and invites Law Students and Faculty to come show off their talents. Donations are collected at the door and proceeds go to a charity determined by the MLSA's Community Outreach Committee. This year, held on March 4th, the Coffee House raised approximately $300.00 for the Elizabeth Fry Society.
Hosted by witty third-year students Davis Hirsch and Kosta Vartsakis, the coffee house featured wonderful performances by Jason Winter & Alicia Dueck-Read, and Zach Dallman. Professor Virginia Torrie regaled the audience with another episode of "Torrie's Stories" and a professors' band dubbed "The B-tles" materialized under the leadership of Professor Bruce Curran to perform a 'revised' version of the Beatles' "Let It Be" ("Get a B"). Professors Adriane Porcin and Krish Maharaj joined Curran on lead vocals, while simultaneously playing the ukulele and maracas, respectively. Professor Richard Jochelson (guitar) and Robson Hall Communications Officer Christine Mazur (violin) brought the musical talent to the group, "if only to minimize the amount of grave-spinning by the song's original composers" Curran was heard to remark.
The highlight of the evening was unquestionably law student band, Reasonable Doubt, a group that wowed at last year's Coffee House and bettered that performance this year. Melanie LaBossiere (lead vocals), Erik Gusdal (bass guitar and vocals), Paolo Aquila (drums) and Brendan Forrest (guitar) have an amazing future as professional musicians ahead of them (if they get tired of the law thing).
The Elizabeth Fry Society of Manitoba (EFSM) Inc. was established as an independent non-profit organization in 1983 to address the unique needs of women in the provincial and federal justice system. In 2006, EFSM became an Aboriginal organization who provides services to all women who are involved in the criminal justice system. The EFSM provides advocacy, access to resources and support to women who are in conflict with the law. Some of the issues clients struggle to overcome are addiction, poverty, mental health issues, marginalization, racism, long-term effects of residential schools and other forms of discrimination.
The MLSA Social and Community Outreach Committees are to be commended for their initiative in working to bring the Robson Hall Community together and help a local non-profit organization.