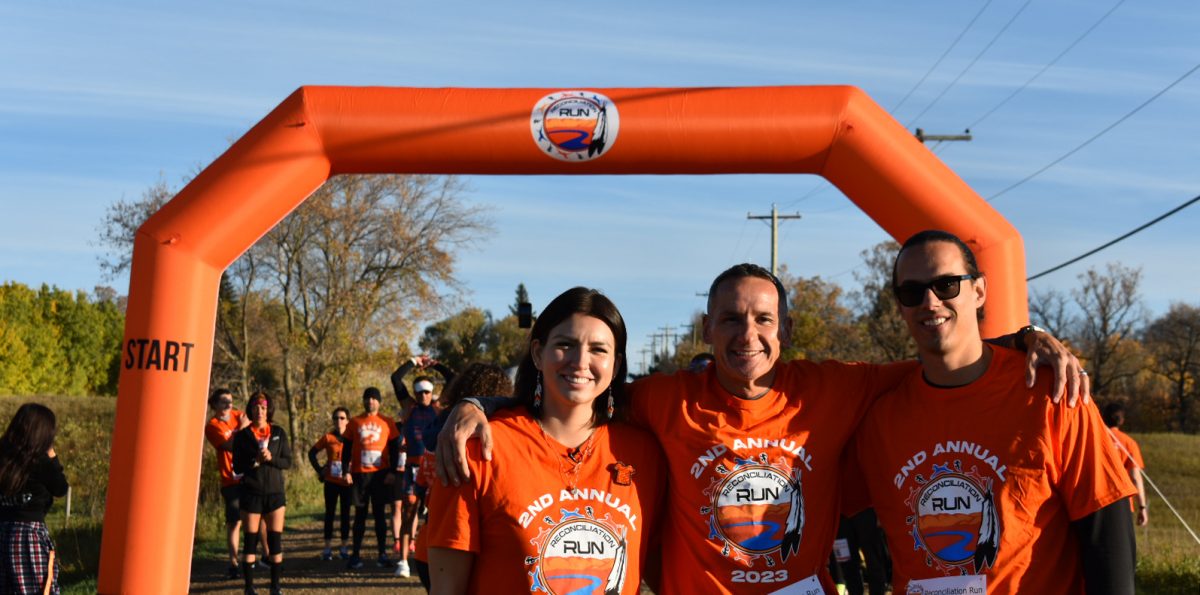 Law student advocates for Truth & Reconciliation 365 days a year
Reconciliation Run is a starting line for organizer Tréchelle Bunn
October 6, 2023 —
Over 150 runners assembled at the ruins of the Birtle, Manitoba Residential School on the morning of Saturday, September 30, to honour Residential School Survivors and those who never made it home. The ruins marked the starting line of the Second Annual Reconciliation Run, organized by first-year law student Tréchelle Bunn. Her home community, the Birdtail Sioux Dakota Nation, marked the finish line of the half-marathon, officially sanctioned by the Manitoba Runners' Association.
About 262 people were registered in total, with some participating virtually and on a satellite run. Forty-seven volunteers helped Bunn, the race founder and director, to make the run a success. Participants could run, walk, or bike the 21.1 km route between the ruins and the destination community. To Bunn's knowledge, the Reconciliation Run is the only officially sanctioned half-marathon of its kind.
A hockey player who wrapped up her final season with the University of Manitoba Bisons last year, Bunn had initially organized a 26 km Healing Walk on behalf of her community, but after receiving much support for the event, she turned it into a run. The lessons she has witnessed participants take away from the experience are significant. "For my Indigenous relations, I have witnessed and been told that the biggest takeaway from the Reconciliation Run is healing. Another main takeaway that many Indigenous peoples share is that they are participating in honour of their parents, grandparents, and relations who attended residential school.
"For non-Indigenous peoples, I find that their main takeaway is learning and taking time for reflection. For a lot of non-Indigenous participants, the Reconciliation Run provides the opportunity to see a residential school and to hear an elder and survivor share their story. For many, it is also the first time they have ever been on a First Nation in Canada."
Now having experienced her first month of law school, Bunn already sees the ways in which she can use her education. "Most humbly, I believe that I and other Indigenous students are making a change and promoting reconciliation just through our presence in law school alone. There was a time when the Indian Act prohibited any Indigenous person from hiring lawyers, and seeking a higher education required First Nations peoples to renounce their "Indian Status.""
"[M]y grandparents, like many Indigenous students' grandparents, grew up in a time when they could not even hire lawyers. Now myself, and my peers are starting our journeys to becoming lawyers. I am excited to continue my legal education and acquire skills to strengthen my advocacy."
Bunn says that due to the over-representation of Indigenous peoples in the criminal justice system, she is interested in practicing criminal law one day.
In the meantime, while law school is keeping her busy, she just learned that Taylor McCaffrey LLP just drafted her in the Winnipeg Law Hockey League Draft for the coming season, so her hockey-playing days are not over yet.
"I encourage everyone participating in NDTR events to use September 30th as a day to reflect and commit to how they can make Truth and Reconciliation a part of their everyday lives."
With October underway and October 4th marking National Day of Action for Missing and Murdered Indigenous Women, Girls, and 2Spirit and Gender-Diverse People, Bunn notes that "The National Day for Truth and Reconciliation is a day to honour Residential School survivors and those who never made it home while celebrating Indigenous people's resilience. Individuals must remember that truth and reconciliation is a duty and responsibility 365 days a year, not just on September 30th. I encourage everyone participating in NDTR events to use September 30th as a day to reflect and commit to how they can make truth and reconciliation a part of their everyday lives."