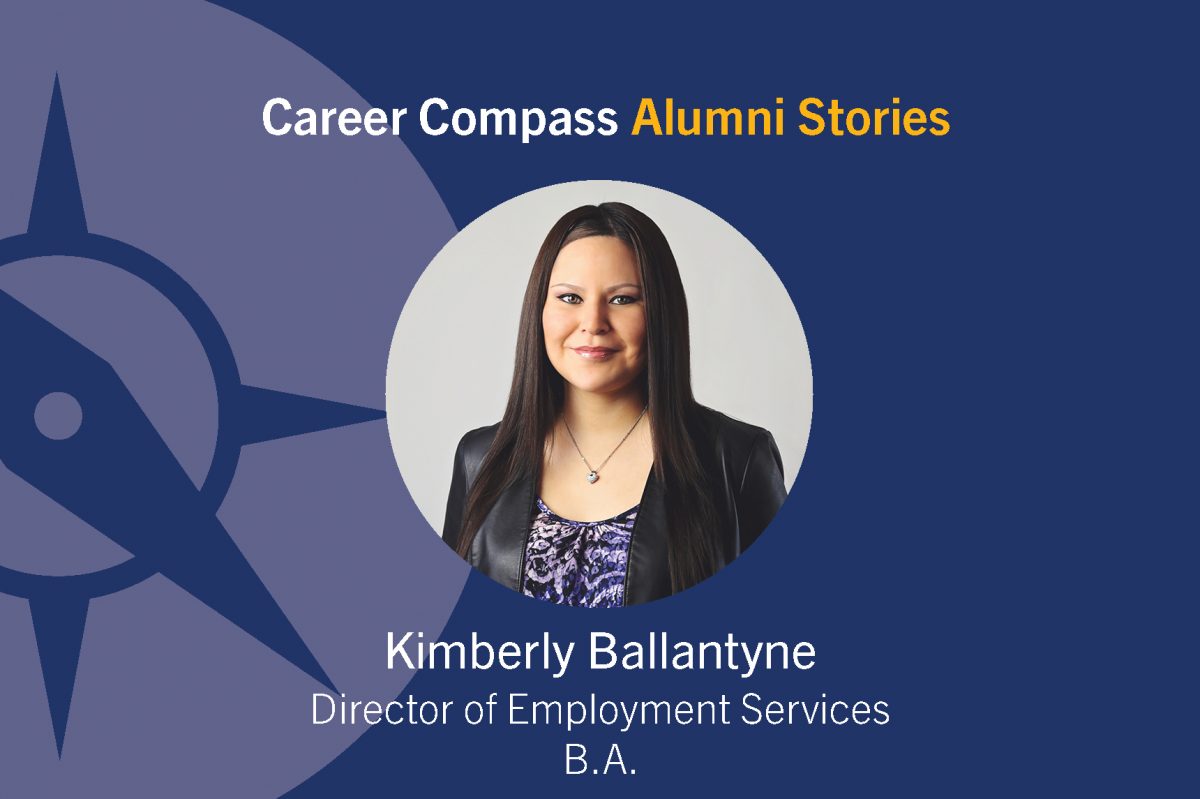 Kimberly Ballantyne Sociology Alumni
Briefly, tell us about your job. What do you find most rewarding?
Centre for Aboriginal Human Resource Development (CAHRD) is an Aboriginal-led, charitable organization serving the urban Aboriginal community of Winnipeg. It offers a number of services including literacy, education, post-secondary training and employment counselling. We provide personal and academic supports to assist clients with the opportunity for growth, development and success. I am the director of employment services for CAHRD and lead a team of twelve employment counsellors and support staff who provide dedicated career advice, coaching and recruitment services to Winnipeg's urban Aboriginal population. What is unique about our organization is that all the supports our clients need are under one roof. The thing I find most rewarding about my job is helping the Aboriginal community find employment, education or training.
What are your greatest challenges within this profession?
CAHRD understands that the Aboriginal community faces different challenges than the non-Aboriginal community. It recognizes and understands that our community faces multiple barriers such as a lack of education and training, affordable housing, and social supports such as daycare. Despite these challenges, we work as a team to help those who walk through our doors achieve their short and long term goals.
What experiences and activities helped you to map out your career pathway?
I am from The Pas, Manitoba and I was raised by my grandparents, Flora and Malcolm Crane, who taught me the value of education. In 1999, my high school hosted a career fair. I was drawn to the University of Manitoba booth and spoke with recruiters who informed about the different program offerings. It was then that I knew that I was going to attend this school. Ten years later, I moved to Winnipeg to attend university. It was the hardest but most rewarding goal I had accomplished up until that point. After completing my degree, I first came to CAHRD as a client and a position for an employment counsellor came available. I applied with the help of my counsellor and got the job. Five months later, I was asked to apply for the director of employment services position. I am amazed with all that I have accomplished in such a short amount of time and owe my success to my positive attitude and education. I'm so thankful for all the support I had along the way from my family, friends and CAHRD.
As a student, did you see yourself in your current career? What stayed the same and/or changed?
No, but I always knew I wanted to help my Aboriginal community. While attending university, I actually changed my major three times before I decided on sociology. Once I choose my major, everything fell into place. It was very stressful at times and was hard to juggle everything at once, but I knew that getting an education was something I really wanted. I am so thankful for the career path that I have chosen and where I am right now.
What advice do you have for students who are interested in pursuing a degree in sociology?
My advice to students interested in pursuing a degree in sociology is to never give up, stay focused and ask for help when you don't understand something. Be organized, take lots of notes and use your quizzes to prep for exams, they do help a lot.
What job search advice do you have for students and recent graduates?
For non-Aboriginal students, there are a number of places you can go for assistance with your job search. Go to Career Services for help with your cover letters, resume and interview skills. Learn to network when you are job searching, post on social media and look at job websites. If you are Aboriginal, come to CAHRD and register with employment services. We are located at 304-181 Higgins Avenue. You can also call us at (204) 989-7117.
Tell us a fun fact about your career path.
If I had not chosen my career path I would not have met my partner Emil. We now have a beautiful three year old daughter named Nova and a son due in April who we have named Leo. I feel very blessed and thankful and would not change single thing.