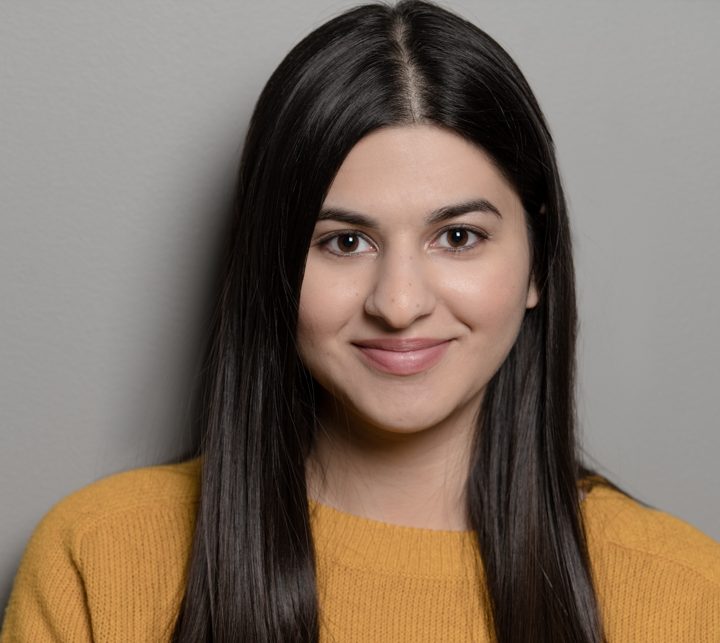 Juris Doctor Class of 2020
Pursuing passions: Anjali Sandhu
July 14, 2020 —
As Western Canada's oldest law school, the University of Manitoba's Faculty of Law has a 106-year tradition of providing quality legal education to students, many of whom have gone on to forge meaningful careers as change-makers, significantly impacting the Canadian legal system and improving justice for many. As an institution, the law school – housed at Robson Hall – is constantly growing and innovating with its students forming part of its living walls. We celebrate the graduating class of 2020 by highlighting a number of remarkable Robson Hall students. Anjali Sandhu is one such student destined to make us proud.
A Natural
Born practically next door to the University of Manitoba at Victoria Hospital and raised in Winnipeg in a family of UM alumni, attending UM was the obvious choice for Anjali Sandhu. The St. Mary's Academy graduate completed a Bachelor of Science degree at UM before attending law school. "I decided to go into law because LSAT seemed easier than the MCAT," she says. "Thankfully, I quickly discovered that I did have a passion for law once I started at Robson Hall."
Her passion translated into many achievements, including winning numerous prizes, awards and scholarships for obtaining high marks and highest standings in many of her classes including Advocacy, Trademarks and Patents, Family Law, Corporations, and Evidence. A Dean's List student (both in Science and Law), she has been a Pitblado Scholar, and an UMSU Scholarship recipient. After winning first place in the Robson Hall Negotiation Competition in the fall of 2019, she placed in the top seven in the national Canadian Negotiation Competition held early in 2020. She finished law school as her class Valedictorian.
One of three sisters, Sandhu credits her family for helping and encouraging her throughout her studies, especially her parents who instilled in her the value of education and her grandparents who immigrated to Canada so their children and grandchildren could have the advantage of and access to higher education. As for her sisters, Sandhu thanks "my sister, Antara who was always willing to pick me up from school and do late night snack runs for me while I was studying…also my sister Anaka, who didn't really do much, but will be very angry if I don't mention her."
Did we mention that Sandhu is also a stand-up comedian and professional actor?
Top Performer
Even while attending law school full time and maintaining high marks, Sandhu was busy performing and writing. Most notably, she played the role of Eszter Vand in the CBC legal drama, Burden of Truth (Season 3, Episode 1), and wrote and starred in the 2018 Winnipeg Fringe Festival show I'm Not Taylor Swift, that received a four-star review from the Winnipeg Free Press. Sandhu was asked to do a special encore performance of the show for the 2020 Virtual Fringe on July 15 (at 8:30 p.m.).
"Acting, comedy and writing are a huge part of my life," she says. "I would like to continue on with these alongside my law career."
While in law school, Sandhu found opportunities to incorporate law and her theatre skills, when she wrote and performed a monologue for Sarasvati Productions, and wrote a feature-length screenplay for her Law and Popular Culture course – which she counts among one of her best law school experiences. She also contributed her talents to law school endeavours including performing stand-up comedy to help raise her fellow students' spirits during Robson Hall's Mental Health Week, and in support of the students' annual charity fundraiser coffee house.
Even now, while articling at Winnipeg firm MLT Aikins where she hopes to pursue a career in Entertainment Law, Sandhu has a number of online (due to COVID) performances booked for this summer. Also on her non-law schedule this summer are plans to star in two short films she wrote, produced by Folks Films, and she is currently participating in BIPOC [Black Indigenous & People of Colour] TV & Film's Mentorship Monday program. "Through the program," she says, "I've had the opportunity to meet with Andrew Barnsley, executive producer of Schitt's Creek, who gave me excellent industry advice!"
Industry advice
Some excellent advice Sandhu would pass on to future law students is "to find a way to infuse things that you are passionate about into your law school experience. This is possible with a bit of creativity," she says, citing her own experiences of merging her interests of comedy and screenwriting with law school. "Don't be afraid to ask to do your papers on a unique or unusual topic, or to do something outside the box," she advises.
And get some sleep, she adds, recalling that her worst law school experience – an incident she describes as "too embarrassing to reveal," occurred while sleep deprived. "A full night of sleep isn't always possible while in law school," she cautions, "so if you are running on low sleep, give yourself extra time to think before you say or do anything: Is this actually a good idea, or does my sleep-deprived brain just think it's a good idea?"
Participating in several MLSA student groups was important to Sandhu, who was involved with the Feminist Legal Forum and the Federation of Asian Canadian Lawyers during law school. "I hope that these groups keep working towards more inclusivity and diversity in the legal profession, particularly for BIPOC individuals," she says.
As a law student at Robson Hall, Sandhu says, "I appreciated the fact that many courses at Robson Hall are taught by practicing lawyers, who are well equipped to teach students the practical skills they will need once they enter the legal field." Further, she says of the faculty, "Robson Hall students have the privilege of being taught by legal scholars, some of whom have written the leading texts in their area of expertise."
Her take-away from her legal education is to have courage to make change. She advises future students who want to effect change using their law degrees, "to not be afraid to do things differently. The legal system is built on precedent, but this means that sometimes flaws in the system can survive for generations. If you feel that there is a better or more just way to do something, don't get stuck following the status quo – challenge it."