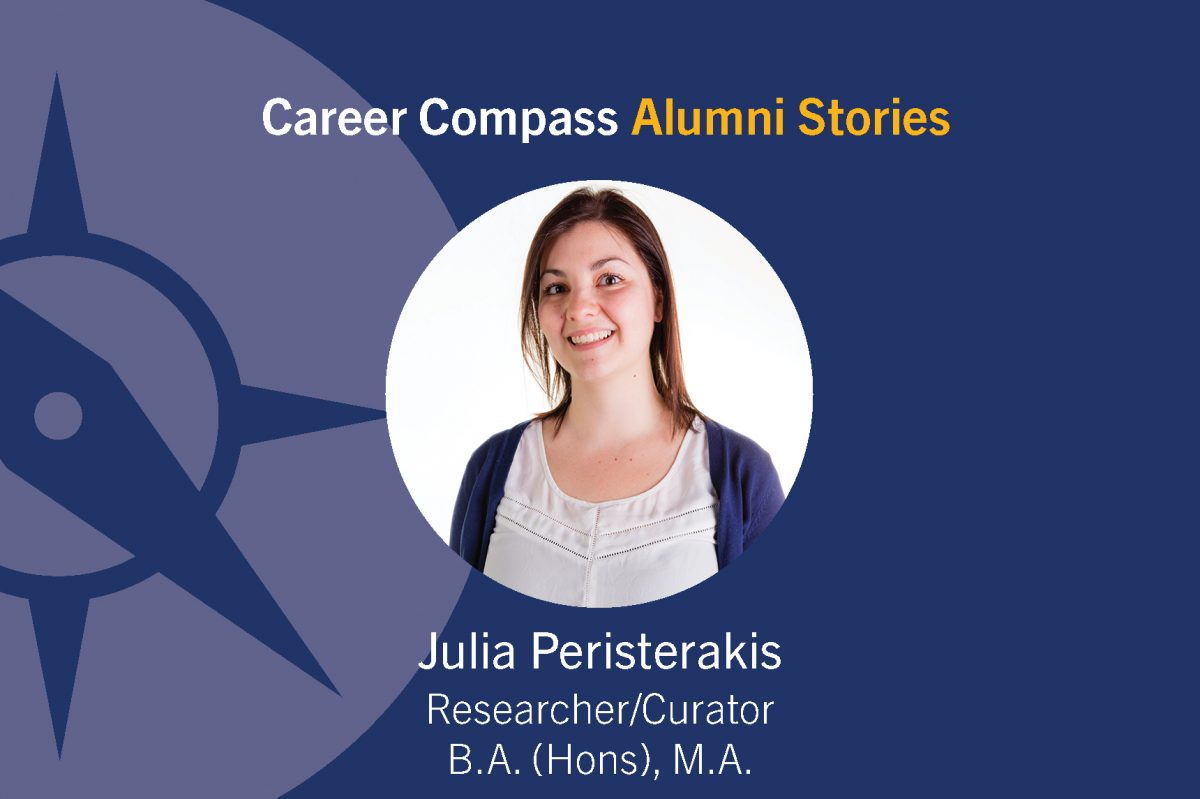 Julia Peristerakis Sociology Alumni
Briefly, tell us about your job. What do you find most rewarding? What are your greatest challenges within this profession?
I am a researcher/curator at the Canadian Museum for Human Rights. I conduct in-depth human rights research to inform the content development of museum exhibitions. It is very rewarding to see my research come to life through exhibits and to see visitors reacting and understanding human rights issues. There are many challenges involved in displaying and telling human rights stories, including working with communities that have been subjected to major rights violations. A large part of my work is to critically evaluate these considerations.
What experiences and activities helped you to map out your career pathway?
While studying the University of Manitoba, I had the opportunity to present at an international workshop on Indigenous rights in North America and meet other academics working in the same area. This really helped me to connect with the people who were working in the areas in which I wanted to work. I also had the opportunity to work as a research assistant during both my undergraduate degree and during my graduate program. This provided me with the skills and experience for my research assistant position at the Canadian Museum for Human Rights.
As a student, did you see yourself in your current career? What stayed the same and/or changed?
I have always enjoyed doing research and was drawn to human rights and social justice issues, but I never imagined that it would lead to a position in a museum. Research and community engagement is what I wanted to do in my career, however now I am able to publish and present my research and use it to create unique museum exhibitions.
What advice do you have for students who are interested in pursuing a degree in sociology?
Sociology is such a broad discipline that can be applicable in so many careers. Critical thinking and research skills are very transferable; I was surprised to discover how useful theses skills have been for different types of jobs and how they help me to understand social issues.
What job search advice do you have for students and recent graduates?
Winnipeg is a small city and therefore has great opportunities for networking. If you find someone working in the field you would like to be in, ask them out for a coffee and find out how they got there. Don't feel limited in what you can do and be open to using your skills in an unconventional way. Seize opportunities while you're in school to work on special research projects or attend and present at conferences.
Tell us a fun fact about your career path.
I wrote my entire thesis while working full time as a research assistant at the Canadian Museum for Human Rights and while this was a particular challenge, it demonstrates the need to be adaptable and willingness to be open to opportunity when it knocks!