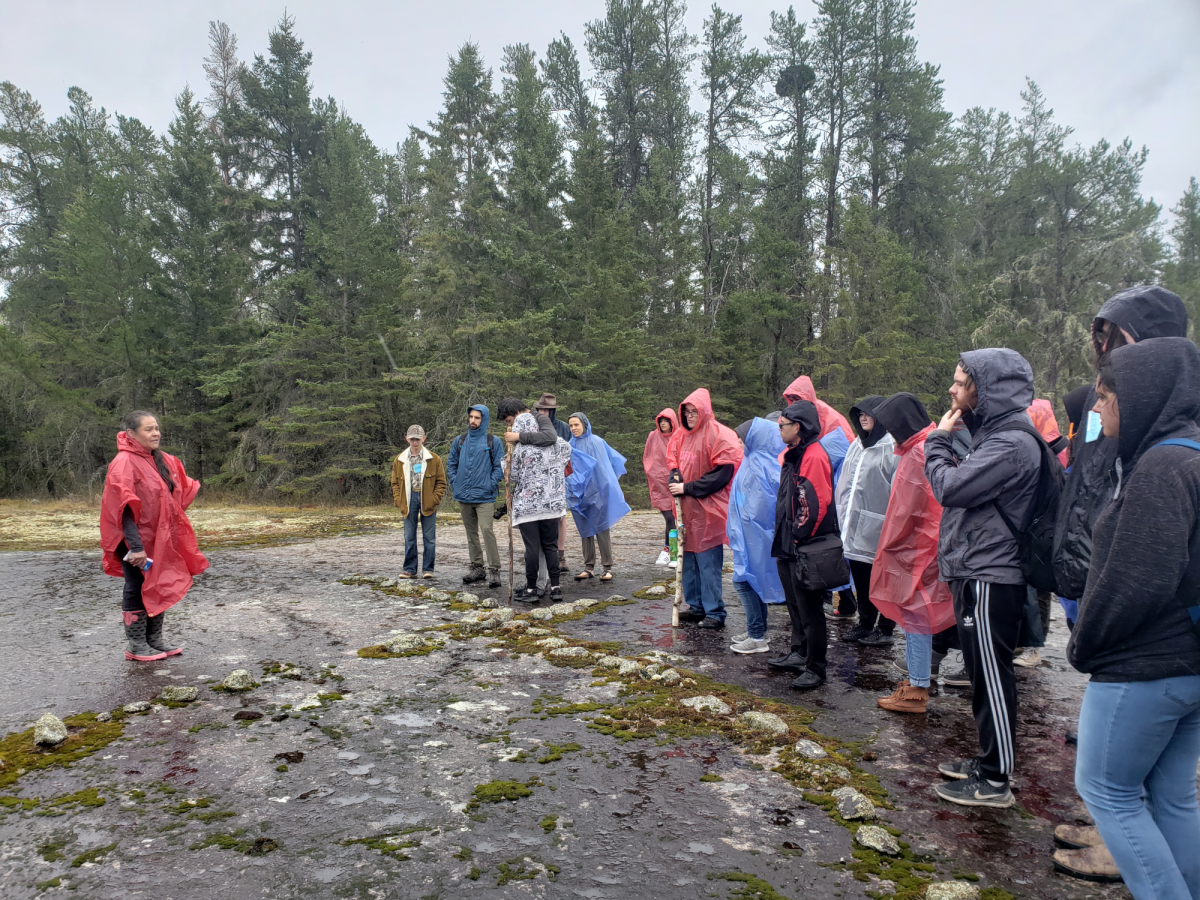 Join the Land and Water team, learn from the land
Develop a sense of place and belonging, explore your relationship with land as part of the Land and Water post-secondary team.
Applications are now open for the Land and Water program, which offers immersive urban land-based experiences, and engaging online workshops and activities facilitated by Indigenous elders, knowledge holders, artists and others. From November to June, the post-secondary team, comprised of UM students and Indigenous youth, learn on, from and about the land; learn about Indigenous peoples enduring relationships with urban land and place; and learn about their own gifts and roles in defending and protecting land and water.
Examples of past in-person and virtual programming has included a medicine walk through the urban Assiniboine Forest, making bannock and three sisters soup, an elder-led tour of the Bannock Point petroforms in Whiteshell Provincial Park, snow-shoeing and Indigenous games, a day trip to Shoal Lake 40 First Nation, beading, painting, moccasin-making, screen printing and more.
During the Fall Term break (from November 6 to 14), the post-secondary team engages in a workshop series, "This is Indigenous Land," a mix of virtual and in-person activities. Throughout the rest of the year, they participate in workshops, social events and other activities. From February to June, the post-secondary team co-facilitates monthly full-day land-based field trips for high school youth. The program concludes in June with an overnight camping trip, as COVID-19 policies allow.
This program is free of charge and open to all students. Indigenous students are strongly encouraged to apply. The partnering high school student population is predominantly Indigenous. It's important for the post-secondary team to share a cultural frame of reference with youth, and for Indigenous students and youth to have access and opportunities to engage in Indigenous land-based education.
Learn more about the Land and Water Program here. Inquiries can be directed to Meghan [dot] Young [at] umanitoba [dot] ca.
Applications are now open!
Apply now. Interested Indigenous youth 18-35 external to the U of M are also encouraged to apply. CEL is accepting applications till October 15.
Community Engaged Learning offers free local programs and international programs for students interested in applying their knowledge outside the classroom and gaining relevant hands-on experience in the community.