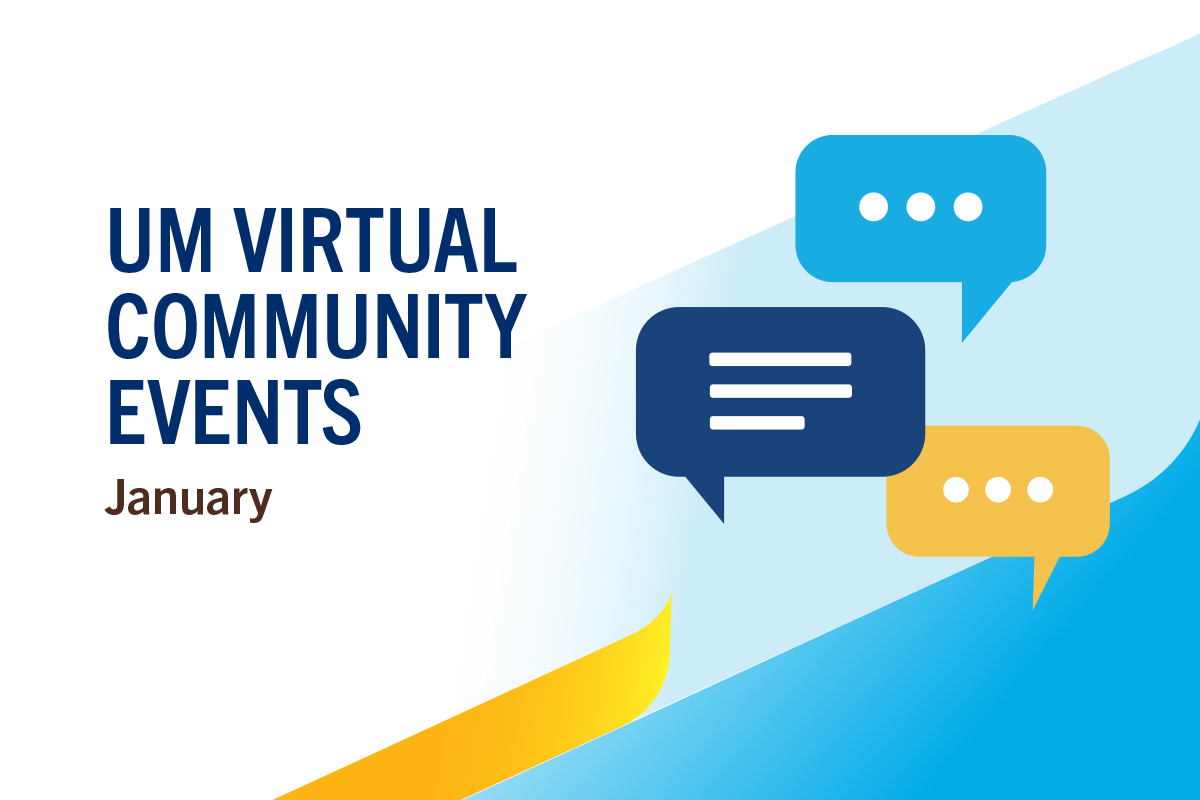 January 2021 UM Virtual Community Events
January 5, 2021 —
Discover UM's wide range of virtual community events that are open to all. Join us online to learn, experience and connect in our conversations and presentations, health discussions and book clubs – there is something for everyone. Explore our events below and share them with your friends, family and neighbours.
Recreation Services virtual health and fitness
Follow along with UM Recreation Services' virtual health and fitness videos while gaining expert advice from our sports and recreation pros. Explore our webpage for online cardio, strength and movement videos and discover tips and techniques to keep you healthy.
Ongoing | Free
Explore health and fitness videos
UM Alumni Book Club
Join host Chancellor Anne Mahon and a network of over 600 UM alumni, friends and fellow book lovers to connect and discuss books on ideas, literature, lifelong learning, leadership and more. Everyone is welcome to join at any time. The next reading period begins January 14 with Little Fires Everywhere by Celeste Ng.
January 14 and onward | Free
Register
Centre on Aging Speaker Series
"Effects of a home-based exercise program on socially isolated older adults during the COVID-19 pandemic"
Hear Dr. Villar, assistant professor, kinesiology and recreation management, present the effects of a simple home-based exercise program on the functional capacity of older adults during social isolation in the COVID-10 pandemic. Findings and lessons learned from research conducted in Brazil will be shared.
January 14, 1:30-2:30 p.m. | Free, registration required
Register for event
Why are we building? Lecture: Adam Caruso
Listen in as award-winning architect Adam Caruso, professor, architecture and construction, ETH Zurich discusses how consumption in a consumer-driven economy can deplete finite resources and shares how architecture can foster more purpose, happiness and fulfilling lives. Sponsored by the Manitoba Masonry Institute.
January 19, 12 p.m. | Free, registration required
Register for event
Café Scientifique
"Vaccines and Therapeutics for COVID-19"
Learn from our panel of clinicians and scientists as they discuss new innovations, discoveries and recent data and safety profiles of various COVID-19 vaccines and antiviral drugs being developed as we near the one-year mark of the pandemic in Canada. Panelists will highlight the efforts being led by Canadian researchers to combat COVID-19.
January 19, 7-8:30 p.m. | Free
Attend event
Virtual Fireside Chats
Listen to Knowledge Keepers share Indigenous knowledges as they apply to life and living today. Andrea Redsky, the first Winter Term 2021 speaker in this long-running series, will share Star Teachings.
January 26, 11:30 a.m. | Free
Attend event
Indigenous Scholars Speaker Series with Dr. Frank Deer
Join Dr. Frank Deer, associate professor, education, Canada Research Chair and Member of the Royal Society of Canada, as he explores how Indigenous conceptions of morality may reside in educational forums and in broader communal consciousness.
January 28, 12 p.m. | Free
Attend event
School of Art Virtual Talk Series
Curator Talk: Allison Yearwood
Tune in to this School of Art event featuring Allison Yearwood, Plug In Institute of Contemporary Art's new executive director. Yearwood, an advocate for racialized and disenfranchised groups, has held managerial roles at the Banff Centre's Indigenous Arts Department, Yamaji Art in Australia, and Collective of Black Artists (COBA) in Toronto.
January 28, 5 p.m. | Free
Watch livestream
School of Art Gallery live performance by Jean Borbridge: "Cladding an Animation"
See artist Jean Borbridge reanimate her contribution to One Queer City, a School of Art Gallery exhibition series that builds on One Gay City, a Winnipeg public art installation denied display in 1997. The artist will use audio and extensive collage methods in this Instagram live presentation to represent photography's limitation to accurately portray gender and queer femme invisibility. Curated by Blair Fornwald.
January 30, 5 p.m. | Free
Watch livestream
For more events: University of Manitoba events calendar.