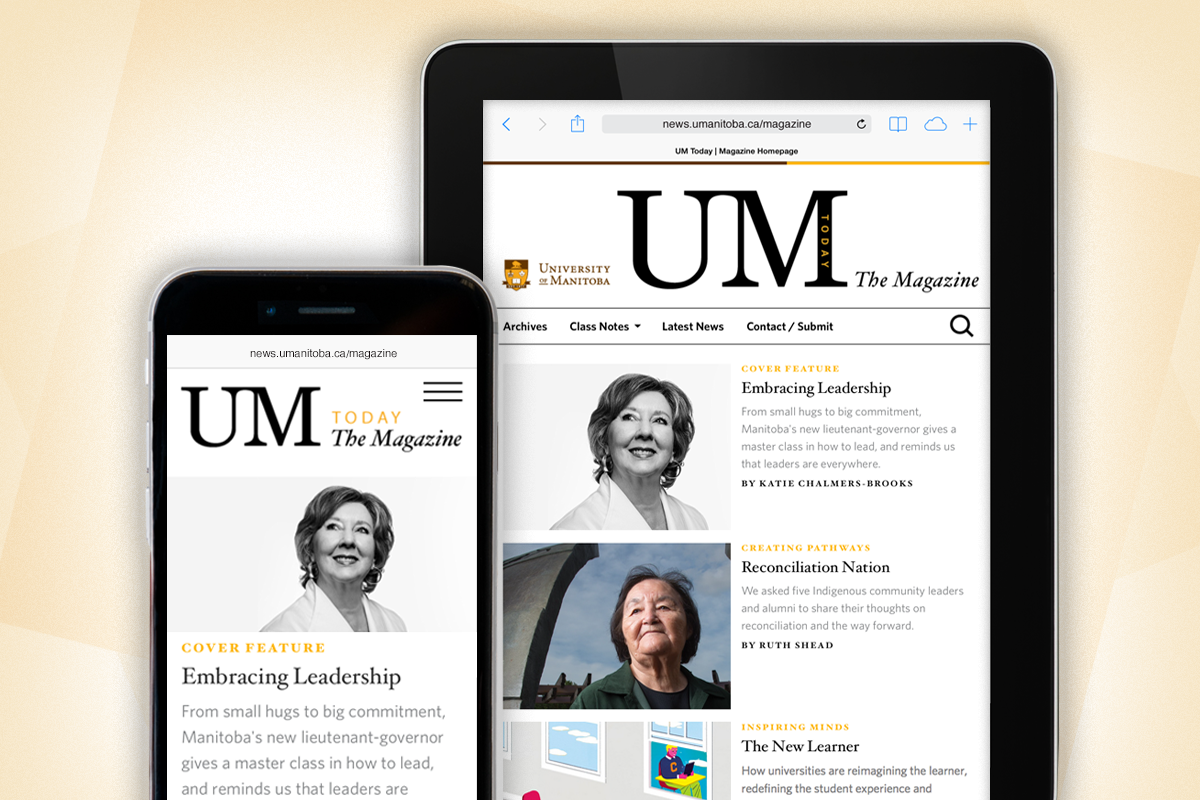 It's here! UM Today The Magazine
Explore in-depth features that engage, excite, entertain
October 5, 2015 —
Check out the online issue of our reimagined, reenergized alumni publication: UM Today The Magazine.
Read powerful, inspiring stories about our alumni, faculty and students in an exciting new way. Formerly On Manitoba, the new magazine is part of an integrated platform that goes deeper and puts compelling stories at your fingertips anytime, anywhere.
Printed and mailed twice a year (in spring and fall), the magazine delivers online content year-round, integrated with our popular UM Today News site.
This new, collaborative approach invites readers to stay informed and engaged via Facebook, Twitter, LinkedIn, Instagram, the UM Today Alumni network and our alumni newsletter (renamed UM Today Alumni e-news).
Here's a sneak peek of what you'll find in our inaugural issue:
Embracing Leadership
Anyone who has met Janice Filmon knows she brings out the best in people. Now, as Manitoba's lieutenant-governor, she aims to bring out the best in all Manitobans. We sit down with Her Honour to learn her own story of leadership. Read full story >
Reconciliation Nation
In June 2015 the Truth and Reconciliation Commission of Canada released 94 recommendations for reconciliation between Indigenous and non-Indigenous Canadians in the wake of the Residential School system legacy. We asked five Indigenous community leaders and alumni to share their thoughts on reconciliation and the way forward. Read full story >
Ice and Oil
As the world debates the wisdom of drilling for oil in the Arctic, the University of Manitoba is taking the lead in understanding how ice and oil mix. Research from the Churchill Marine Observatory will help ensure responsible production and transportation of oil in the Arctic. Read full story >
The New Learner
Even universities steeped in tradition and history need to evolve their education models to match the diverse needs of students. The University of Manitoba is no exception. We explore the challenge of keeping a new generation of learners engaged and excited about education. Read full story >
Alumni, check your mailboxes for the print issue delivered soon!