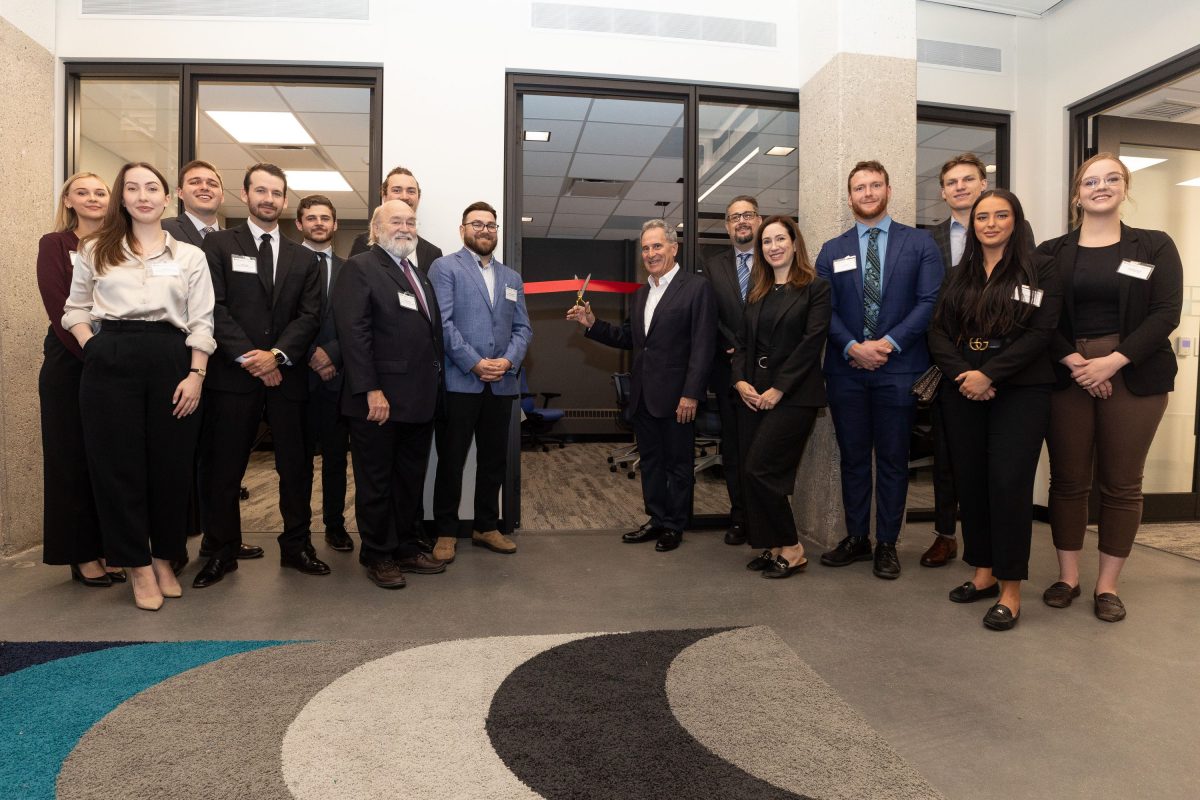 Investment and return
L. Kerry Vickar helps law students learn the practice of business law
October 27, 2023 —
Faculty of Law alum L. Kerry Vickar [LLB/1980] got to witness a return on his investment in-person on September 26 when he visited and officially opened the L. Kerry Vickar Business Law Clinic. Vickar's gift to the Faculty of Law has transformed a dingy basement storage room into a state-of-the-art experiential learning space for law students to engage in the hands-on practice of business law.
While the L. Kerry Vickar Business Law Clinic has existed as a for-credit course taken by students at the Faculty of Law since 2014, the Clinic has not had until now its own dedicated office space.
"Clinical learning is at the heart of our law school's mission, and the L. Kerry Vickar Business Law Clinic is a testament to the significance of this approach," said Dr. Richard Jochelson, Dean of the Faculty of Law. "This state-of-the-art facility has reshaped a once neglected space into an invaluable hub for experiential education. We extend our deepest appreciation to Mr. Vickar for his unwavering commitment to advancing clinical learning. The clinic equips our students with hands-on, practical experiences, ensuring they are well-prepared for the challenges of legal practice. It is an investment in the future of legal professionals, enhancing their skill sets and nurturing the qualities that will define their success in practice."
"Lawyers practice law in law firms, not classrooms," said Clinic instructor Nick Slonosky, a 1979 graduate of Robson Hall. "During the pandemic, we were forced to reimagine the Clinic and students met clients online using video conferencing technology and the power of the internet which is exactly what lawyers were doing in practice. Now that we are back to life in-person, with thanks to Kerry Vickar, we have an actual teaching law firm space right in the law school where students can learn by doing just as if they were in a law firm. This gives students the opportunity to learn far more about practicing law than ever before and will make them even better prepared for the real world when they graduate."
While visiting the space, Vickar was impressed with how the former storage area had been reimagined into a welcoming, well-lit, professional office environment complete with large and small conference rooms, two offices, an area containing six work station cubicles with locked, secure filing cabinets, and an open lounge area for brainstorming. Additionally, two state-of-the-art sound-proof meeting booths line one wall where students can engage in confidential virtual meetings with clients.
After touring the Clinic, Vickar joined 22 students currently enrolled in this year's business law externship course, in the Faculty Lounge for lunch. Several Faculty of Law alumni also joined the group and shared stories about how their training at the Clinic helped prepare them for legal practice.
Alexandra Broggy [BA/2016; BSc/2022; JD/2022] is now an associate at Fillmore Riley LLP's business law practice, working on the firm's commercial team. Having participated in the Clinic when it was offered in the fall term of 2021, Broggy said it was "really the only practical transactional experience I had received in all of law school."
Broggy, who had competed in the Laskin Administrative/Constitutional Moot, the Robson Hall Negotiation Competition, the subsequent Canadian National Negotiation Competition, and the Davies Corporate/Securities Moot, found that those experiences combined with her clinical experience "helped me to start my legal career and start articling with such an increased level of confidence than I think a lot of my peers had."
Further, Broggy pointed out that because the Clinic uses Clio, a cloud-based legal practice management software used by many professional law firms and by the current articling student Practice Readiness Education Program (PREP), she and her cohort were able to start their articles already familiar with the software.
Samantha Harvey [BA/2020; JD/2023] is now an articling student at Fillmore Riley LLP and was the Class of 2023 University of Manitoba Gold Medalist for Law. She was a student in the 2022-2023 cohort, and said after participating in the Clinic she knew this was exactly what she wanted to do. Harvey was impressed with the diverse clients students had the opportunity of working with. Some clients knew what they wanted but others needed more advice, she observed. "It was an amazing experience and definitely the most practical thing I'd ever done in law school.
Three second-year students who worked for the Clinic throughout the summer, from May to the end of August, 2023, also reported on their intensive experiences. Emily Palmer, Lisa Haydey and Kassandra Taverner each brought unique backgrounds to the job. Haydey holds a BA and a Master of Physiotherapy degree from the University of Manitoba and already had experience working with physio clients. Palmer completed a BA from the University of Manitoba and a Master of Journalism degree from the University of British Columbia before starting law school. Taverner, who holds a BSc in Cell, Molecular and Developmental Biology from the University of Manitoba, had taken some time to work as a ceramicist prior to starting at Robson Hall.
Haydey noted how their knowledge of corporate law had grown exponentially over the summer, when fresh out of their first year of law school, they were called upon to help a client to incorporate a not-for-profit organization from start to finish. The students filled out forms, drafted Articles of Incorporation, by-laws, minute books, and discussed with the client how to organize their corporation. "It's amazing to think back on it now because we had just finished our first year of law school, we had not taken a corporations class, I'm not sure we all knew what a corporation was at the time, and within four months, we are incorporating not-for-profits, for-profit businesses, federally, provincially, it's incredible," said Haydey. "Everything we learned was so directly applicable to serving, to helping our community."
"Working at the Clinic didn't just prepare us in terms of substantive law or how to be lawyers. It taught us about the kind of lawyers and professionals that we want to be."
The visit ended with a question and answer session with current business law clinic students asking Vickar questions about his business life experiences. Having the opportunity to talk to him in this manner made a big impact. Vickar encouraged this next generation of business law problem-solvers to be true to themselves and follow their hearts in whatever they learn and do in life after law school.
"Ensuring that today's law students get hands-on practical experience was one of my top motivations when making this gift" said Vickar. "While reminiscing about my own law school days with former Dean and UM Chancellor Emeritus Harvey Secter, he asked me "What didn't you learn in law school?" I immediately thought of my inexperience in working with clients and drafting agreements and documents for them and sincerely wished I had those experiences under my belt before I graduated. So it's important to me to ensure that law students can now get that critical experience before they get out there into the real world."