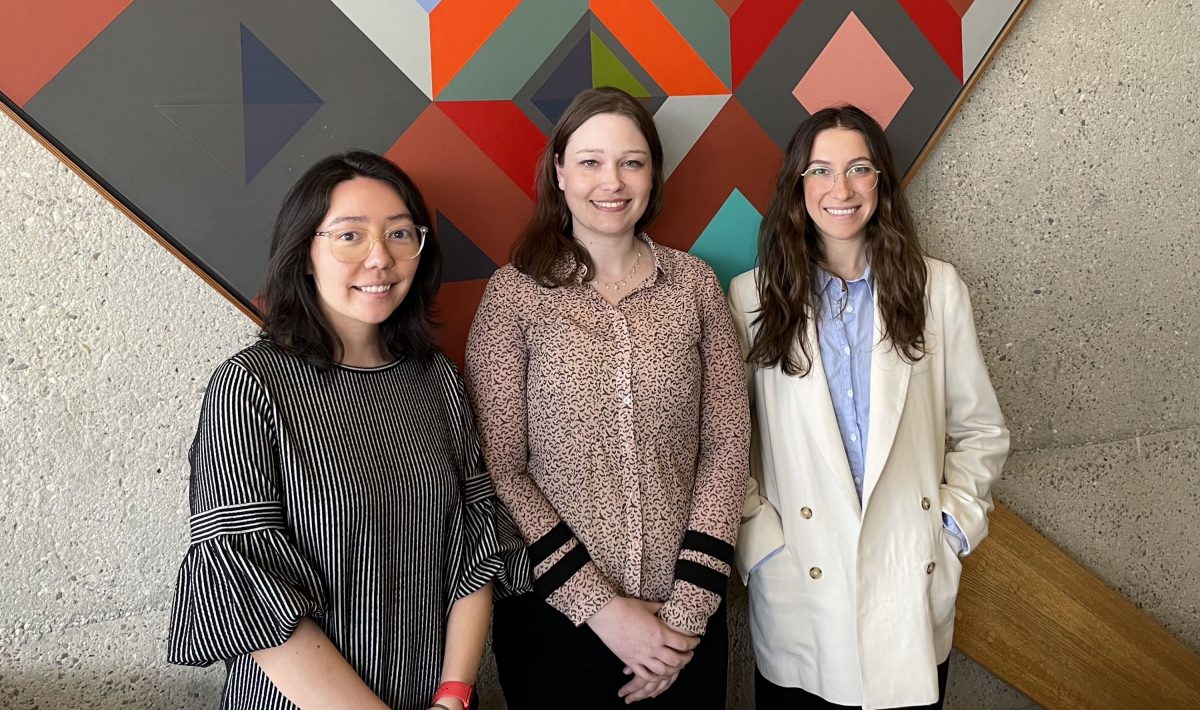 L. Kerry Vickar Business Law Clinic open for summer
Three new student case managers dedicated to serving Manitoba's small business community
May 17, 2023 —
The L. Kerry Vickar Business Law Clinic is excited to operate at full speed this summer and is pleased to welcome three new case managers to the Clinic team: Lisa Haydey (2L), Kassandra Taverner (2L), and Emily Palmer (2L).
The Business Law Clinic is operated by law students and supervised by experienced lawyers. Students work to get hands-on practical skills in corporate and commercial law and early practice experience throughout law school. The three new case managers are hired as paid summer students for their 2023 summer jobs and are working to serve clients anywhere in Manitoba who have access to internet connection.
Lisa Haydey, who will be a second-year law student in the fall, has joined the Business Law Clinic as a case manager for the summer. Lisa completed her Honours Bachelor of Arts in Psychology at the University of Winnipeg and a Masters in Physiotherapy at the University of Manitoba before law school.
Lisa is passionate about supporting and advocating for entrepreneurs and is excited to develop a deeper understanding of Manitoba's local business community. She intends to apply her previous experience working with clients to those that the Business Law Clinic will be serving.
"My training showed me the value of thoroughly assessing each client's situation. Each person and business we work with at the Business Law Clinic is unique, which means we will always be learning," says Lisa.
Lisa emphasizes the Business Law Clinic's purpose to eliminate the cost barrier in accessing legal services for those who cannot afford a lawyer or do not have access to legal resources.
"Often, I think people don't consider using legal services until a costly 'crisis' emerges. Through the Business Law Clinic, we can provide more preventative support by helping people structure their businesses, protect their intellectual property rights, and negotiate fair contracts," says Lisa. "So hopefully they can avoid larger and more stressful legal problems down the road."
The Business Law Clinic also welcomes Kassandra Taverner to the team as a case manager for the summer. Kassandra will be a second-year law student in the fall and has a Bachelor of Science in Cell, Molecular, and Developmental Biology. She is also an artist with a keen eye for detail and a creative approach to problem-solving.
"Supporting small businesses is something I am passionate about, as I recognize it as an avenue toward a more equitable tomorrow," says Kassandra. "I look forward to working with small business owners to help them succeed and to better myself as a future lawyer."
The Business Law Clinic is also welcoming back Emily Palmer, who is returning as a case manager for the summer. Like Lisa and Kassandra, Emily will be continuing her second year of legal studies in the fall. Before attending law school, Emily completed her Bachelor of Arts degree in 2019 and her Master of Journalism degree in 2022 at the University of British Columbia.
Emily aspires to facilitate powerful stories shared by unique and innovative entrepreneurs in Manitoba. She reflects on the past year working as one of the Business Law Clinic's research assistants for the 2022/2023 academic year.
"Throughout the school year, I saw the powerful impact that the Business Law Clinic has within Manitoba's business community. Its diverse approach to providing legal support has helped those who have creative ideas transform into blooming businesses," says Emily.
Emily notes the educational value of the Business Law Clinic in providing opportunities for law students to practise, by providing free legal services to creative innovators who do not already have a lawyer and cannot afford legal services.
"I watched as third-year students engaged with clients by sharing their developed legal knowledge within a professional setting," says Emily. "It was inspiring to see the real effects of education and the supportive reach that the Business Law Clinic has within the province."
The Business Law Clinic will remain open throughout the summer, providing free legal assistance to entrepreneurs, small businesses, creative innovators, and family businesses. The Business Law Clinic provides tailored legal advice to clients with a wide range of business ideas, including those who are keen on developing start-ups, non-profits and those involved in arts, arts and culture, and community organizations.
Students at the Business Law Clinic provide information, advise, draft legal documents, and conduct legal research while maintaining and representing the social responsibility of practicing law in Manitoba. The notion of access to justice is an ongoing issue that the Business Law Clinic continues to address in its practice.
"I think the Business Law Clinic is greatly beneficial for entrepreneurs who need help navigating their specific legal needs," says Lisa Haydey, "but also for people who are simply wondering what legal support can do for them or looking for information to be better informed of their rights and legal obligations so they are able to proceed with greater confidence in deciding the next steps in their journey towards success."
Students will also be actively working to improve outreach and service to creatives and artists throughout Manitoba.
For more information about the Business Law Clinic, visit the Business Law Clinic's recently refreshed website, or follow the Business Law Clinic on Twitter and LinkedIn.