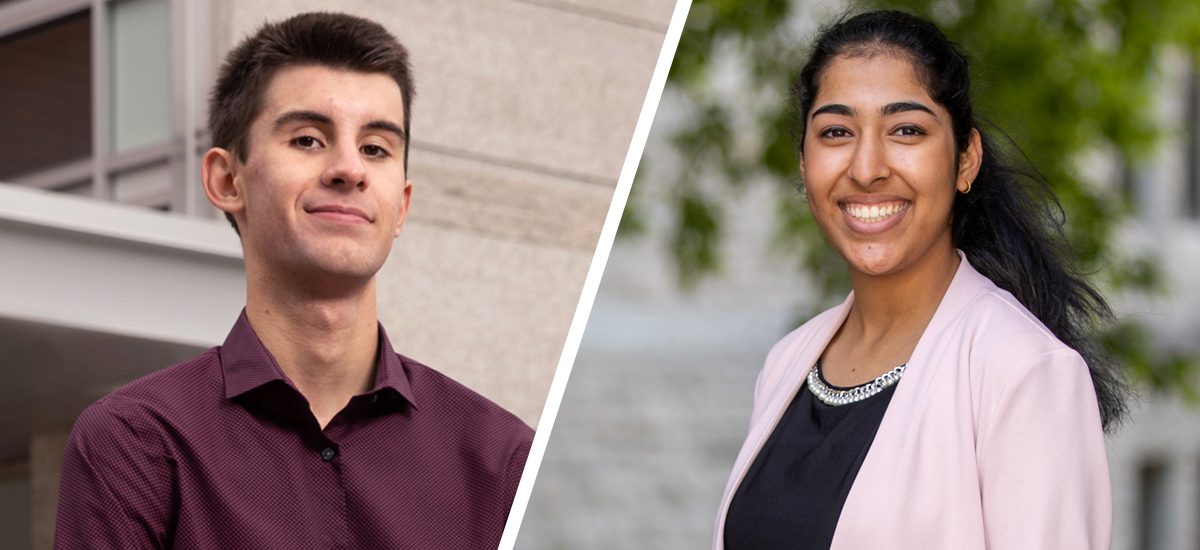 Introducing the 2020 Schulich Leader Scholarship recipients
Two exceptional students join UM community
Since 2012, the University of Manitoba has awarded two Schulich Leader Scholarships each year to incoming undergraduate students enrolling in the Science, Technology, Engineering or Math (STEM) areas of study. Created by Canadian business leader and philanthropist Seymour Schulich, these prestigious annual awards are valued at $80,000 and $100,000 and offer promising high school graduates the chance to pursue their dreams in the STEM fields.
Shubhneet Thind, a student from Miles Macdonell Collegiate, and Joshua Bond of Westwood Collegiate join the UM community, each awarded the Schulich Leader Scholarship.
"The Schulich Leader Scholarship recipients will become part of the growing community of innovators and forward-thinkers at UM," says Jane Lastra, director, Financial Aid and Awards. "We look forward to seeing what's next for the Schulich Leaders as they begin their studies and pursue their goals at UM."
Praised as a strong leader and motivator, Thind is deeply committed to community. Her philanthropic efforts have extended to initiatives that benefit local schools and families, as well as communities around the world.
"The moment I found out that I had received the scholarship, I couldn't help but think about the numerous opportunities that I would encounter as a result that I would not have been able to otherwise," she says.
Passionate about the sciences "ever since [she] can remember," Thind plans to pursue a bachelor of science, focusing on biological sciences.
"I can't wait to discover the countless research opportunities offered by the Faculty of Science," she says, adding, "Being a woman of colour pursuing a career in the science field, I am thrilled to have received this scholarship as it allows me to empower other women to pursue a career in STEM."
Bond's passion for giving back shines through his volunteerism; his penchant for teamwork, through participation in sports like volleyball and baseball.
His work ethic and leadership highlighted by nominators, Bond dedicates much of his time to volunteering at Grace Hospital and raising awareness of and funds for pediatric brain cancer research through his work with Keira's Krusade.
He is excited to forge new connections as he studies mechanical engineering at UM. "I look forward to combining my passion for math and sciences with the teamwork and creativity that is abundant in engineering," he says.
"This scholarship will have a monumental impact on my years in university and subsequently my life to come," he continues, noting it will allow him to spend more time on his studies and community involvement. "I believe that this will open many doors for me down the road."
About Schulich Leader Scholarships Canada
Recognizing the increasing importance and impact that STEM disciplines will have on the prosperity of future generations, businessman and philanthropist Seymour Schulich established this $100+ million scholarship fund in 2012 to encourage our best and brightest students to become Schulich Leader Scholars: the next generation of entrepreneurial-minded, technology innovators.
Through The Schulich Foundation, these prestigious entrance scholarships are awarded to 100 high school graduates this year, enrolling in a science, technology, engineering or mathematics (STEM) undergraduate program at 20 partner universities in Canada. Every high school in Canada can submit one Schulich Leader Nominee per academic year based on academic excellence in STEM, entrepreneurial leadership and financial need.